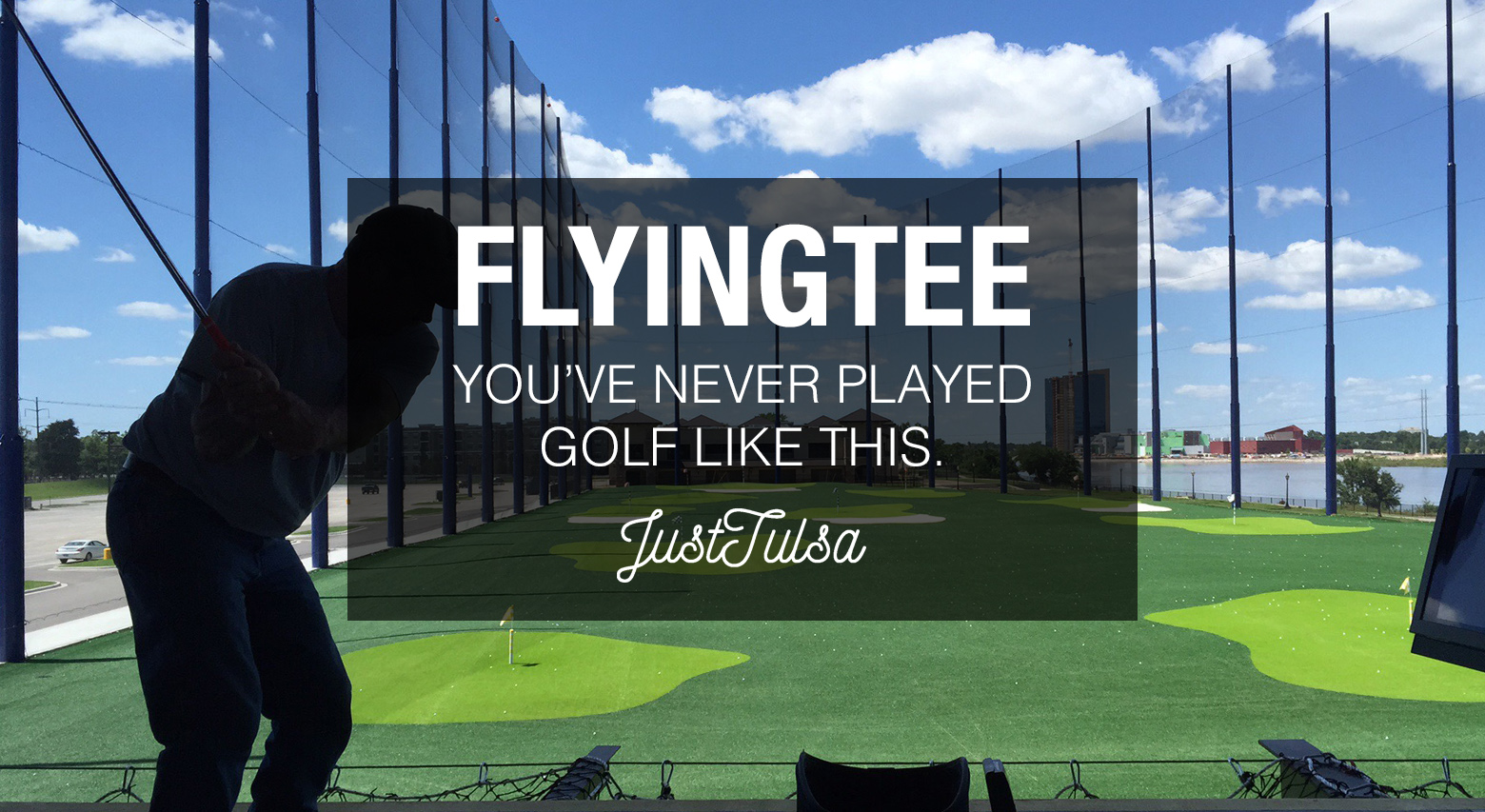 Looking for something fun and new to do in Tulsa? Check out FlyingTee.
We may have just found the thing that's going to eat up what's left of our free time.
We usually meeting up on Sundays for a brunch or lunch to figure something fun — and usually a little more relaxed — to do for the evening or afternoon. Today, we decided we were going to go see what FlyingTee was all about.
Constructed on the north side of the Riverwalk Crossing on the Arkansas River in Jenks, FlyingTee's gargantuan 53,000-square-foot complex is an impressive site on its own. You can see the nets that surround the driving range from a mile away, easily.
But wait: this isn't just a driving range. Not by a long shot. (Sorry — I had to.)
FlyingTee is a clever hybrid of golf and video games, made even more enjoyable by excellent food and drinks. I love concepts restaurants and bars; this place is a total gamechanger.
Let's get to it.
A Brilliant New Concept for Golf in Tulsa
Walking in through the front door of FlyingTee's massive three-story campus, we were greeted by friendly and professional looking staff. They asked us if we'd played before and we said no (I always like that — that's how you know a company is taking your experience seriously right off the bat.)
Next, you choose what level you want to play on and scan your card. FlyingTee charges by the hour, so if you've got a group of 4 or 5 people, the cost is the same. They also price their hourly rate by peak and off-peak status. This is great for those of us who end up with a little free time during the weekdays. For our spot on the 2nd level, you'll pay $40/hr after 5pm on weekdays or after 12pm on weekends. Off-peak times (before the aforementioned hours), you'll pay only $20/hr.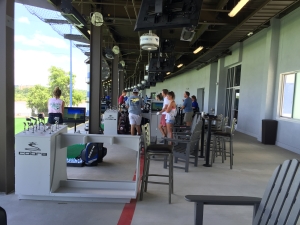 Getting entered into their system takes less than two minutes; it really seems like everything is based around doing things efficiently with the main goal of not wasting the customer's time. Big points with me on this one.
Another friendly FlyingTee staffer walks you up to your lane. Since we were new to FlyingTee, he actually took the time to explain to us how it works, along with the other features of the FlyingTee complex; restaurants, bars, and all. Even though FlyingTee is new, you can tell that these guys are well-trained and knowledgeable.
Our guide sets up our game on the computer and shows us how to get started. This is where FlyingTee makes a serious departure from the premise of your average driving range.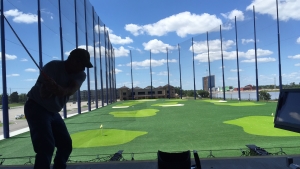 Rather than pointlessly hitting golf balls for distance or at random flags, you can choose from several games like "Darts" (different flags on the range are worth varying amounts of points) and "21" (think "blackjack" — the flags are represented by different cards.) Other games include long distance driving contests, where each player gets 5 tries to hit the longest shot. We also noticed that you can play a variation of "horse" (or "pig".)
Another way you can tell that this place is legitimate is that they have Cobra clubs set out for use. If you're a golfer, you know these are good clubs. They're not cheap. I like that a lot.
Another feature I like about how they integrated technology into golf is that you can play virtual versions of courses, too. Always wanted to hit the links at Pebble Beach? No problem. Dying to play at St. Andrews but don't want to fly to Scotland? Play St. Andrews here in Tulsa.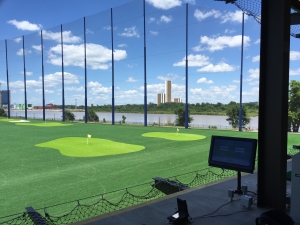 FlyingTee waitstaff make the occasional appearance to take care of drink and food orders. They'll serve food and drinks directly to you and your party or you can dine inside one of FlyingTee's three restaurants.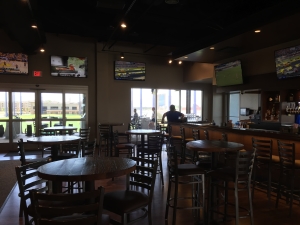 We didn't eat on this visit, but we did note an impressive sports bar on the first level. This looks like a good place to enjoy a few beers with buddies. Next time we're at FlyingTee — and we'll definitely be back — we'll be making plans to eat dinner here.
Think FlyingTee sounds fun?
Whether you're an experienced golfer or have never touched a golf club, you'll get a kick out of this place. It is an absurd amount of fun.
I would advise considering making your visit during their non-peak hours for the best value, but you don't need to worry about breaking the bank if you can only go during peak hours.
We'll see you at the range!
---
Did you enjoy this post? Follow us on Facebook and Instagram to see all the fresh, new Tulsa-themed articles when they come out!