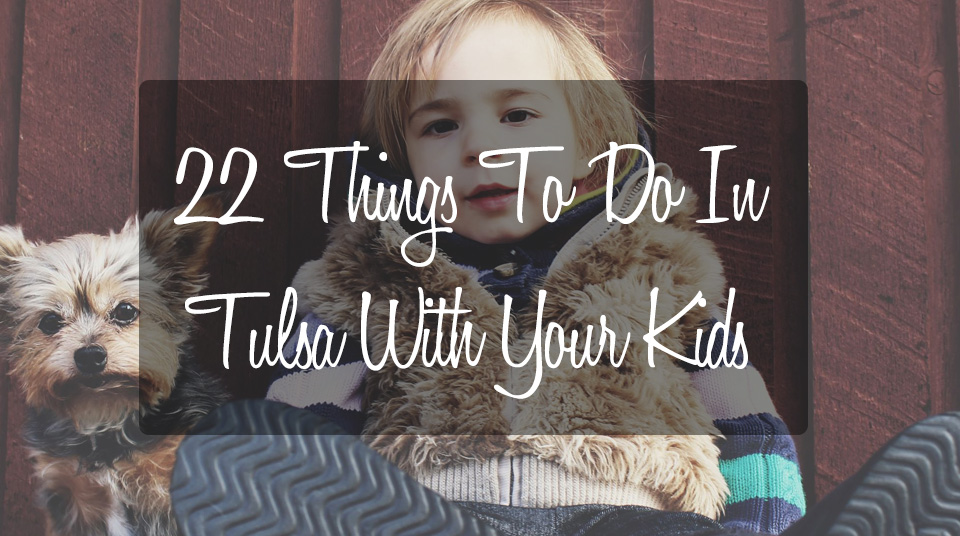 What is there to do in Tulsa with your kids?
Kids want one thing: fun — and that usually means digging, climbing, running, and jumping into whatever adventure they can find.
Fortunately, Tulsa is full of exciting escapades for toddlers, kids, and tweens!




You can use the following map to help coordinate your next outing with the part of Tulsa that you plan to be around! Enjoy!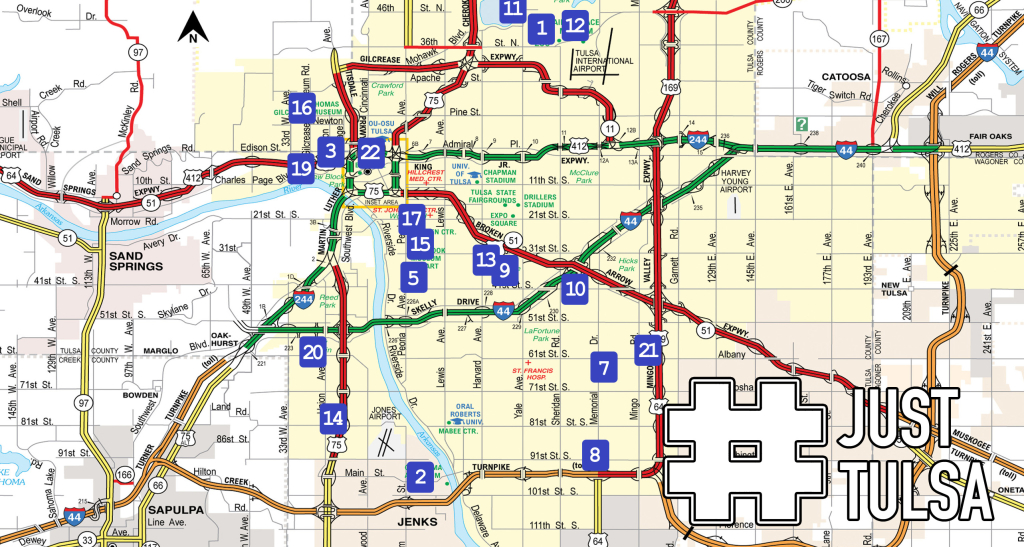 If it's been a few years (or since your own childhood) since you've been to the Tulsa Zoo, you're in for a pleasant surprise.
The Tulsa Zoo — often lauded as one of America's best zoos — has a diverse spectrum of animal exhibits, from the cute-as-heck Penguins On Parade exhibit to the African Plains exhibit, featuring gorgeous lions that sometimes roar loudly (and still somehow scare us a little.)
This is a popular attraction for obvious reasons, so show up early or on a weekday to check these animals out (plus roughly 434 more species) in a little calmer setting.
This 72,000 sq ft compound features 8 amazing habitats — from the natural habitats of the Ozarks to an awesome shark exhibit.
If you're looking to bring the kiddos to the Oklahoma Aquarium on a weekday, be sure to
check out their calendar of events
for a list of things that will be happening on that day.
So yeah — this doesn't really sound like the kind of place of place to take the kids to burn off energy, right?
Quite the opposite actually!
Think of this place as a giant indoor playground built from things that are intellectually stimulating to kids' minds.
But it doesn't stop there: you'll find a great workshop and tinkering area for kids (with instructors and all!) and fun things like their 2,500 "Grossology" exhibit (do I really need to explain the theme of this exhibit?)
With libraries all over the Tulsa metro, this is a great option to inspire a little imagination and instill some good habits.
After all, who says you can't check out a few new books for yourself?
I've yet to take the kiddos to Purple Glaze myself, but the resounding opinion I keep hearing from other moms is that it's a great time to spend with your children or for a birthday party.
With locations on Brookside and in South Tulsa, you're never too far away from a good time and a keepsake to remember it by.
6. Tulsa's Parks
Like Tulsa's libraries, our wonderful park system dots the map with an impressive selection of parks like Mohawk Park, Woodward Park, Hunter Park, and Chandler Park.
The cool thing is that each park has something different to offer in the way of scenery (which I think is a good thing for parents).
The Tulsa River Parks are a beast in their own rite!
When it comes to burning energy and calories (which I guess is really kind of the same thing?), this is probably one of the best places to do either in Tulsa.
Opened in 2013, Sky Zone offers "open jump, a SkySlam court, SkyRobics fitness classes, Ultimate Dodgeball (when available)." Kinda sounds like something 
you
want to do, doesn't it? Read more on those activities
here.
We've never been to Bounce U either, but I bring it up because it's another one that comes up often in the Circle of Moms (that's not a real thing.)
Bounce U is what might best be described as a "fleet" of inflatable bounce castles and toys. They offer an "open jump" time almost every day, but call the number on their website to verify that their on for that day.
The main thing that I want to mention about this place is that they have a very clearly spelled out pricing page for scheduling a birthday party, so keep them in mind!
One of our favorite places to host playdates and birthday parties is the Whiteside Community Center.
Features that make this a great place to take your kids or plan your next youngster get together are the following: A junior pool, sports fields, a water playground, lighted tennis courts, shelters, a regular playground, a one-mile trail, and picnic tables.
It goes without saying that keeping your kid healthy is important, so regular physical (and social) activities are a win-win situation.
Tulsa World Gymnastics offers a weekly and bi-weekly classes (at $75 and $130, respectively) to help boys and girls develop agility, strength, social skills, and more.
Somewhat of a lesser-known destination, Oxley Nature Center is one of my family's favorite places to visit on a Saturday.
Located right near the zoo (inside of Mohawk Park), there are miles of trails, a beautiful lake with a lookout platform, and an actual nature center that will thrill the little bug and animal lovers in your family.
Bonus: You'll get a good aerobic workout on the trails!
Some kids really love airplanes, right? If you have a little future pilot in your family, the TASM is right up your alley.
With multiple airplanes and helicopters in the museum, this stop is sure to wow your kids (and you.)
Don't forget to check out the planetarium, which is included in the price of admission.
Laser Quest is seriously one of Tulsa's staples for kid entertainment.
An arguably better option than "shoot 'em up" video games, a trip to Laser Quest is money well spent if you're looking for guaranteed good times that the kids will talk about for days.
If you're planning on spending some time near South Tulsa, consider an afternoon or evening at Main Event.
Featuring bowling, billiards, video games, gravity ropes, and laser tag, this is a true one-stop shop for family fun or birthdays.
One of the best things about the Philbrook is that it is so visually stunning that parents and kids alike can really appreciate the beauty of this Tulsa landmark.
Featuring a vast gallery of beautiful art, exhibits that rotate frequently, and a very neat little gift shop, the Philbrook is a little more geared for older kids.
16. Gilcrease Museum
Tulsa's beloved Gilcrease Museum is another gem that kids seem to love!
Situated quietly in the northwest corner of the Tulsa metro, the collection at Gilcrease will be an inspiration to your artistic and creative youngsters.
Did you know that it houses the largest collection of American West art in the world?
While the Tulsa Garden Center is absolutely beautiful in its own rite, it is merely one facet of the gorgeous scenery that is Woodward Park.
Whether you're going for a bike ride along the parkway or snapping a few photos on the bridge, your kids will absolutely love this park.
The Tulsa Garden Center sits at walking distance just to the south of Woodward Park — it is absolutely stunning when the flowers are in bloom.
This is going to sound like a little bit of a stretch at first, but hang with me.
If you've got kids that are into heavy equipment, boats, or big machines, this is a really cool little tour for them (and friends.)
Located out at the Port of Catoosa, this is an oft-overlooked good time.
If you've ever seen this curious looking little house on Charles Page Blvd, just west of downtown Tulsa, you know what we're talking about.
Built as a cave-themed restaurant in the 20s, the Cave House has since changed hands several times and is now owned by Linda and Kate Collier.
Admission is $10 per person for a tour of this chunk of Tulsa history, but you'll need to call ahead to schedule a visit!
One of Tulsa's favorite outdoor recreation areas, Turkey Mountain has bike and hiking trails for all levels of skill and all types of enjoyment.
Located just on the west side of the Arkansas River (near 71st St), Turkey Mountain is loads of fun and another excellent way to help your family stay healthy!
Two things: Batting cages and Tulsa's most famous miniature golf course.
Although that is plenty enough to make a trip to All Star a worthy consideration, it's proximity to Broken Arrow and accessibility via Highway 169 will always make this a great place to hang out.
This is really fun, really cheap entertainment. You can also grab dinner at Neive's Mexican Grill while you're there!
As one of downtown Tulsa's best outdoor features, Guthrie Green is one extremely active piece of real estate.
Aside from the weekly zumba and yoga classes, Guthrie Green is host to Food Truck Wednesdays. This is a great way to break up the monotony of "everyday lunch."
Do you like this list?
We hope you've enjoyed our list! If you did, would you please consider sharing this with other people that might find this helpful? We really appreciate it!