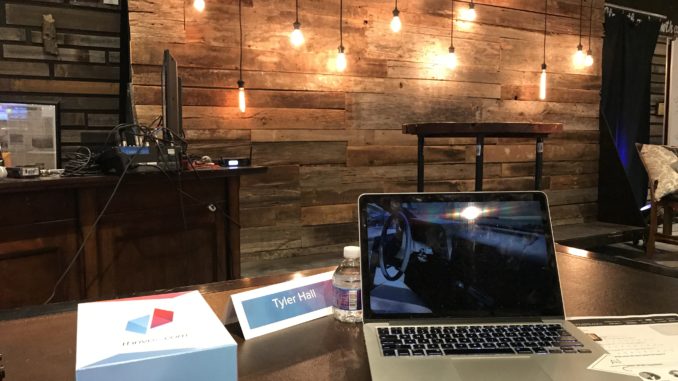 I finally got a chance to attend Clay Clark's Thrivetime business workshop.
If you've been around Tulsa long enough, you may have heard of Clay Clark or the businesses he's started, funded, or operated. As a matter of fact, you can hear him speak every week day on KFAQ 1170 AM from noon to 2 pm, where he hosts a highly entertaining business show with Dr. Robert Zoellner.
As a matter of fact, that's where my journey started.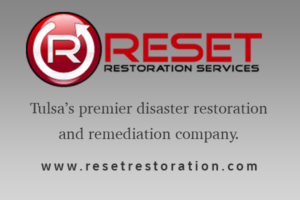 For those of you that haven't heard of Clay Clark, I'll put it succinctly: Clay is a business coach with a track record of starting or co-operating several successful companies that turned into multi-million dollar businesses. These businesses include everything from DJ Connection (if you got married in Tulsa and had a wedding DJ this century, there's a good chance you used them), Elephant In The Room, and Epic Photography.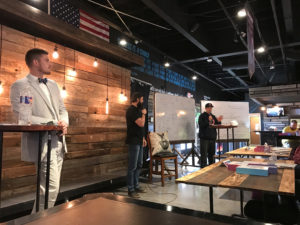 I accidentally stumbled upon the Thrivetime Show on 1170 AM about 4 or 5 months ago while I was driving across town and, for some reason or another, got curious about what in the world is on the AM dial these days. I was familiar with 1170, so when I paused there for a second and heard what I could only describe as two grown men cracking up at each other while giving business advice, I decided to stop my scanning there and find out what this show was all about.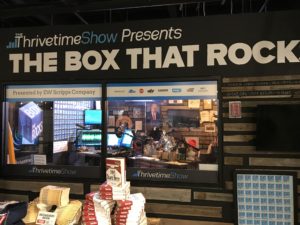 I've listened to every episode since then.
I'm not going to go into all the details of their radio show because that's not what this post is about, but if you run a small business or have ever wanted to run a business, I would implore you to listen to this show. Even better, you don't have to wait until Monday at noon to listen, you can get a taste right here. These guys crack me up and I've learned a ton from them.
Okay, let's get into the meat of this post.
What is the Thrivetime business workshop?
The Thrivetime business conference is a 2-day, 15-hour workshop that is held just about every month at the far north end of the Riverwalk in Jenks (just on the north end of FlyingTee.) The workshop is mainly hosted by Clay and another gentleman (of notably tall stature) by the name of Marshall Morris. Together, they provide a very intensive session (that borders on straight-up training) that is jammed full of practical and actionable steps and systems for taking a business from "meh" to "WOW."
They also bring in several local business coaches that break down specific areas of business from hiring and firing to search engine optimization. This isn't a motivational seminar or some scammy "get rich quick" thing; this workshop is pure "how to" and it is every bit as entertaining as the radio show that led me to it.
I'll talk more about some of the things I learned in this workshop in just a second, but I took quite a few pictures of the Thrive 15 headquarters and I want to show them to you — this place is really cool.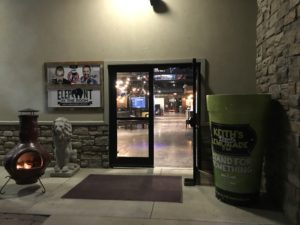 Because I'm a total weirdo, I get up pretty early. On this particular morning, I was fairly excited to get to attend this workshop, so I got up and ready and decided to roll out. If I recall correctly, the picture above was taken at about 6:00 am (the workshop started at 7 am), so I was surprised to see that they had the doors open and ready for people to come on in. Did you notice the piñon wood burning in the chiminea? Needless to say, this place smelled wonderful.
I walked in and quickly realized that this wasn't going to be your typical "hotel conference room" shindig. This facility is pretty impressive!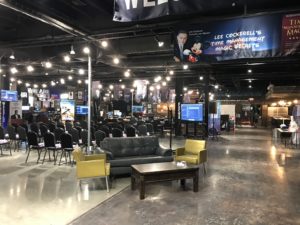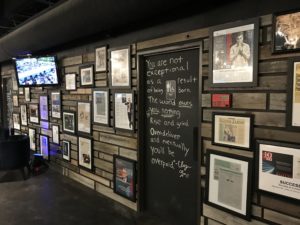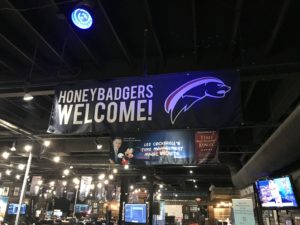 Like I said earlier, I showed up pretty early so I walked in and decided to find out where I would sit. I hadn't thought about the fact that they might have assigned seating, so when I noticed the names on the desks, I started looking for mine.
When I found mine, I was cracking up! Check out this awesome leather chair and desk that they put me in! And it was at the front row.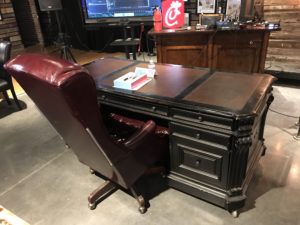 I'm a note-taking son of a gun, so this setup was perfect for me. There was no way I was going to sit through two days of intensive business education without taking as much of it home as possible.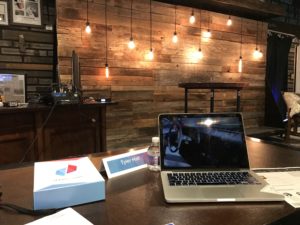 You may have noticed the box on the desk. This box had some cool swag in it, which included a huge spiral-bound book that we used throughout the course of the workshop. Of course, there's no possible way that a person could go all the way through this book in 15 hours, so I've been reading through it in the evenings since the conference. Again, there is so much actionable advice in these books — I'm talking about down to the point of formulas and step-by-step systems for everything from ranking your business's website on Google to defining the goals of your business and yourself and how to accomplish those goals.
Again, I should stress that this isn't a motivational seminar. I'll hit the bold button to drive this point home. Take a knee:
This is an intensive business workshop that is for people who are 100% interested and invested in building their business in a way that will serve them. This isn't for people who are interested in scraping by with their businesses. This is specifically for people who are determined to be the top business in their niche.
I think it's important to drive that point home, because this workshop does cost money. However, the price is remarkably inexpensive; especially when compared to the value that you get in trade. While most multi-day workshops range from more like $2,000 to $10,000 (I'm looking at you, Tony Robbins), this one is only $500 and that covers materials and admission for two people.
Why is it so cheap? I look at it this way: these guys make their money with their businesses (as is evident by any Lamborghinis, McLarens, and Bentleys that you may happen to notice in the parking lot.) They're not exactly hurting for money. As a matter of fact, it's quite clear that Clay is compelled to simply help business owners be the best version of themselves. Don't get me wrong — these guys are in the business of making money, but this workshop isn't where they're making their millions.
As a matter of fact, it's kind of a funny circle. This workshop is where they teach you about the exact systematized methods (and they are big on that) that they used to build their multi-million dollar businesses (13, between Clay and Dr. Z, alone) so that you have the financial freedom and time freedom to do the things you enjoy — even if that is helping other entrepreneurs and business owners to grow their businesses.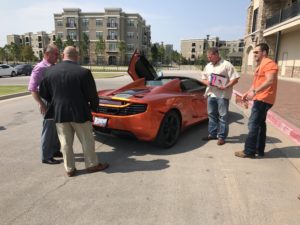 By the way, that McLaren in the picture above is owned by Mr. Paul Hood (purple shirt) of Hood & Associates CPAs. This guy is super friendly and down to earth. He took a bunch of us out for lunch at Los Cabos at the Riverwalk for lunch on Saturday. That's one way into my heart!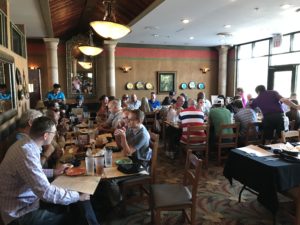 That lunch was fun. I got to chat with some of the other attendees and found out what line of work they were in. These ranged from wireless broadband providers to IT/helpdesk system programmers and bankers. The one thing that they all had in common was that they were all interested specifically in designing their businesses to serve them so that they can live the lifestyle that they want.
As Clay put it himself, designing that business that serves your lifestyle starts with hyper-defined goals that are tackled with very specific actions.
This mode of operation, coupled with a deliberate approach to planning and action-taking, is the foundation for the workshop. Although the aforementioned is just one slice of the pie, Clay and Marshall make it very clear at the conference that this is one of the most crucial aspects to making your business serve you.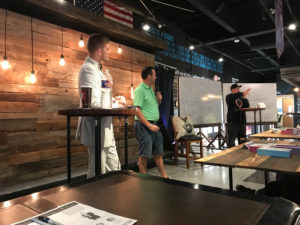 So what did I learn about in the Thrivetime workshop?
Here are just a few of the areas where we learned some very useful strategies:
web design
marketing
customer perception
accounting
hiring and firing
sales
accounting
online reputation management
search engine optimization
In addition to the strategies that I picked up from Clay and Marshall, several other local businessmen like Paul Hood, Steve Currington, Clay Staires, and Justin Moore gave some very enlightening talks on how they specifically turned their businesses into the successes that they are today. These gentlemen are real people with real businesses and they have proof of the efficacy of what they teach.

Would I recommend the Thrivetime business workshop?
That entirely depends on who you are.
If you're totally satisfied having a steady job or career where you're employed by someone else — and many people are, which is totally fine — you're not going to get much use out of this workshop. Just my opinion.
However — as I said, up above — if you own a business or are seriously interested in starting your own business, I would fully urge you to attend the next workshop.
Have a question I didn't cover?
I hope you've found this review helpful! If you know someone who runs a business that could benefit from a strategy and system-oriented workshop like this, share this post with them via email or social media. If you have a question about something that I didn't address in the post, shoot me an email at tyler@justtulsa.com and I'll see if I can help you out. Until next time!