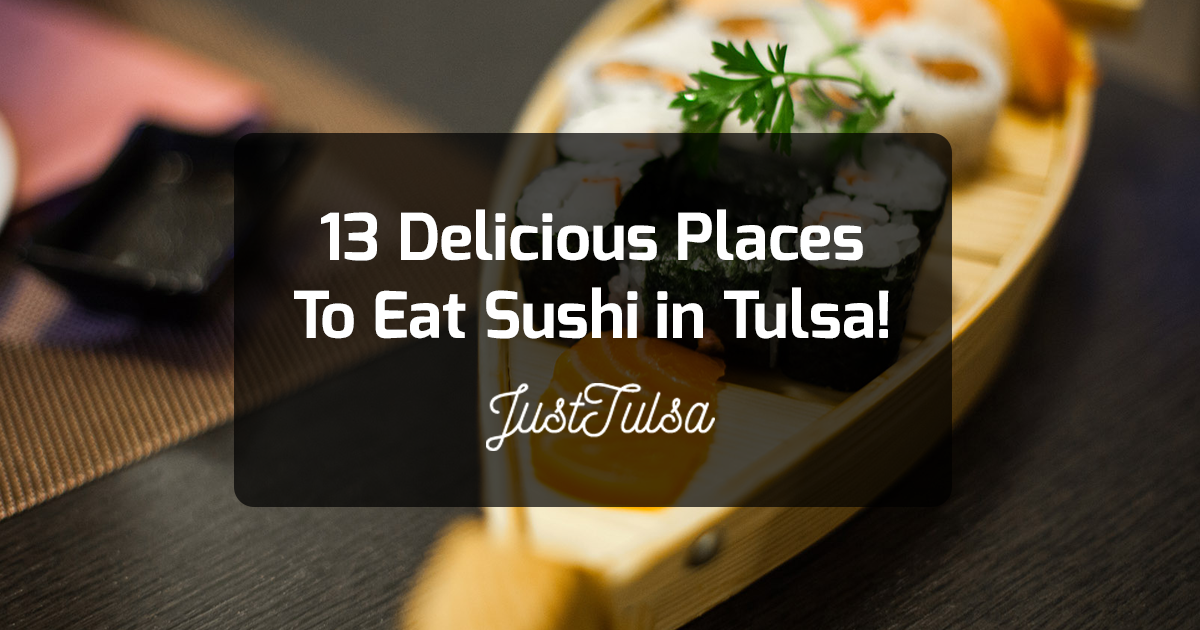 Looking for the best sushi in Tulsa?
If you're a sushi addict like we are, you know the difference in bad sushi and good sushi. It's (luckily) just not that hard to distinguish. As a matter of fact, most sushi lovers are going to have their favorite restaurants (us, too), so we recently huddled up to tell you about a few of our own favorites.
If you like this article, we encourage you to share it with other Tulsa sushi lovers! And make sure to follow us on Facebook to see even more fun and food articles (as well as giveaways!)
3321 S. Peoria, Tulsa, OK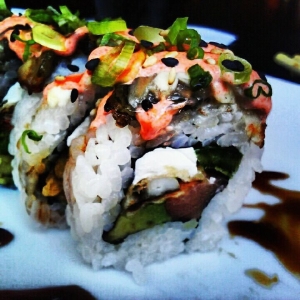 One of two great sushi places on Brookside, In The Raw is a real Tulsa sushi staple. In The Raw has an awesome happy hour special Monday through Thursday.
If you're looking for a cool place — in the middle of a pretty gorgeous entertainment district — to pick up some fresh sushi, it's hard to top In The Raw on Brookside.
One thing I have to say about In The Raw: this is a great "date night" restaurant. Hip and not uptight.
13720 E 86th St N, Owasso, OK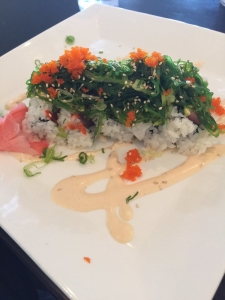 Completely worth the journey north, Hapa is one of Owasso's newer restaurants and has some of the most creative (and delicious) rolls of all the restaurants on this list.
If you're into the classic rolls, sushi, and sashimi, you'll enjoy they're super fresh offerings, but the magic happens in the "specialty rolls" section of their menu.
These rolls — like the Ghost In The Shell, Cowboy Bebop, and Brown Eyed Girl — will run you about $12 or so each. If this isn't the most unique and complex-flavored sushi experience you've ever had in your life, I'll pay for your dinner. That's a lie — I will quickly whisper how wrong you are, though.
309 E 2nd St, Tulsa, OK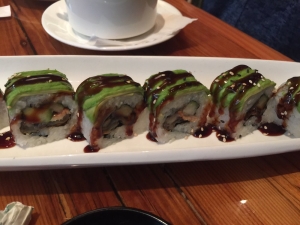 Part of the McNellie's Group, Yokozuna is the place to get sushi downtown.
Creative rolls like the Nutty Thai Professor (my personal fave) and the Blue Dome roll (with escolar, yellowfin, and salmon) are must-try rolls. Trust me on this one.
Yokozuna holds down the southeast corner of the Blue Dome District and, as such, is a great place to start an evening of fun without ever having to call a cab to go from one place to another.
2409 W Kenosha, Broken Arrow, OK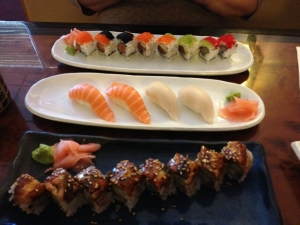 Our first sushi bar from Broken Arrow may also carry the distinction of having the freshest sushi in the metro. We'll definitely say it's in our top three favorite restaurants in BA, either way.
If you're into spicy rolls, we highly recommend you try the Spicy Dragon Roll at Memories of Japan. It's got some major kick to it and — sweet LORD — is it delicious.
Don't forget to ask about their sushi boat here — it's a sight to see.
8226 E 71st St, Tulsa, OK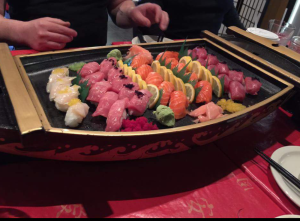 Often hailed as Tulsa's best sushi restaurant over the years, Fuji's quality and laid-back atmosphere make it plain to see why they've been open so long.
I try not to make Woodland Hills Mall a frequent stop, but if I have to, I prefer to treat myself to sushi and sake at Fuji immediately after.
3739 S Peoria Ave, Tulsa, OK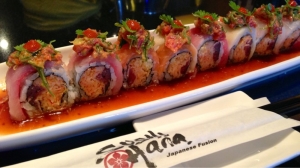 If you've ever been to Sushi Hana, you know exactly why this place is on our list.
We're actually big fans of Sushi Hana's fusion entree offerings, but since we're on the topic of sushi, we should probably talk about their sushi (which is quite exquisite.)
The basic rolls you would find in most restaurants are inexpensive (and done very well), but similar to Hapa, the fun stuff is tucked away in the "Special Rolls" section.
Past favorites that come to mind have been the Flying Dragon ("crabmeat, shrimp tempura and eel topped with salmon and mango") and the hilariously-named OMG ("eel, crabmeat, and cream cheese wrapped and tempura fried, topped with a layer of avocado and masago") … you'll understand the "OMG" part when you try this roll.
3302 E 51st St, Tulsa, OK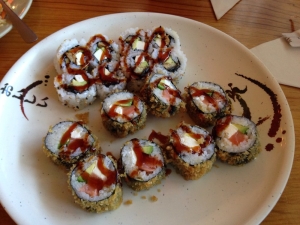 Another Tulsa classic, Sushi Train is conveniently located at 51st and Harvard — a fairly close location for Midtowners and South Tulsans, alike.
Though the concept of "sushi trains" isn't a new one, patrons of this sushi bar are hooked on being presented with a train of plates with different rolls. What the heck is not to love about that?
Each plate is color coded so you can keep track of how much you've spent — a handy thing to know when eating sushi.
If you've got kiddos, Sushi Train has a terrific "gummy roll" for them, too!
4020 S Memorial Dr, Tulsa, OK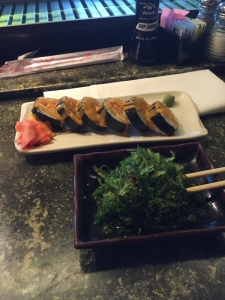 Attentive management, good service, and an awesome sushi bar make put this hibachi grill on our list.
The sushi bar — which is actually separate from the hibachi area — is where you'll find us when we visit Tokyo Garden. Favorite rolls of ours are the Monkey Ball and the Oklahoma roll ("smoked salmon, cream cheese, egg, cucumber, avocado & deep fried".)
This is also one of the coolest looking Japanese cuisine restaurants in Tulsa with it's traditional exterior decor.
Tokyo Japanese Restaurant
4942 W Kenosha St, Broken Arrow, OK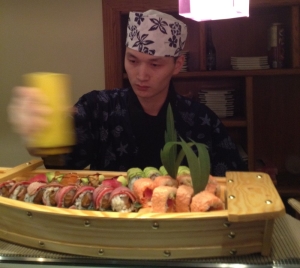 We don't visit this place near as much as we do Memories of Japan, but if you're looking for good quality all-you-can-eat sushi, this place is totally fine.
This is actually a pretty small restaurant (and we've never seen more than one person waiting tables here), but it's popular with BA residents, so sometimes it can take a while to get food.
Aside from that, a few of us have eat here over the last several years and we've always had a perfectly enjoyable experience!
9455 N Owasso Expressway, Owasso, OK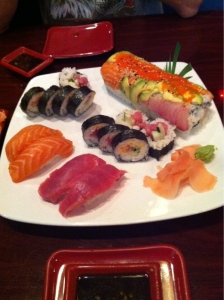 Owasso is witnessing an unusual phenomenon right now: two of the Tulsa Metro's best sushi restaurants are smack dab in the middle of O-Town. Not unlike Akira's Owasso sushi bar brethren — Hapa — it is also one of Owasso most popular restaurants.
As far as atmosphere goes, I think Akira is one of the best examples of what sushi bars should look and feel like. This place is classy, lit lower in the evenings, and always has personable and professional waitstaff.
Akira has their seafood flown in twice a week, which is reflected in the freshness and flavor of the final product. For a good example of how amazing Akira's sushi selection is, try their Hanson roll.
11016 E 81st St, Tulsa, OK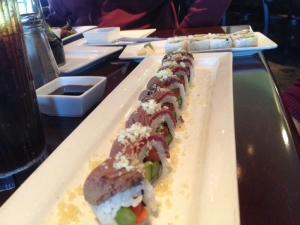 Known across the city for their hibachi offering, Osaka is actually a rather great place to eat sushi, too. Next time you find yourself at Osaka, consider ordering a sushi roll or two for an appetizer.
You know how things go at hibachis — they exactly make for a quick meal, so a Graduation roll or an Oru roll are a great way to take the edge of your hunger.
1402 S Peoria, Tulsa, OK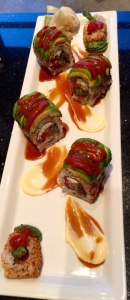 [Sadly, Zanmai closed down a little while back.  At some point, I'm going to update this list to reflect that][It was originally written in 7/2016]
Surprise! Another hibachi place with great sushi!
Seriously, though — this place has an unmatched view of the Downtown Tulsa skyline. I don't know what it is, but there's something about the view from the 15th and Peoria area that just makes those buildings look bigger and more beautiful than any other vantage point in town. Take your "date night" date to this place and you're racking up the brownie points.
If you work downtown, this place has a great lunch special, too — 2 rolls for $8 or 3 for $10.
6946 S Lewis, Tulsa, OK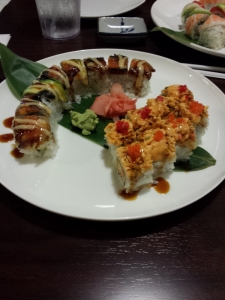 The final sushi place we wanted to make sure we mentioned is a little spot in South Tulsa called Sushi House. Don't let the strip mall location fool you — this place is the bomb.
Known for fresh, large rolls, it isn't hard to see why people are hunting this place down to try it. Hell, if you buy enough sushi, they'll give you a free Fuji roll.
For being in such a quiet, tucked-away location, this group knows how to keep bringing in customers. We don't venture out to this corner very often, but when we do, we often stop over at Sushi House.
That's it!
We hope you enjoyed this article! If you did, share it with someone you know that loves sushi. We'll see you around!