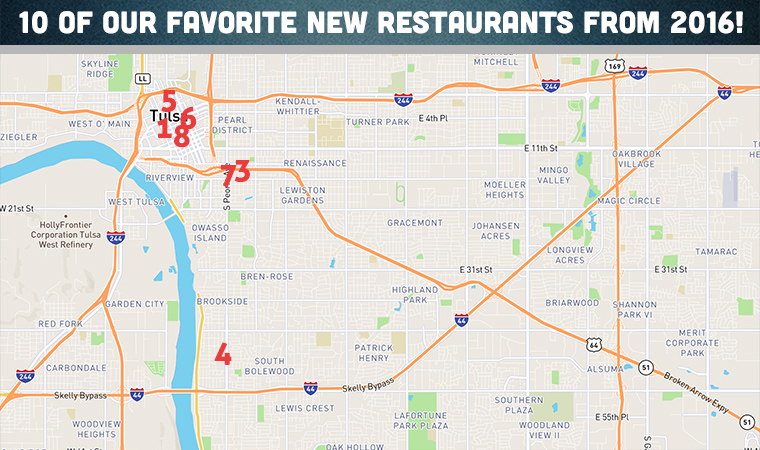 10 Of Our Favorite New Tulsa Restaurants of 2016!
2016 was a good year for new dining in Tulsa! This map features 11 new restaurants that opened up in Tulsa in the last 12 months — check out the descriptions for each place below!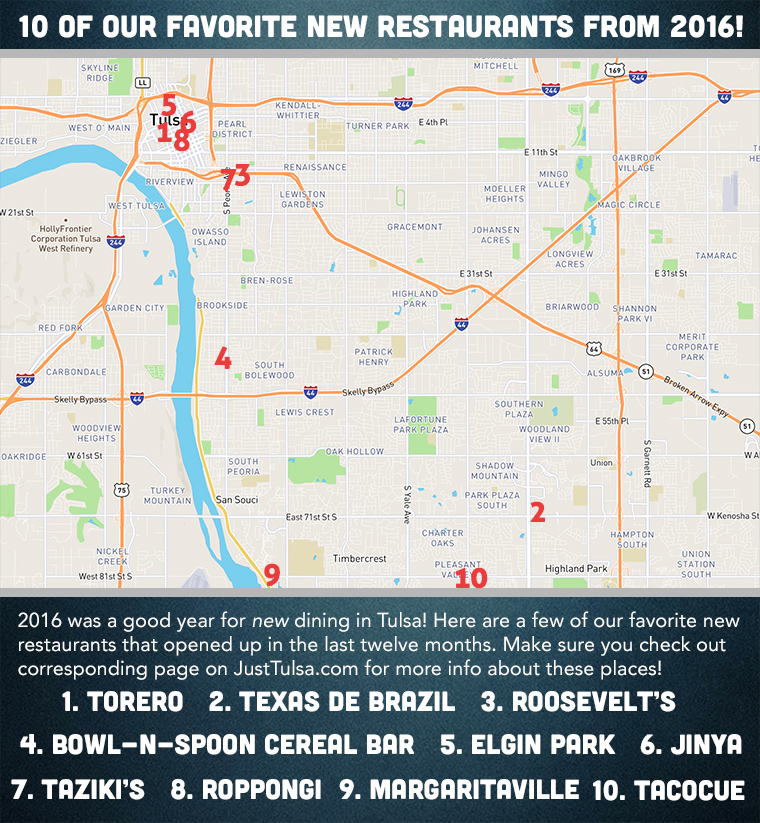 1. Torero Bar and Kitchen (202 S. Cheyenne)
For our readers that are into trying "new" things, we recommend that you give Torero a shot. It's not that the food you'll find on their menu is unusual or bizarre, but their take on some of the classic items that they make is unique and delicious.
Torero, which is Spanish for "bullfighter", is also Tulsans for "delicious Latin American food that I can't get enough of." After visiting a handful of times last year, I'd be willing to promise you that you're going to like whatever you try there.
I loved how their super professional waitstaff weren't afraid to make recommendations. It's great to see that kind of service in Tulsa!
2. Texas De Brazil (7021 S. Memorial)
I first wrote about this place about a year and a half ago, when I heard that Tejas De Brazil had announced that they would be opening up a Tulsa location. They have restaurants all over the US (and several more around the world) and each one of them has become a "destination restaurant" — people often travel to eat at them.
Of course, if you're unaware of what a Brazilian steakhouse is, you're probably wondering what the hype is all about. A rotation of servers bring out swords stocked with grilled meats (and my favorite, grilled pineapple) every few minutes — you tell your waiter if you'd like a cut of the meat and he slides one off onto your plate. As you can guess, a dining style involving guys carrying around swords of filet mignon doesn't tend to be an especially cheap one; a meal at Tejas De Brazil will run you at least $45 before tax and tip.
3. Roosevelt's (1551 E. 15th St)
Cherry Street's newest gastropub is another new-for-2016 restaurant that has a great menu. Admittedly, I tend to get my first impressions from the appetizer portion of a menu, and the only disappointment I've experienced from Roosevelt's menu is that I haven't tried everything yet.
Their mouthwatering fried chicken had a fair price; I don't think I'll be forgetting the flavor anytime soon, either.
For those of us that enjoy craft beer or a glass of wine, you're really going to like their selection.
4. Bowl-N-Spoon Cereal Bar (4510 S. Peoria Ave)
You read correctly. It's a cereal bar.
The much anticipated opening of Bowl-N-Spoon saw some major interest in 2016; and things haven't slowed down. This place obviously tends to be busier in the AM hours, but it's open until 8pm during the week and open until 10pm on Saturday. I wonder what would happen if I took my wife there for a surprise dinner date…
5. Elgin Park (325 E. Brady)
Elgin Park refers to themselves as a family-friendly sports bar. That's not hyperbole. While Elgin Park is definitely a great place to enjoy a few beers and a Thunder game, this place really is family friendly.
I haven't been to Elgin Park before a Drillers game, but I imagine it's a hopping little joint on gameday.
Last time I went, my cousin and I split a spicy pizza pie ($21 for the medium pie we had) and it was excellent. I can't wait to try their other pizzas!
6. Jinya (416 E. 2nd St)
Having opened just a month or so ago, Jinya didn't waste any time establishing themselves as the hottest new restaurant in the Blue Dome District. I wrote a bit of anticipatory piece about Jinya's opening in downtown Tulsa, and from the research I had done, it appears that the Tulsa location of this ramen bar franchise hasn't missed the mark.
Let me just say this: I invited two friends out for dinner and they've both been back twice, each. High quality ingredients, housemade noodles, and good drink options are going to help this place keep up the momentum.
7. Taziki's* (1551 E 15th St)
If you noticed the asterisk in the text above, it's because Taziki's isn't the first of it's kind in Tulsa. The first location opened up at 71st and Yale last year and has become a pretty popular little South Tulsa spot.
Now that there's a Cherry Street location (coincidentally in the same building as Roosevelt's), Midtowners get to enjoy Taziki's great spin on Mediterranean, too! And if you love gyros like I do, you're really going to want to try this place out.
I hadn't eaten at the South Tulsa location, but when the Cherry Street store opened up, it quickly became a place I visit every month or two.
8. Roppongi (601 S. Boston)
Downtown Tulsa actually got two brand new ramen bars this year. Roppongi recently opened up at 601 S. Boston (where Lassalle's New Orleans Deli operated, before moving across downtown.)
Libby Billings — owner and operator of Elote and The Vault — spent a lot of time researching ramen here and in Japan and her efforts have definitely paid off. I'm a big fan of Elote, so I was excited to see what Roppongi would be like. When I spoke to Libby about Roppongi, she told me about how salty ramen was in Japan, and how she wanted to sell something that she wouldn't mind feeding her own kids. Thus, you'll get a much healthier version of the trendy Japanese dish.
I would advise giving the pork ramen a shot here. I've always felt like pork ramen is a good way to gauge the quality of a ramen bar. Roppongi's pork ramen easily hit the mark.
9. Jimmy Buffett's Margaritaville (8330 Riverside Parkway)
Admittedly, this is kind of an unusual candidate for a "favorite new restaurants in Tulsa" list, but hang with me for a second. This place is actually really good. No, it's not some kind of experimental fusion or fine dining, but the service was great, the drinks were a good value, and honestly it was just really fun.
If you're in South Tulsa near the Arkansas River (and especially if you feel like having a little fun at the casino,) this is a perfectly fine place to grab dinner and drinks at.
We stopped by here for dinner recently after a trip out to Flying Tee
I'm an absolute sucker for coconut shrimp; I blame this on spending a lot of time in hotels since I travel for work so much (coconut shrimp is a frequent staple of hotel dining in some of the areas I frequent.) Jimmy Buffett's Margaritaville is absolutely on point. I'm actually getting hungry thinking about it right now.
10. Tacocue (9107 S. Sheridan)
There are few things in life that I care about more than Mexican food. I'm also a really big fan of smoked meats (especially smoked ham, which I just had for the first time on Thanksgiving this year.) Tacocue takes a pretty impressive selection of smoked meats and presents them in Mexican dishes. I love this concept so much.
Having just opened in early December, this fun little restaurant has a great all-weather patio and a great menu, albeit a small one. You won't need a lot of menu choices though; each one can be tweaked with your choice of 8 "protein" choices.