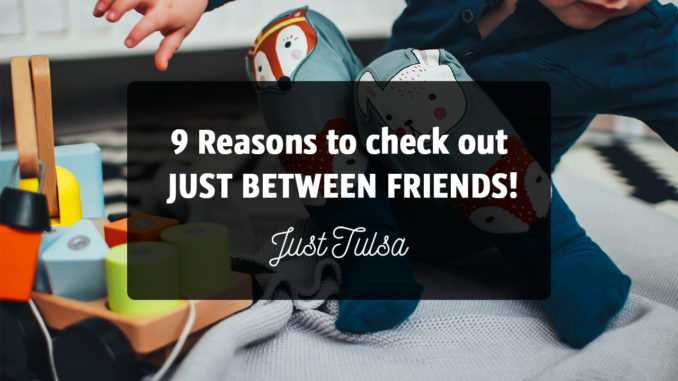 Just Between Friends Tulsa is coming up in less than a month (February 25th thru March 3rd; not including the big Pre-Sale Extravaganza.) If you or someone know have kids, you're going to want to check this bi-annual event out.
What is Just Between Friends?
Just Between Friends was started over 20 years ago by Daven Tackett and Shannon Wilburn out of a living room in Tulsa. While 17 moms attended the first Just Between Friends to swap clothes with other moms, it didn't take long for Tackett and Wilburn to realize that they had something special.
Fast forward to 2017: Just Between Friends has gone national, thriving in 30 states among 150+ JBF franchised operations. With this year's event promising to be bigger and better than ever (with even MORE stuff for sale,) we're certainly excited to get ahead of the curve for our two daughters.
Heck, with how fast they grow, it starts feeling a little crazy to NOT be consigning or buying gently used!
So, what exactly makes Just Between Friends a must-visit event for local parents, aunts/uncles, and grandparents? Allow me to break it down for you, Tulsa: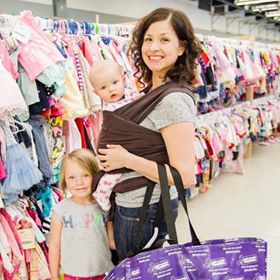 1. A great place for new mothers to get a leg up on being a mom!
At 5pm on the Presale Extravaganza Day (Saturday 2/24/18), first-time mothers get special access to TONS of great deals on everything from maternity clothing to diaper bags (and everything in between.) First-time mothers are also allowed to bring two guests (although children, strollers, wagons, et. al., aren't allowed at this particular sale.)
This is one of my favorite things about JBF, because getting used to having your first baby isn't exactly easy. This presale gets these first time mothers in for a special shopping session. If you know someone that's a had a baby in the last 12 months, let them know about this! It's a great opportunity to get in on some of the earliest deals!
More details on their first-time mom special here: http://tulsa.jbfsale.com/ShopView.jsp?eid=160486
2. Save your sanity with discounts on pack'n'plays and bouncers
When we had our first daughter, I remember being kind of surprised at how much a pack'n'play cost. Heck, I know our main one was at least $100, but boy was it worth it!
We've had one at my mom's house for when the youngest of the two kiddos needs a nap, but we also keep one in the back of the van that we can mobilize quickly for traveling and road trips.
Not having to pay an arm and a leg for that convenience is something that any parent can appreciate! Be sure to check out their big section for this kind of stuff!

3. Toward the end of the sale, they have BIG discount days.
While most days of this sale are free, JBF slashes prices down by 25% (as long as the item doesn't have a star on the tag) on March 1st. This 25% off sale continues through Friday (3/2/18) at 7pm. After 7pm, 12-hour volunteers — as well as first-time moms — are invited to stay until 9pm for a special half price preview sale!
In addition to the 12-hour volunteers and first time moms, everyone else can get access to the half-off sale for $5/ticket after 7:30pm.
On the final day of the sale (3/3/18), the half-off sale opens up to the public (for FREE) from 9am to 5pm!
4. You can literally crush your Christmas shopping for the kids for the family in one fell swoop!
Because the prices are great, thee opportunity to get ahead of your Christmas shopping is immense. Liz knows a lady that claims to get nearly half of her Christmas shopping done between the two yearly JBF sales here in Tulsa. Smart, smart, smart!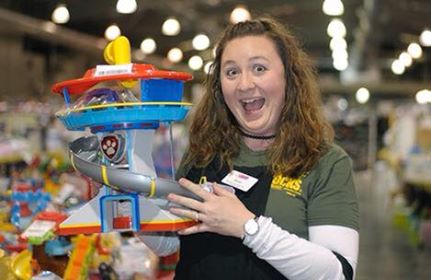 5. You can MAKE money consigning!
Depending on what your goals are, you might be chasing some big sales numbers this year! Alternatively, many families take this opportunity to offset some of the costs imparted by growing children. This is doubly smart!
6. Two words: maternity clothing
Aside from the fact that JBF is probably the single largest toy and kids clothing sale in Oklahoma, they also have gobs of maternity wear. Moms know that styles change just as quickly as our kids grow up.
Not to mention, there's no need to keep around old maternity clothing when you can trade it in for money!
7. SHOES.
Speaking of how quickly kids grow, I recently experienced a brief moment of shame when I went to slip a pair of shoes onto the feet of my youngest baby. She had already outgrown them before wearing them the first time!
D'OH!
While those shoes ended up making their way to the closet of a friend's younger daughter, there was no way that was happening again!
Wait, what was I getting at here? Oh, yeah — that's right. Kids' feet grow really fast. Don't waste money on shoes that they won't be able to wear tomorrow!

8. You can get early access to on the pre-sale day just by volunteering!
Did you know that you can actually get the earliest access just volunteering?
Volunteers who help out for 5, 7, or 12 hours get first access to the JBF presale on the morning February 24th (Saturday) based on how long they've signed up to volunteer! If you have the free time, this is a GREAT idea.
Me and Liz will be up at the presale for the media segment of the day, so say hello if you see us!
9. You're supporting the original Just Between Friends — A Tulsa success story
From JBF's humble beginnings as a small sale in a Tulsa home, this event has grown larger than, I would assume, anyone involved would've imagined 20 years ago. The good folks at Just Between Friends are certainly worthy of praise and gratitude for developing this sale, as it's saved Tulsa metro families untold amounts of money over two decades.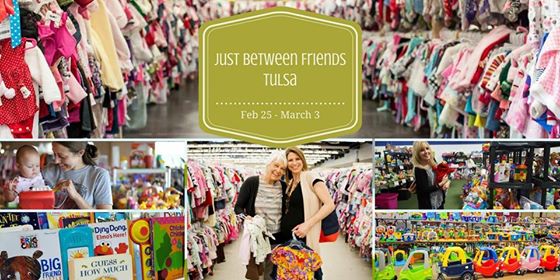 Summary
That's it!
Tell your friends and family and make plans to attend the original Just Between Friends, right here in Tulsa! If you're interested in consigning and making some of that sweet, sweet cash, be sure to read up right here: http://tulsa.jbfsale.com/SellView.jsp?eid=393874
See you all out there!
-Tyler and Liz