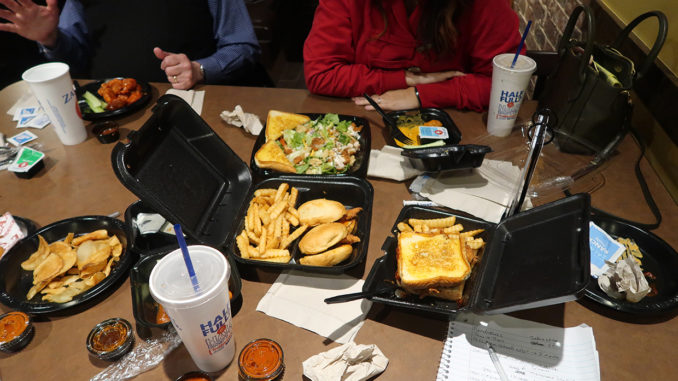 Tulsa has a brand new Zaxby's
A few weeks ago, an email showed up in my inbox with an invitation to come check out the newest Zaxby's restaurant at 1717 S. Yale — just east of the Tulsa Fairgrounds. Although I have enjoyed Zaxby's wings many times since they started opening stores in the Tulsa metro, I hadn't really branched out from the first thing I'd ever tried there — their "Nuclear" sauce wings. I'm terrible about that — I'll find something I like at a restaurant and order it over and over again.
Of course, the invitation mentioned sampling some of their menu items, so I wasn't going to miss out on that. We also got a chance to chat with the lady that operates this store (and three other stores) named Salena White. I was pleased to learn how involved Zaxby's gets with their communities. More on that in a few.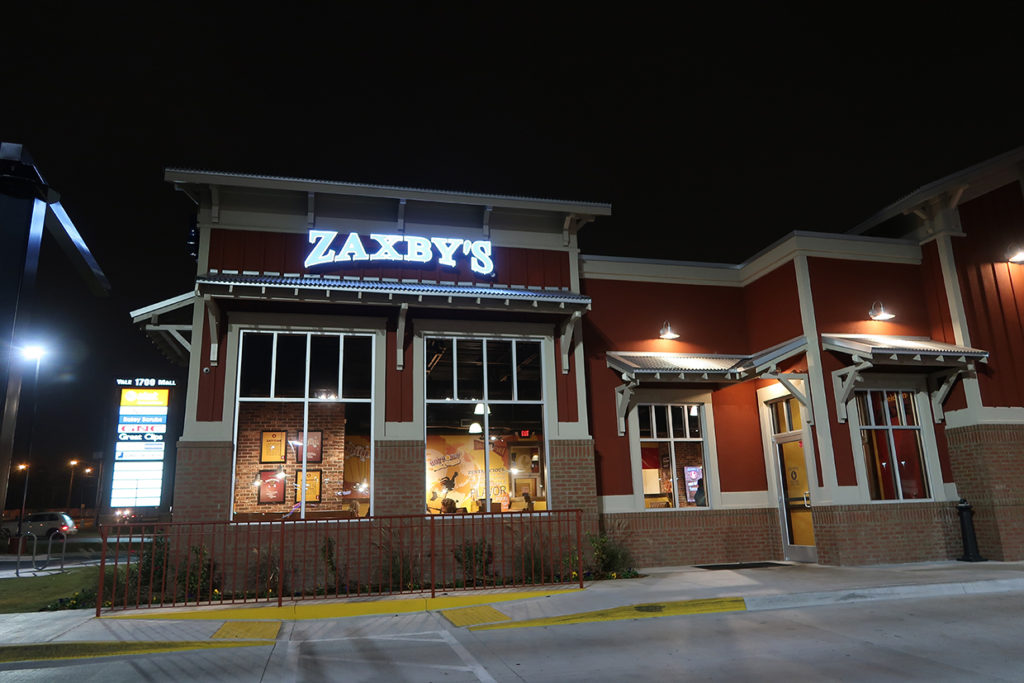 Liz wasn't familiar with their menu on any level, so she came with me. We were pleasantly surprised to get to join members of local publications like The Tulsa Beacon and TulsaKids Magazine, who were also invited. It was cool to see the professionals at work!
They brought out several of their appetizers (or should I say Zappetizers, as they call them on their menu.) I enjoyed the heck out of the spicy fried mushrooms, but the fried white cheddar bites were my favorite. If you like cheese (and who doesn't?), I would encourage you to give those a try next time you stop by Zaxby's.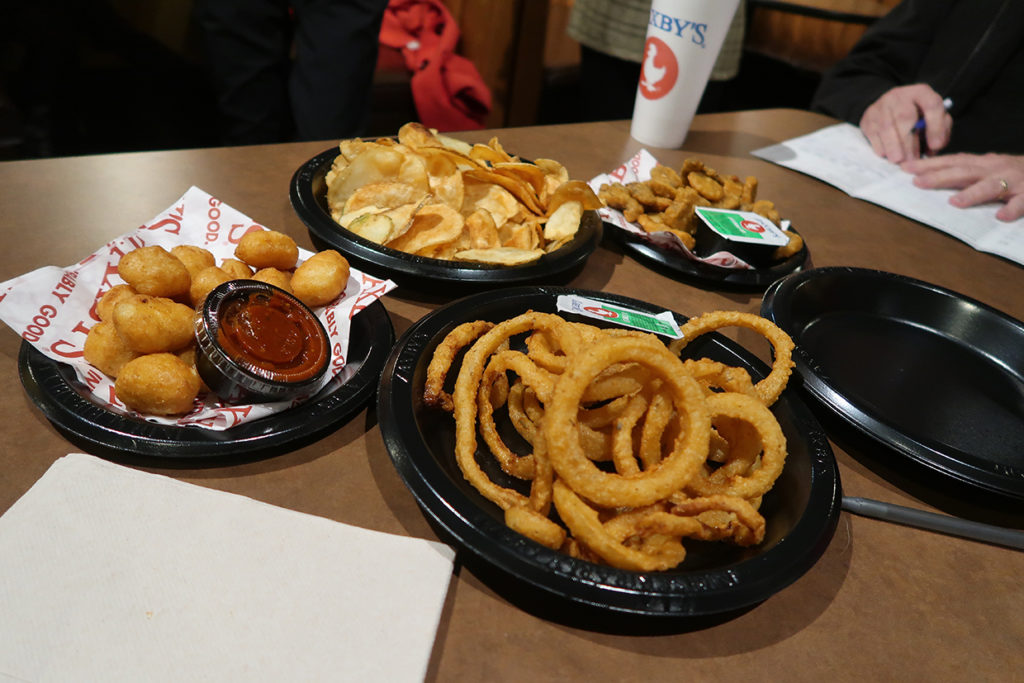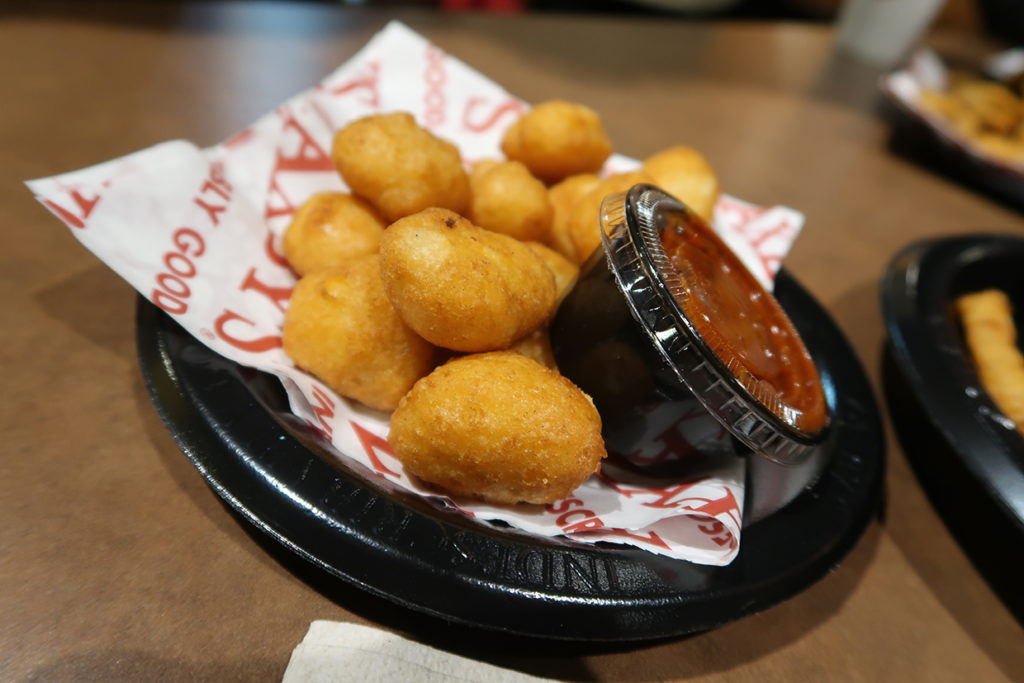 We decided to try a couple of things that stood out as sounding particularly tasty, so we ordered a Cobb salad with chicken, a couple of orders of wings (with "Nuclear" and "Hot Honey Mustard" sauces), and a chicken parmesan sandwich (this isn't on the menu, but they are selling them right now.)
As long as the ingredients are fresh (and theirs are prepped fresh every morning), it's hard to mess up a Cobb salad. However, Zaxby's pulled this one off particularly well.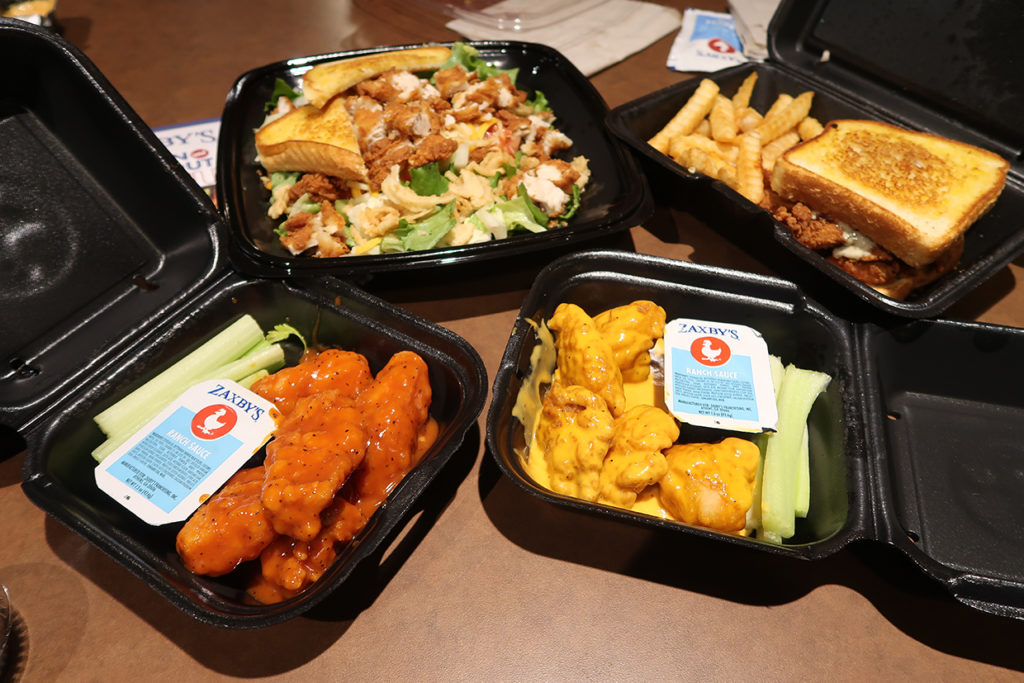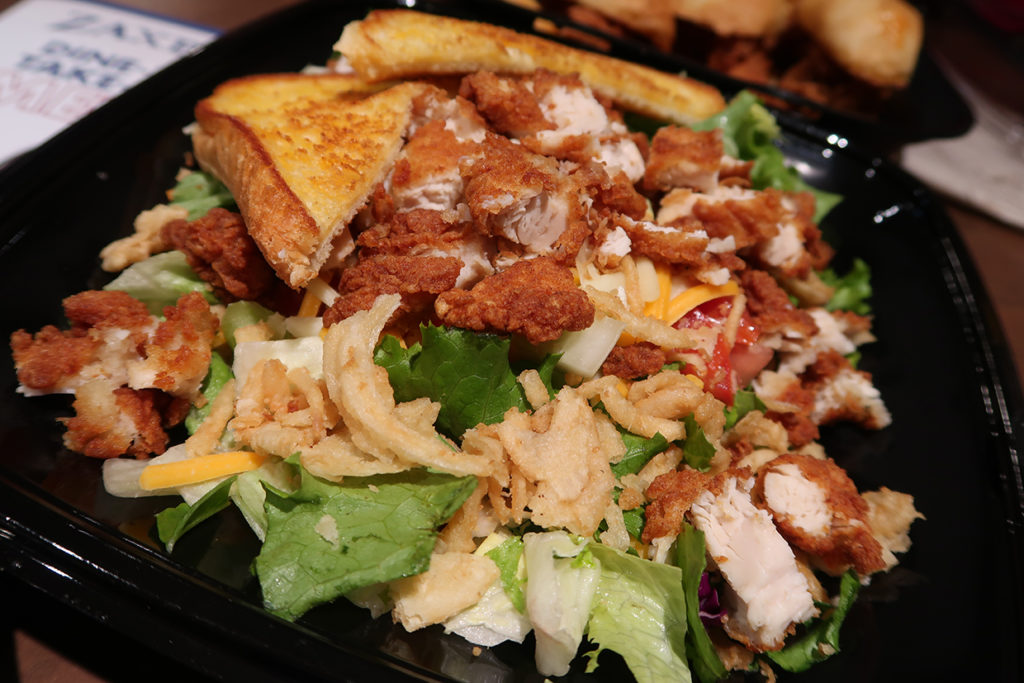 The chicken parmesan sandwich was great, too. The Texas toast was a nice touch!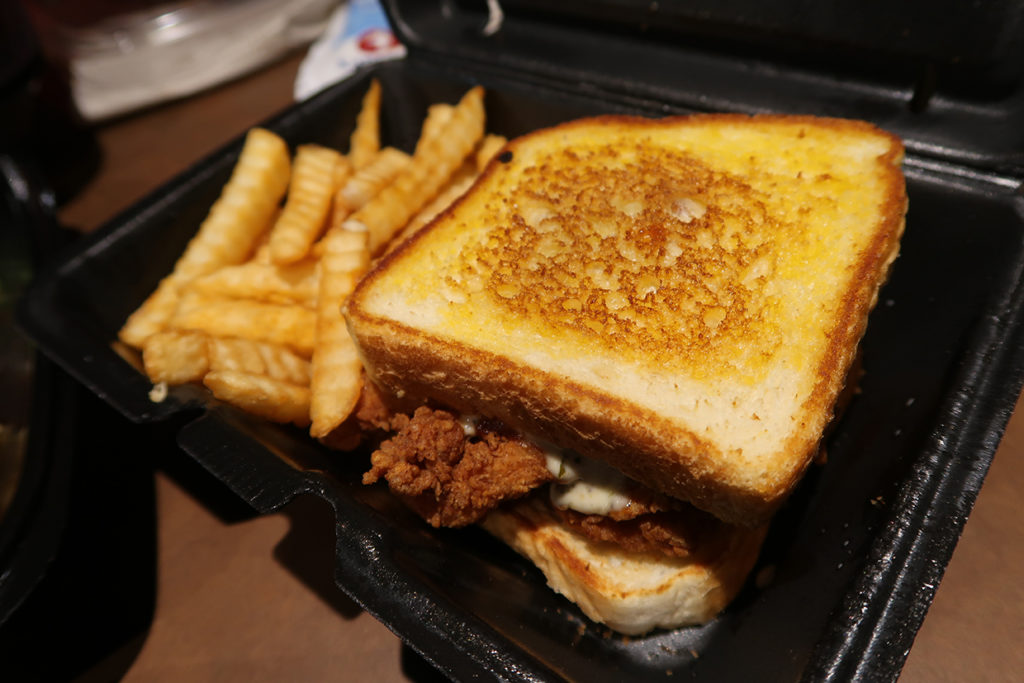 Like I mentioned earlier, I love their Zaxby's Nuclear wings. They're hot enough to make your forehead bead up a little, but not too hot to be dangerous. Of course, I took the opportunity to order a little cup of their "Insane" sauce, too.
That was a lot hotter than I expected.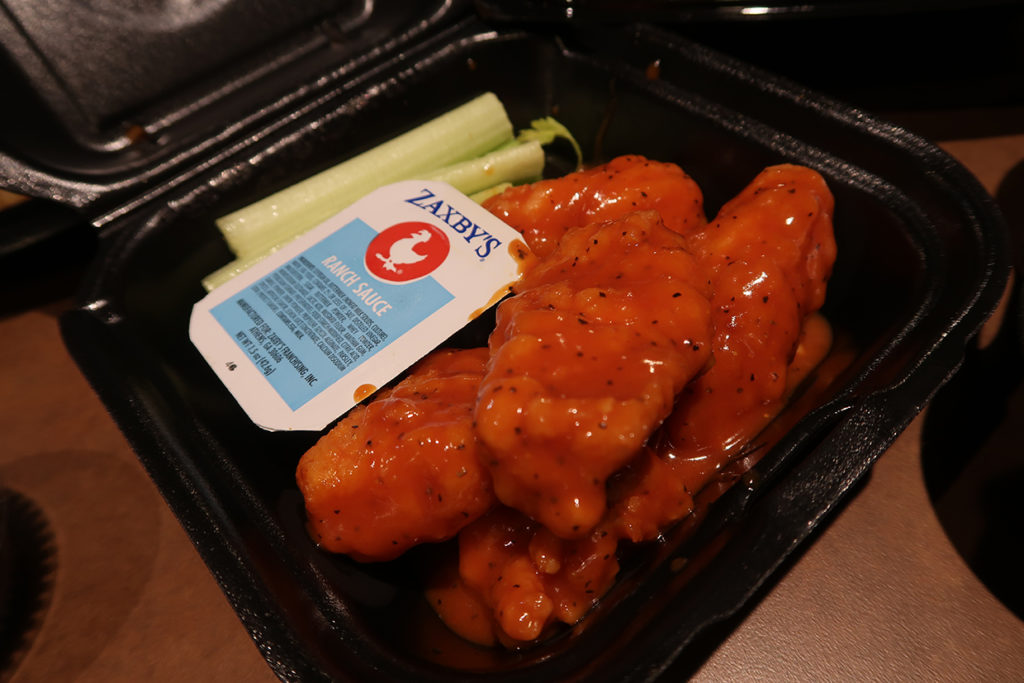 You can only see part of Liz in the picture below, but you can tell by her posture that she regrets eating so much. Now you know how I feel, Liz!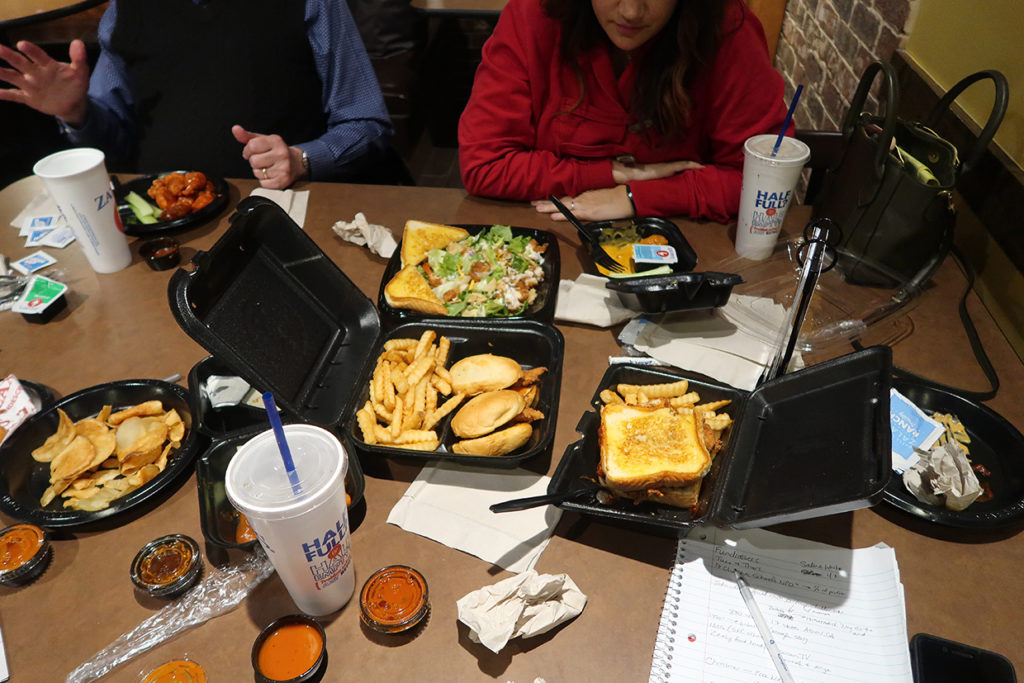 While we were talking to Salena, we learned about how her Zaxby's stores get involved with the Tulsa metropolitan community.
Although you can catch Zaxby's selling wings on Friday nights at metro high school football games, Salena's stores have also helped with funding for Little Light House; a tuition-free (as in, funded entirely by donations) school for children with special needs. Little Light House, having operated for over 40 years in Tulsa, is a very important resource to our city.
We had a great evening overall; it was great getting to meet Salena and the folks representing TulsaKids Magazine and the Tulsa Beacon!