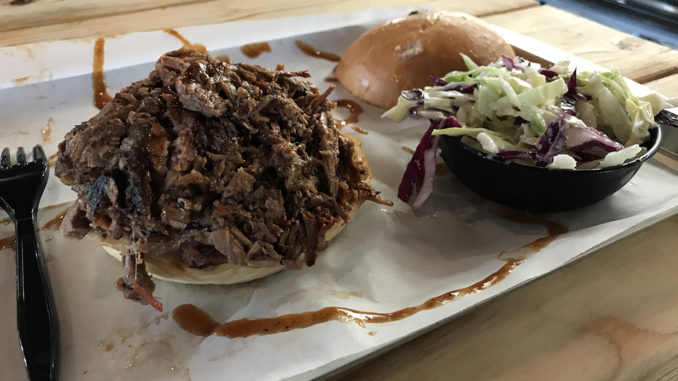 Tulsa's Burn Co BBQ has officially opened for business on the Jenks Riverwalk!
I've always said that Tulsa — especially for its size — is a "diner's city." Spend a few minutes browsing around TulsaFood.com and you'll learn a lot about this city's diverse dining scene. Options range from wild to mild, but there are a few niches that are taken a little more seriously by Tulsans: Mexican food, coneys, and BBQ. Burn Co BBQ is one of the barbeque restaurants that you'll lives around the top of the list in its niche and it is now much more convenient for the South Tulsa dwellers to dig into some of the meats and sides that Burn Co has become known for.
Of course, it only makes sense that an outfit like Burn Co BBQ should thrive in such a way that it becomes apparent to everyone that they could use a second location. When owner Adam Myers announced the intended construction of a second store at the Riverwalk Crossing in Jenks, Burn Co fans rejoiced; largely because it was also announced that Burn Co's hours would include a dinner session, too.
Burn Co BBQ adds its second location at Riverwalk Crossing
I had been keeping an eye on Burn Co's official open date. Since I don't work downtown anymore, it isn't too convenient for me to drive all the way across Tulsa for lunch. As many of you know, I love going up to FlyingTee from time to time to hit golf balls (more specifically, playing darts with golf balls), so when I first found out that Burn Co would be opening their new store mere feet away from FlyingTee, I began the countdown.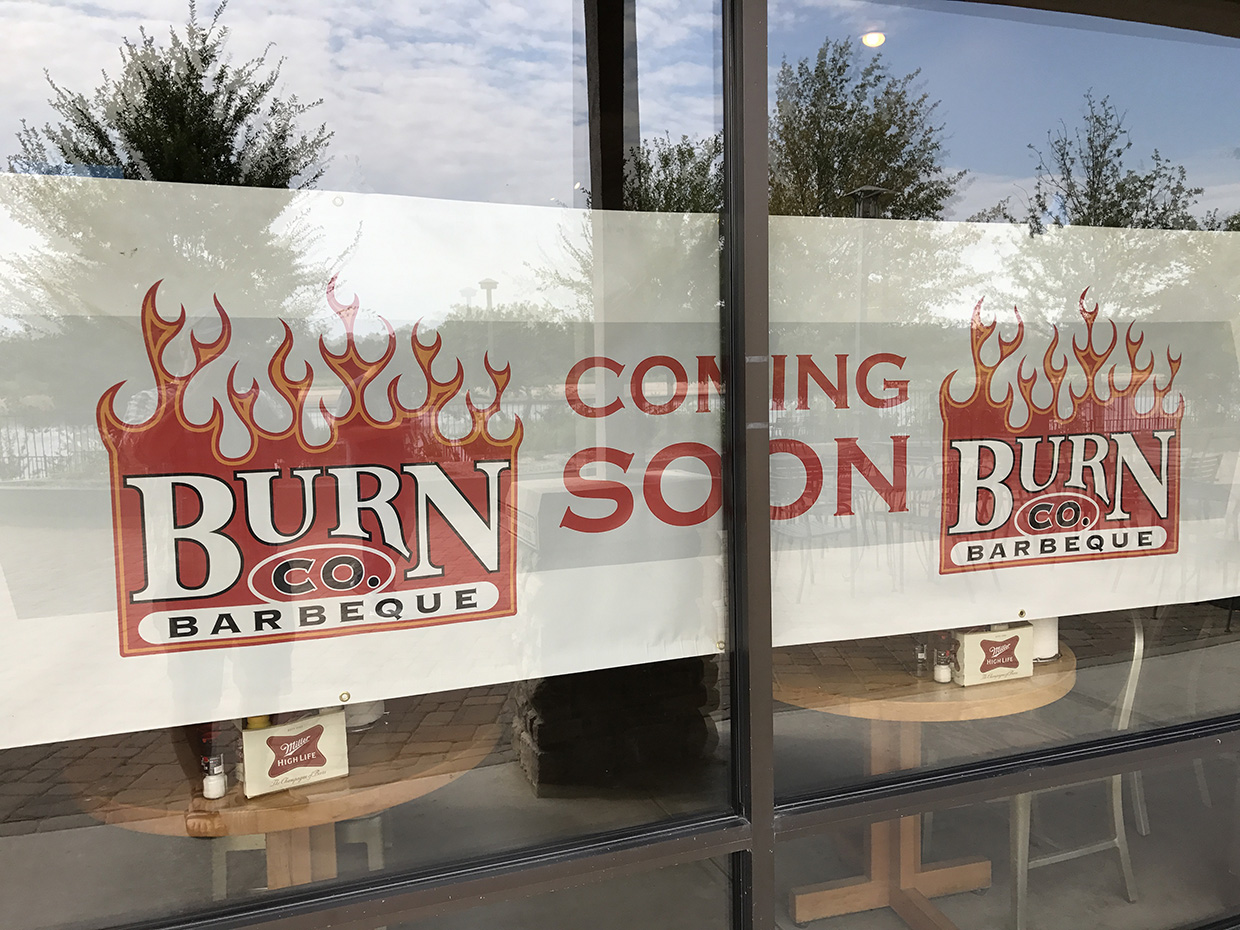 So this past Saturday morning, a buddy and I set out early for a lunch; Burn Co would be opening up at 10:30am.
It's worth noting that Burn Co is at the far north end of the Riverwalk complex, so park as close as you can to FlyingTee. Burn Co didn't have a sign up at the time of our visit, but the smell of the hickory that they use to smoke their meat was a sufficient beacon.
As we walked in, I immediately noticed that the dining area was quite spacious. The floor is dotted with large picnic tables, which are designed to seat more than one party at a time. JINYA Ramen Bar uses a similar concept for seating and it makes for some fun and spontaneous dining experiences.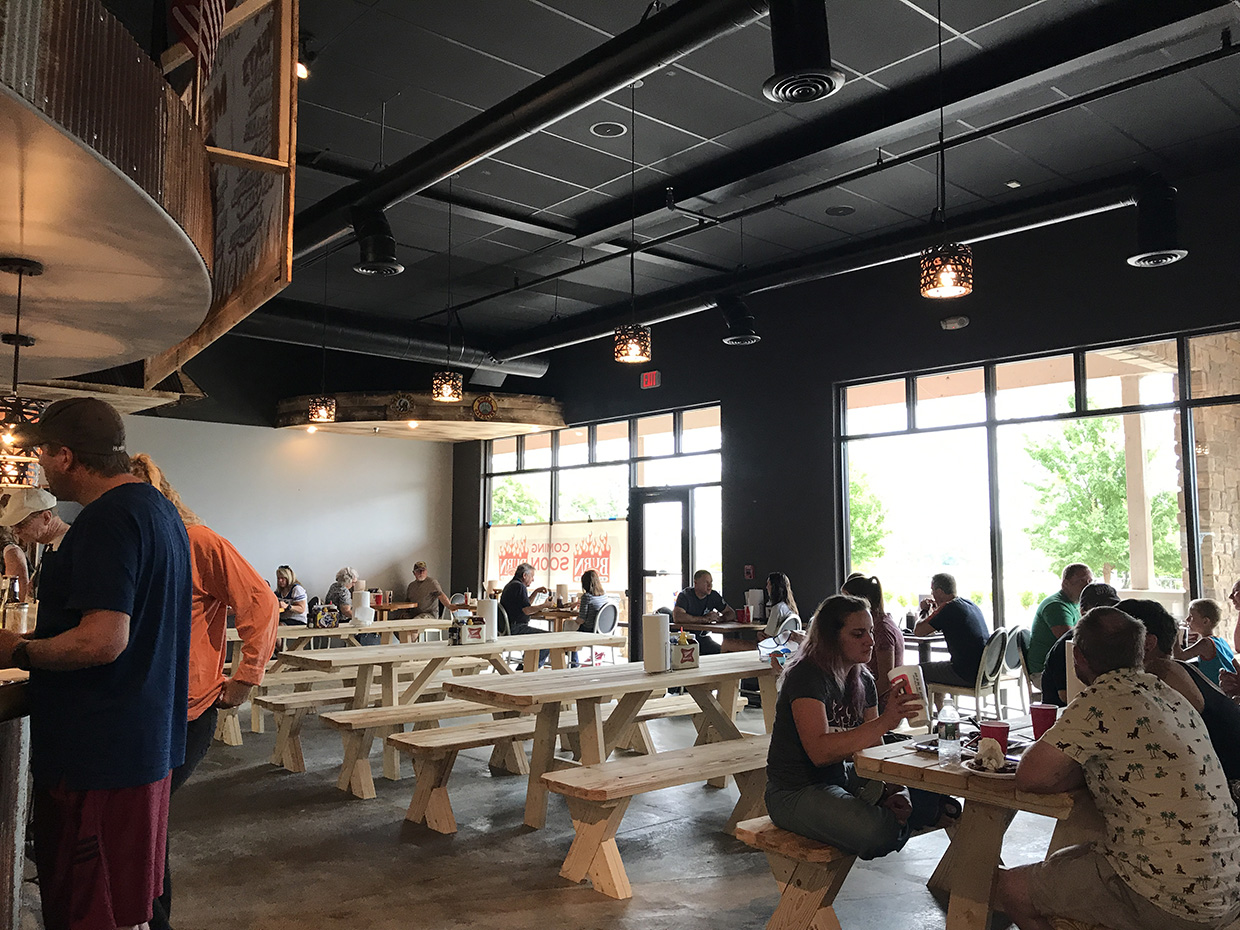 When you walk in, you approach this circular, central station where you order your food. I always appreciate a thoughtful design element; the ordering station's circular shape acts as a hub and subconsciously instructs customers to approach.
That or I'm just reading way too far into the fact that it's a circle.
Check it out — that's Mr. Burn Co himself in the red shirt. Chopping and slicing brisket.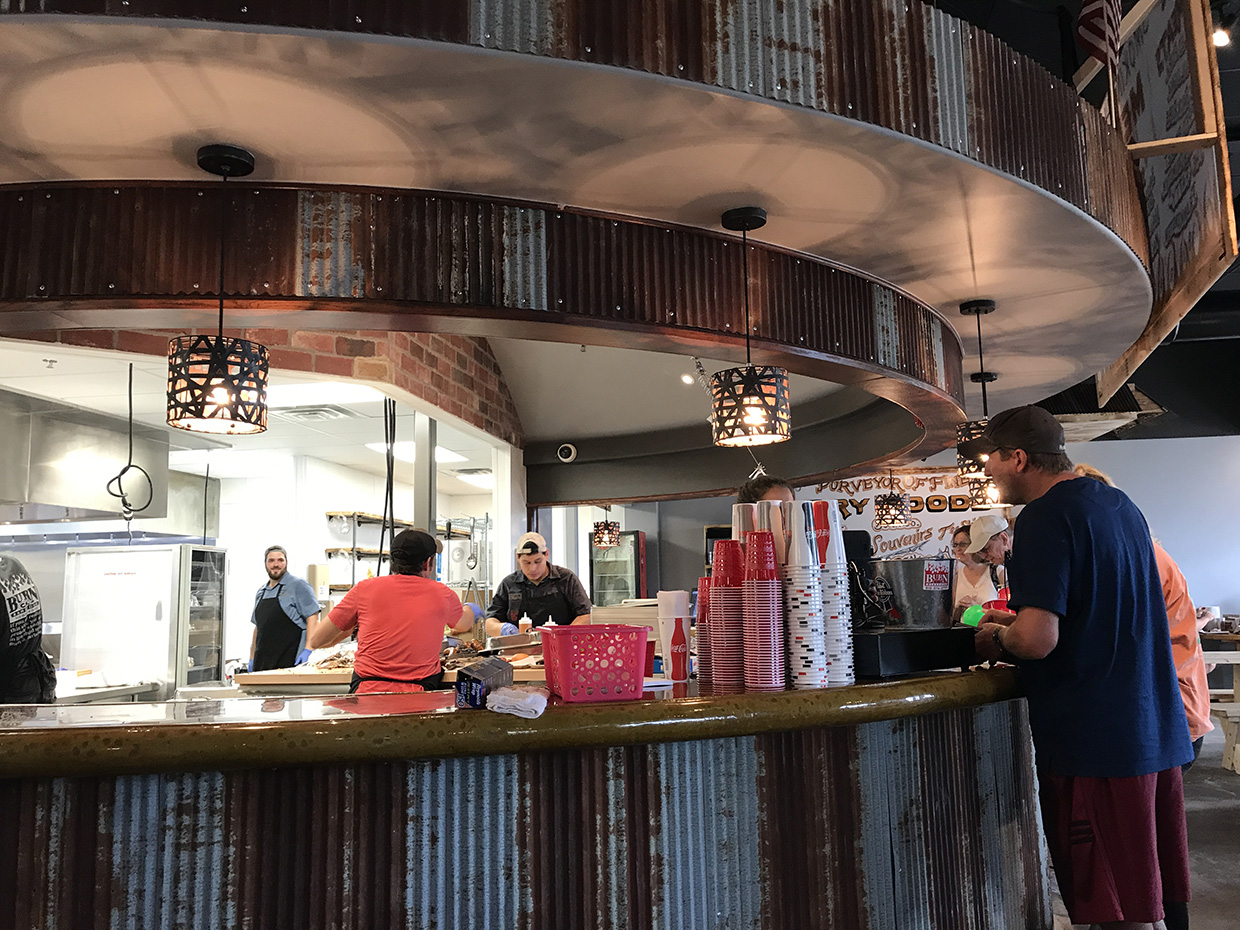 We put our order in and grabbed a seat (er, bench) and waited. For how busy the store was (keep in mind — this was also 11 am), our food came out fast, at about 4 minutes.
Check out the cool kitchen knife chandelier over the entryway.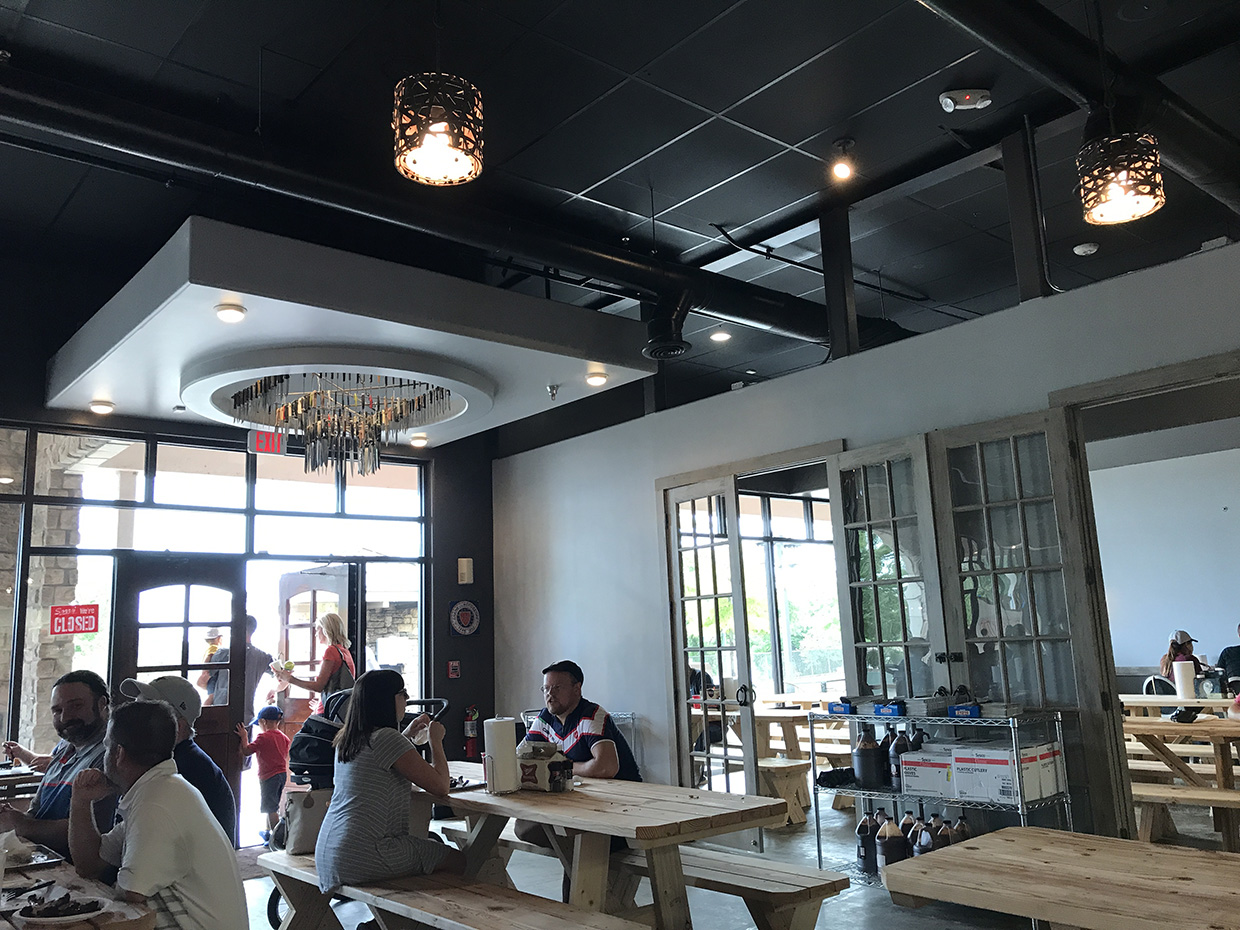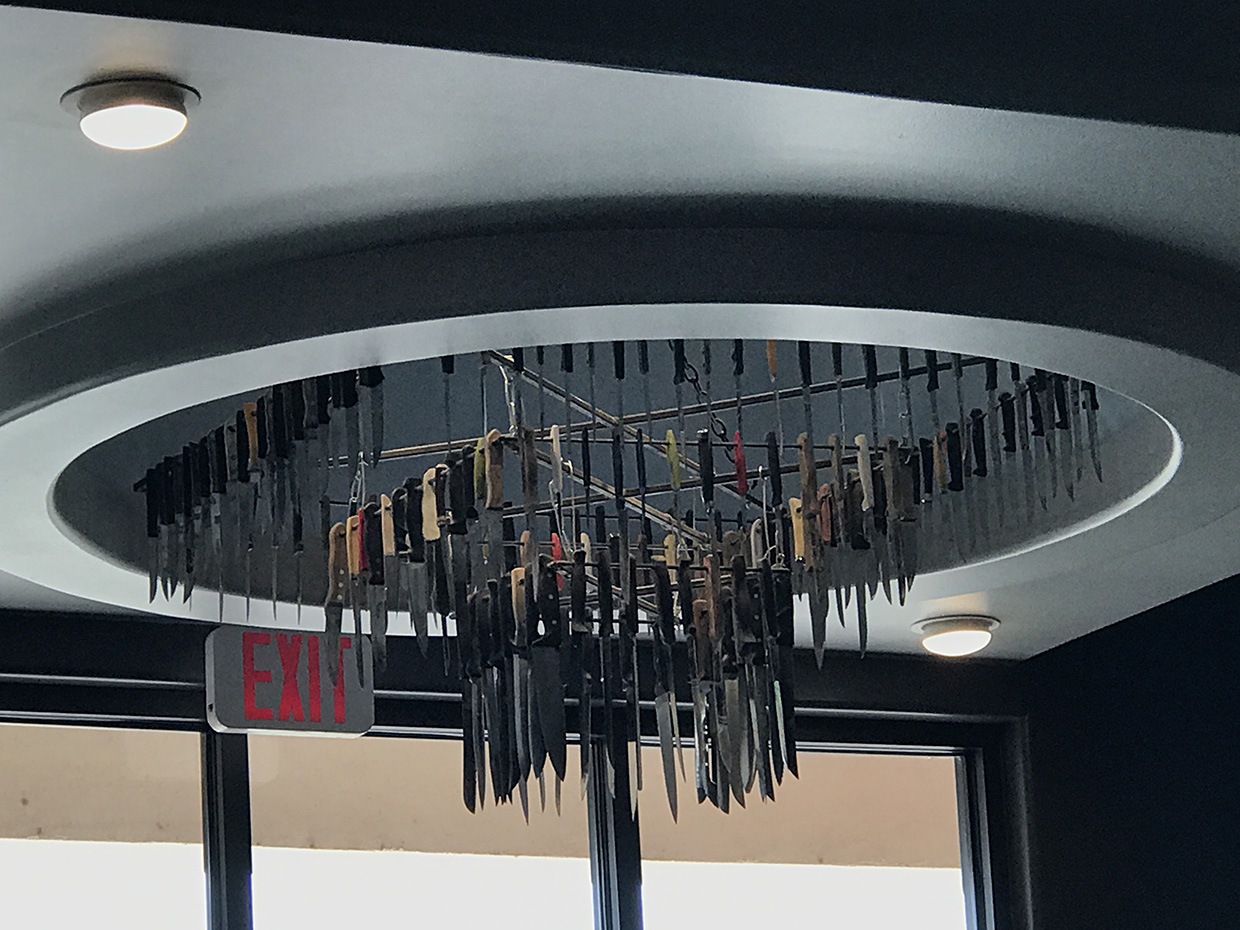 Burn Co also has an impressive array of meats for sale at a counter, replete with an old-school, friendly butcher. I only spoke to this guy for a second, but I liked him right off the bat.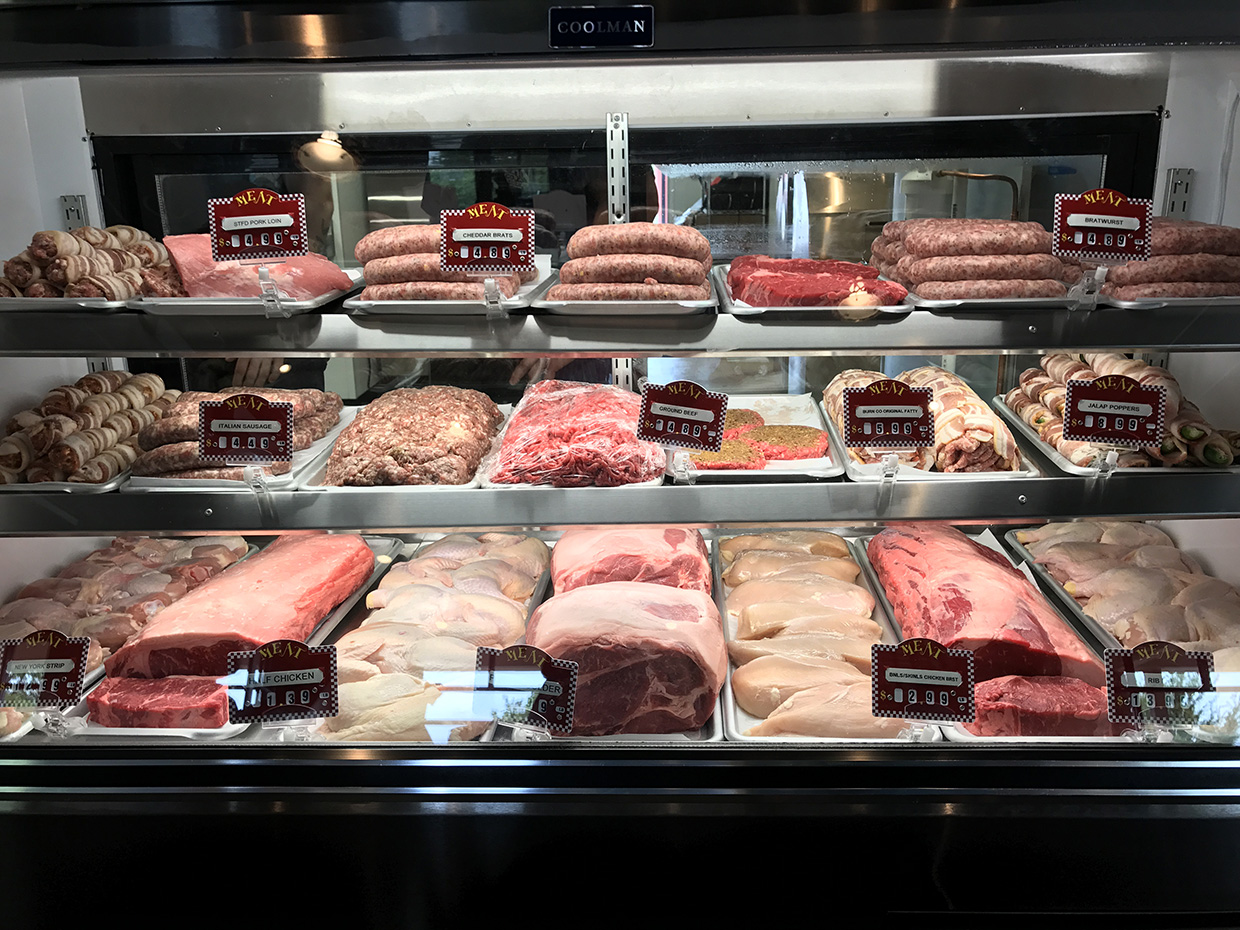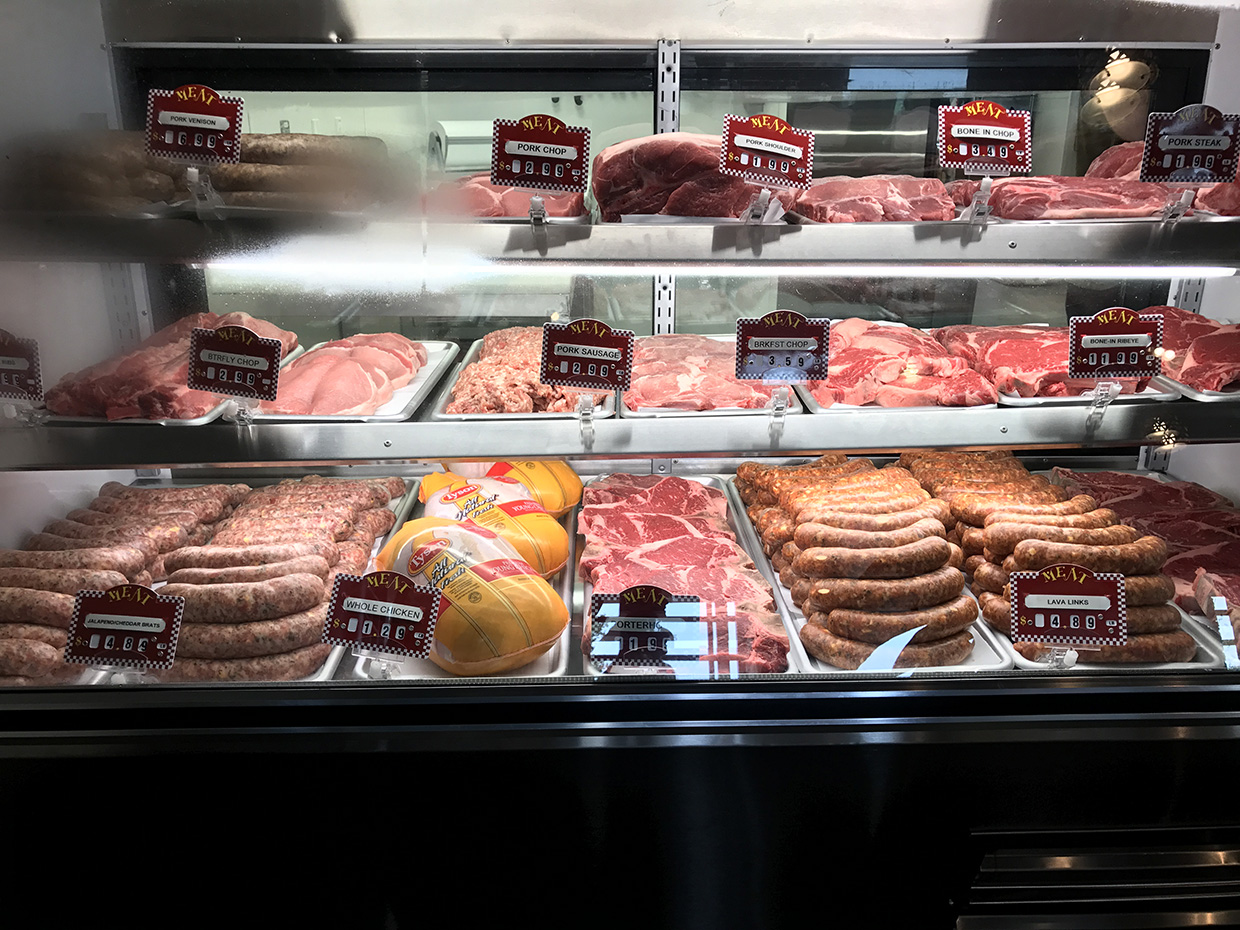 Of course, a certain item caught my eye. Why does the "Burn Co Original Fatty" draw my eye so strongly!? Alas, I passed on the opportunity to purchase this evil beast: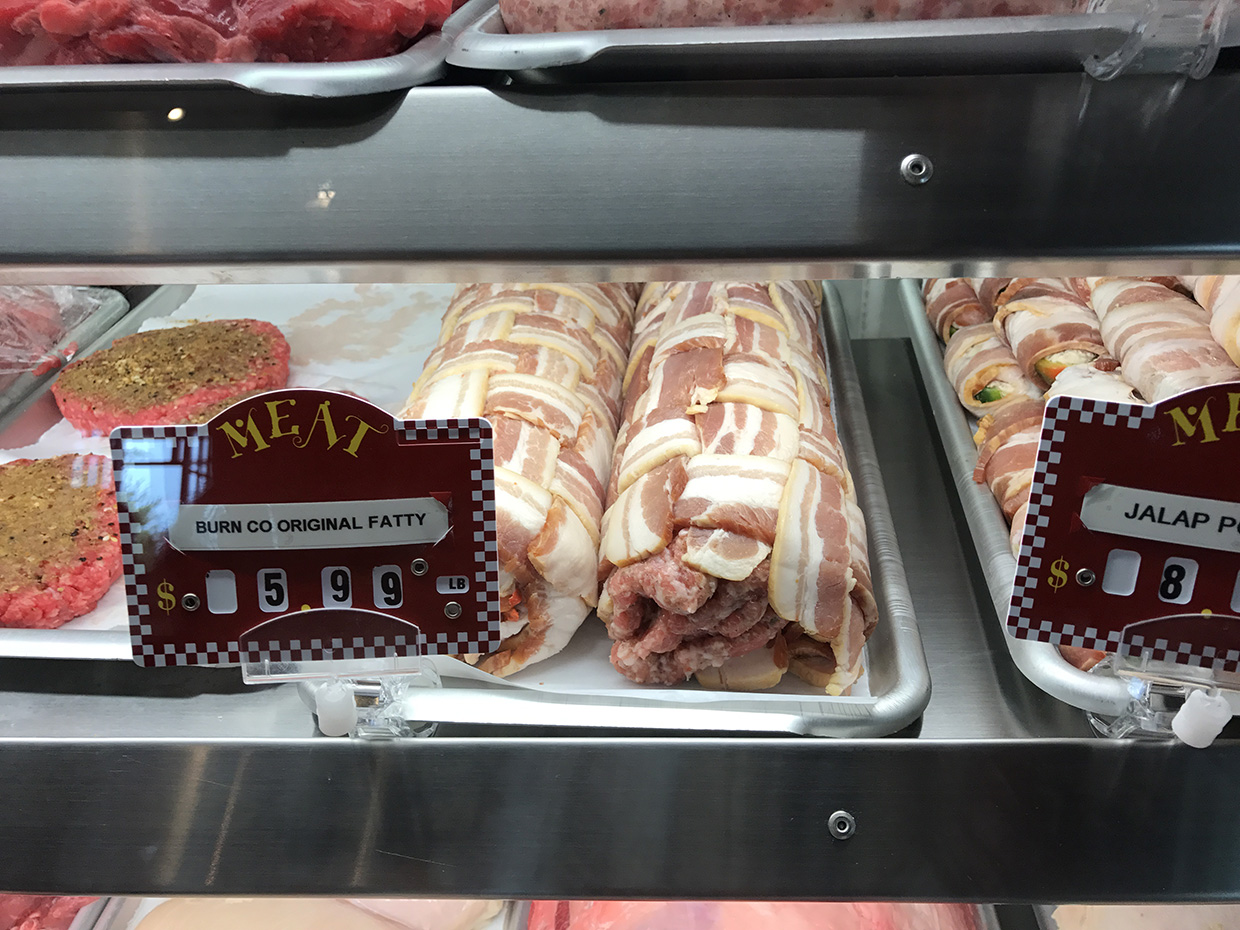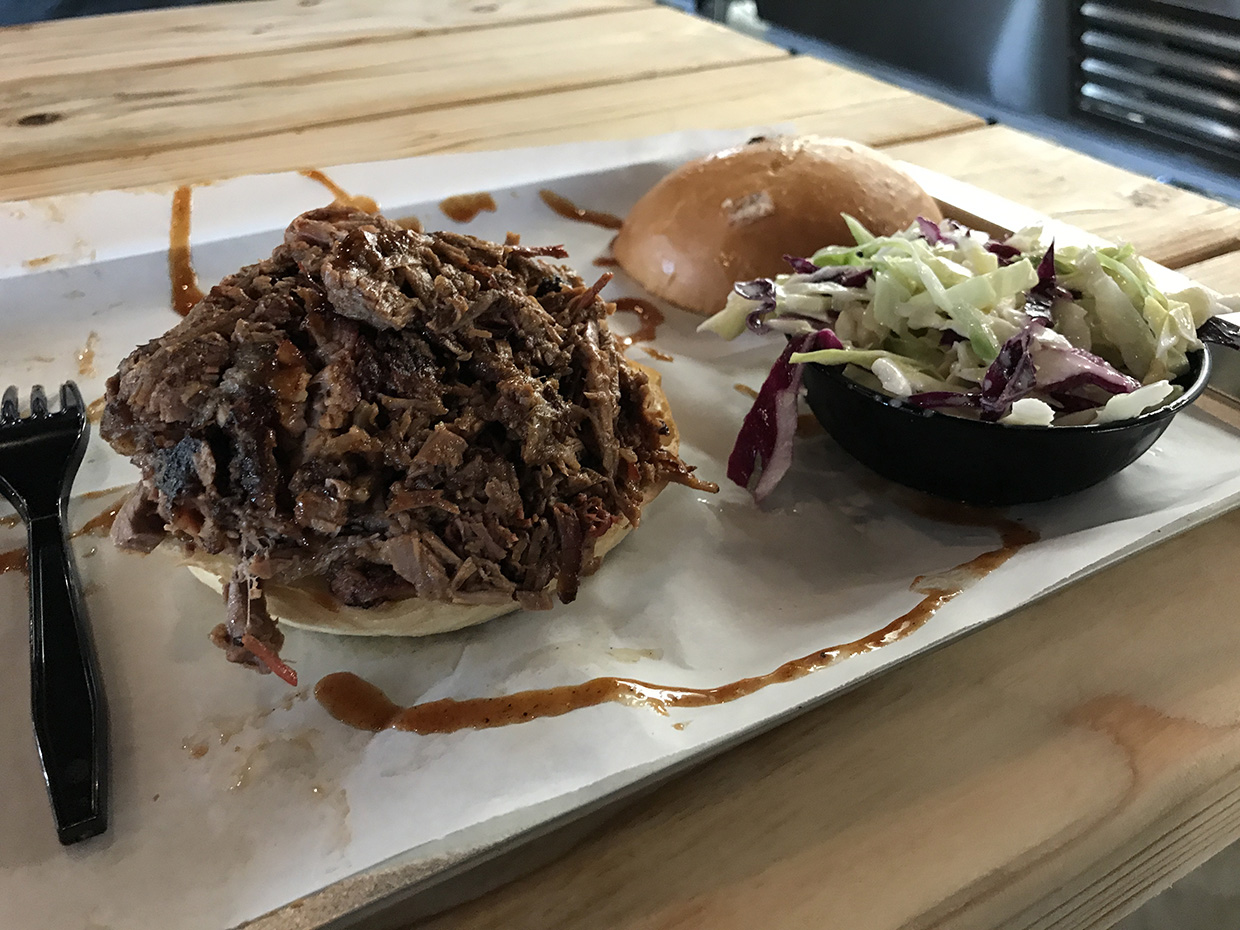 When our food came out, it didn't take long to realize one thing: portions are generous. You can actually choose from two different sizes: the smaller called something like "little girly man" (which made me chuckle) and a much larger size (which it's name escapes me at the moment.) I bought the larger size — as did my friend — and it was a ton of food.
Look how much chopped brisket is on this bun in the picture above. That's a lot of brisket.
Check out the sliced version of the brisket below. How gorgeous is that?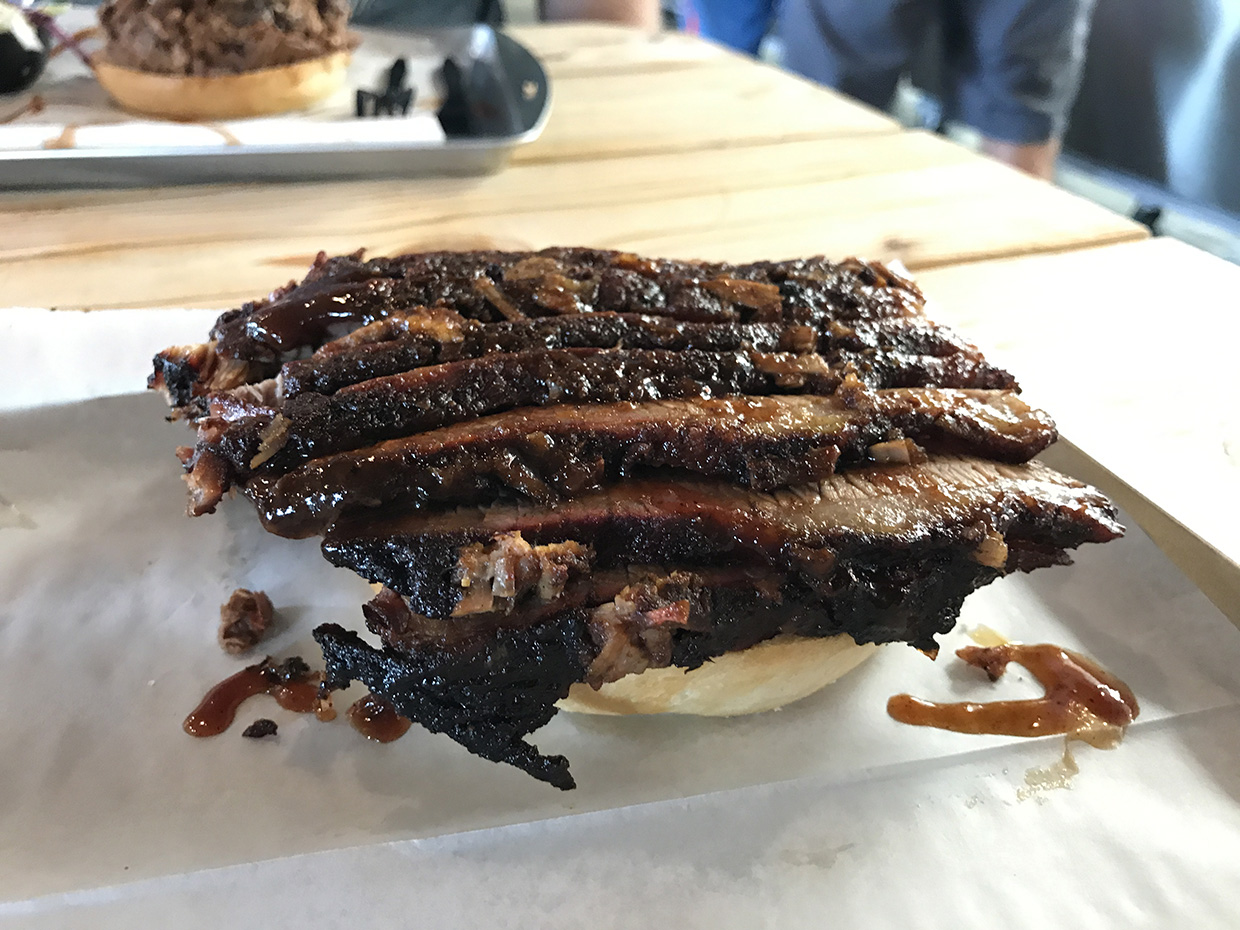 I don't know if the sliced brisket is a standard cut, but when I asked if it was a possibility to have it sliced instead of chopped, the kind young lady that took our order told me "of course", then turned around to ask Burn Co owner Adam Myers, himself, if they actually did. I absolutely loved that.
The brisket — cut either way — was perfect. Looking at the sliced version, the way the color of the beef changed from a dark crust to a perfect pink promised me that I was about to enjoy the combination of a whirlwind of flavors, combined with spot-on tenderness. The smell of the hickory smoke mixed with fresh beef (and of course, brisket has always been my favorite cut of beef) was tantalizing.
The beans (see below) had a proper sweetness to them and the portions were also generous. I'm actually looking forward to getting these again.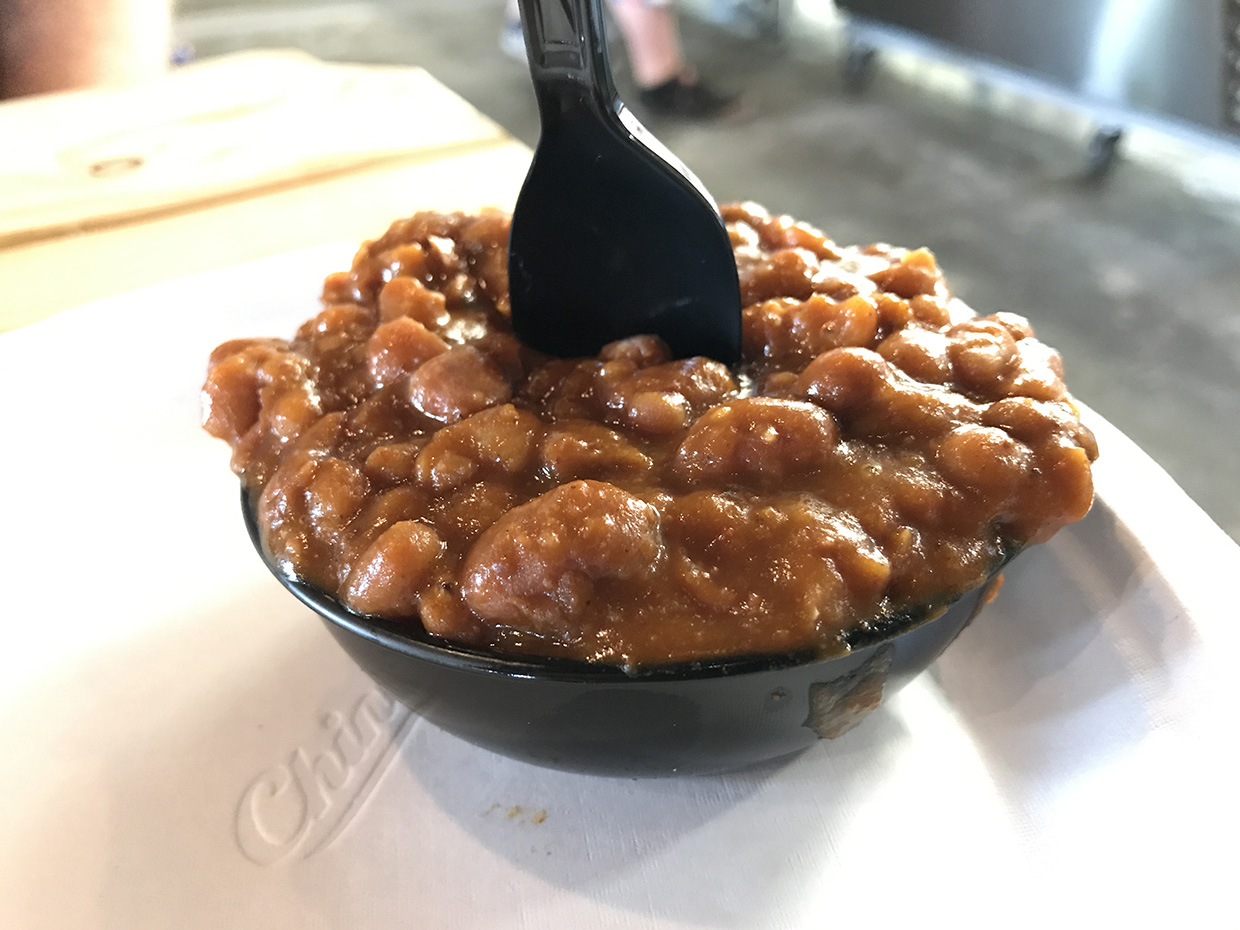 Here's one more photo of the sliced brisket sandwich dressed in Burn Co's hotter BBQ sauce. It tasted every bit as good as it looked.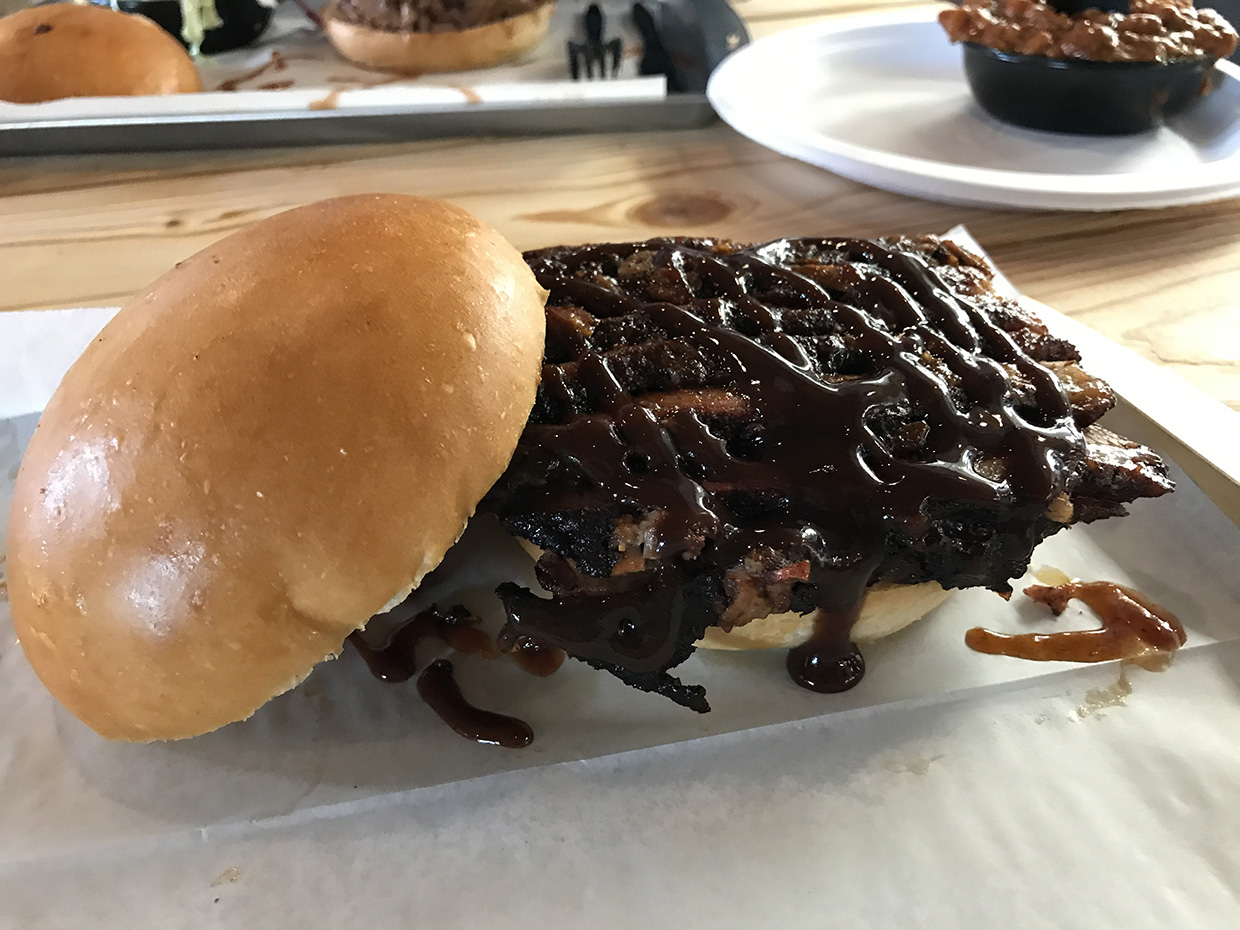 Of course, as we left Burn Co, we were tempted to hit some golf balls at FlyingTee. We rented a bay for an hour and played a few rounds of "Darts".
It was a perfect Sunday.