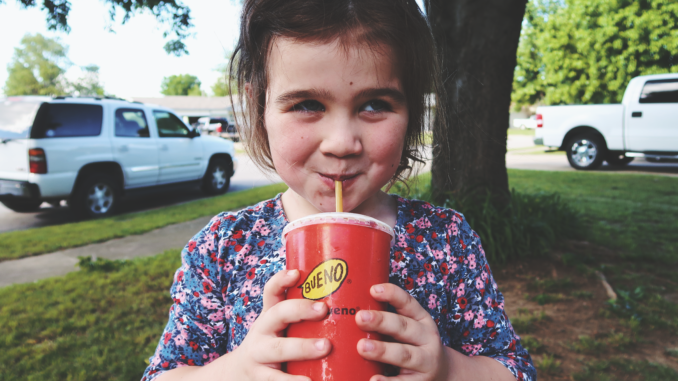 First things first: Huge thanks to Taco Bueno for hooking up the free food and gift cards for me to give away this week! Without my sponsors, I literally couldn't give away as many freebies as I do (nor could I eat as much free food as I do, which would actually be the most disappointing part.)




Okay — I'm fairly sure everyone has heard about it by now: Taco Bueno just launched something called the Wholotta Box. To sum it up, it's a ton of food for $10.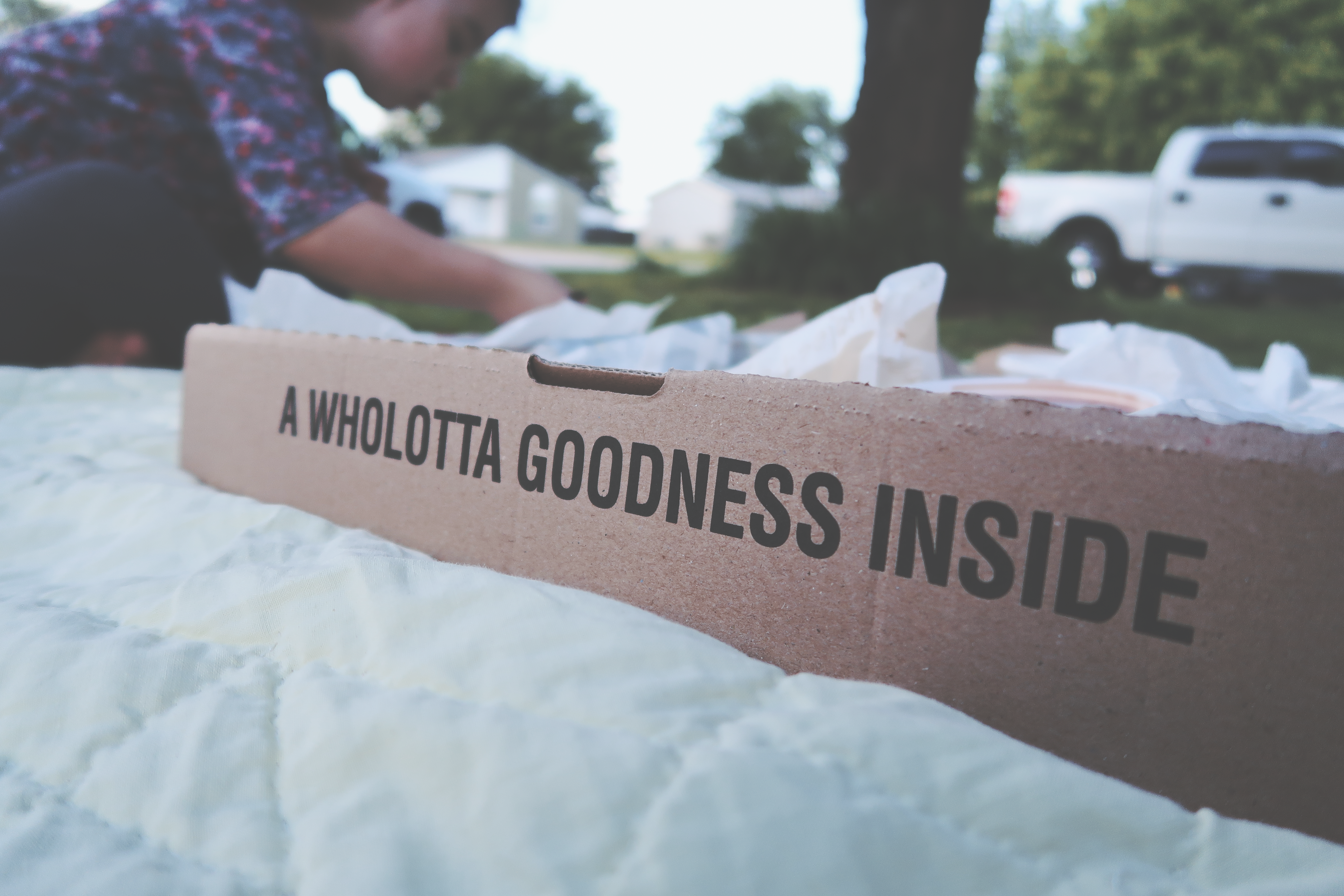 Although I'm perpetually cursed to crave street tacos for all of eternity, it isn't too uncommon for me to end up in a fast food drive-thru lane on a rushed lunch hour. That's just how she goes. Like a true "Buenohead", this circumstance doesn't typically find me in line at McDonald's or parked at Sonic. We do Taco Bueno in my family.
Bueno is a Tulsa thing… even if they are from Texas.
If you've been following me on Facebook long enough, you probably already know that — like any other red-blooded Tulsan — I get down with Bueno. I've been on a Mucho Nachos kick for a couple of years now, but when I recently opened up some dialogue with the good folks at Taco Bueno, they offered to throw the Wholotta Box my way for a test drive. Here's my take, for better or worse: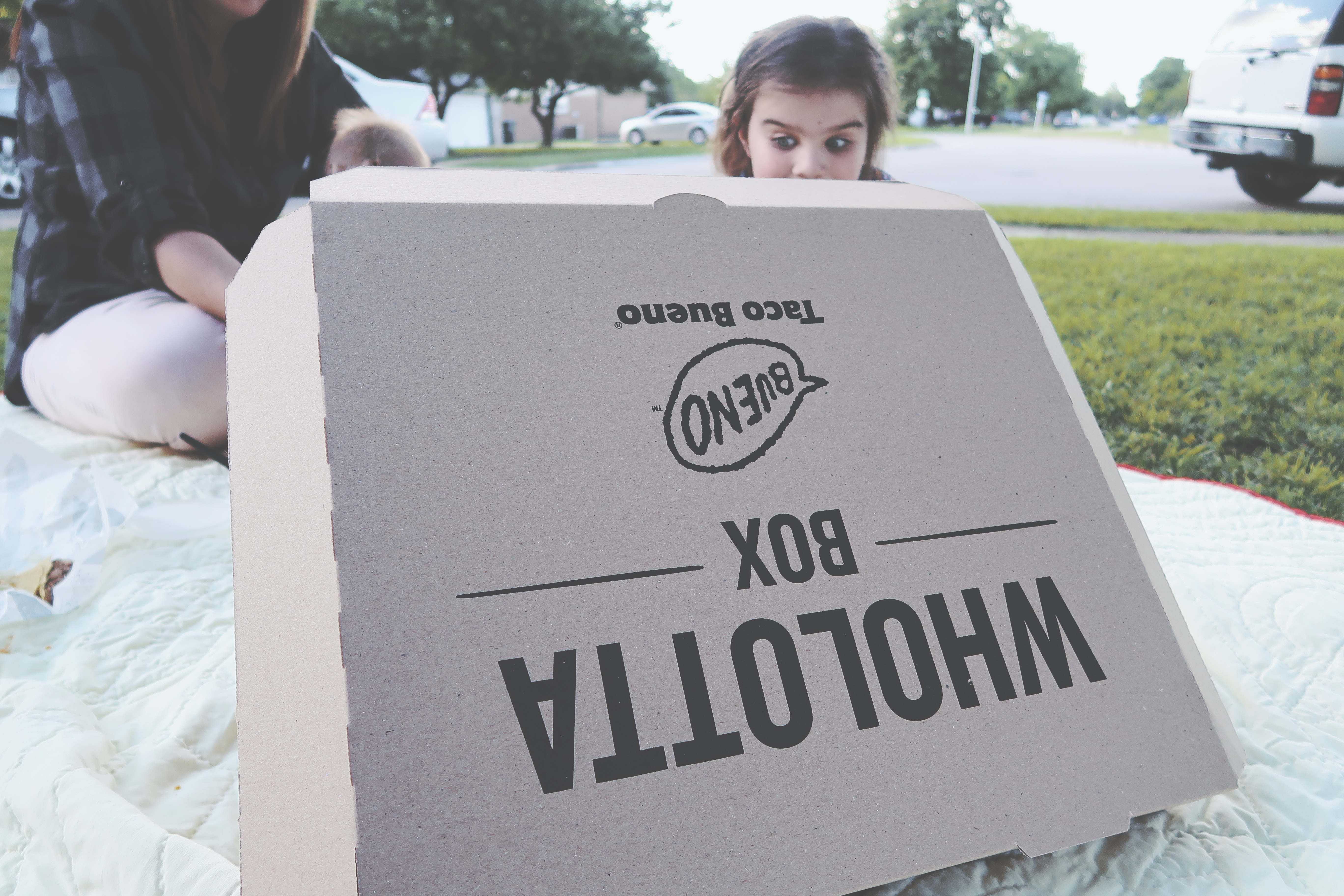 The Party Burrito has always been a staple of the quick family meal with the Halls (my last name, in case that didn't click.) While, traditionally, the low man (or woman) on the totem pole might be encouraged to stop by Bueno for a double handful of Party Burritos to suit the family, we decided to see how the Wholotta Box would fair if we just ordered it on the Bueno app and picked it up. I wasn't disappointed.



Liz (ahem… Mrs. Just Tulsa) swung by Taco Bueno and picked up a Wholotta Box for our little family to enjoy on a recent evening. Our oldest daughter, Liv, is four and always on a "picnic" kick, so we rolled out grandma's quilt (not literally my grandma's) and had a picnic in the front yard. Whatever makes the kids happy, right?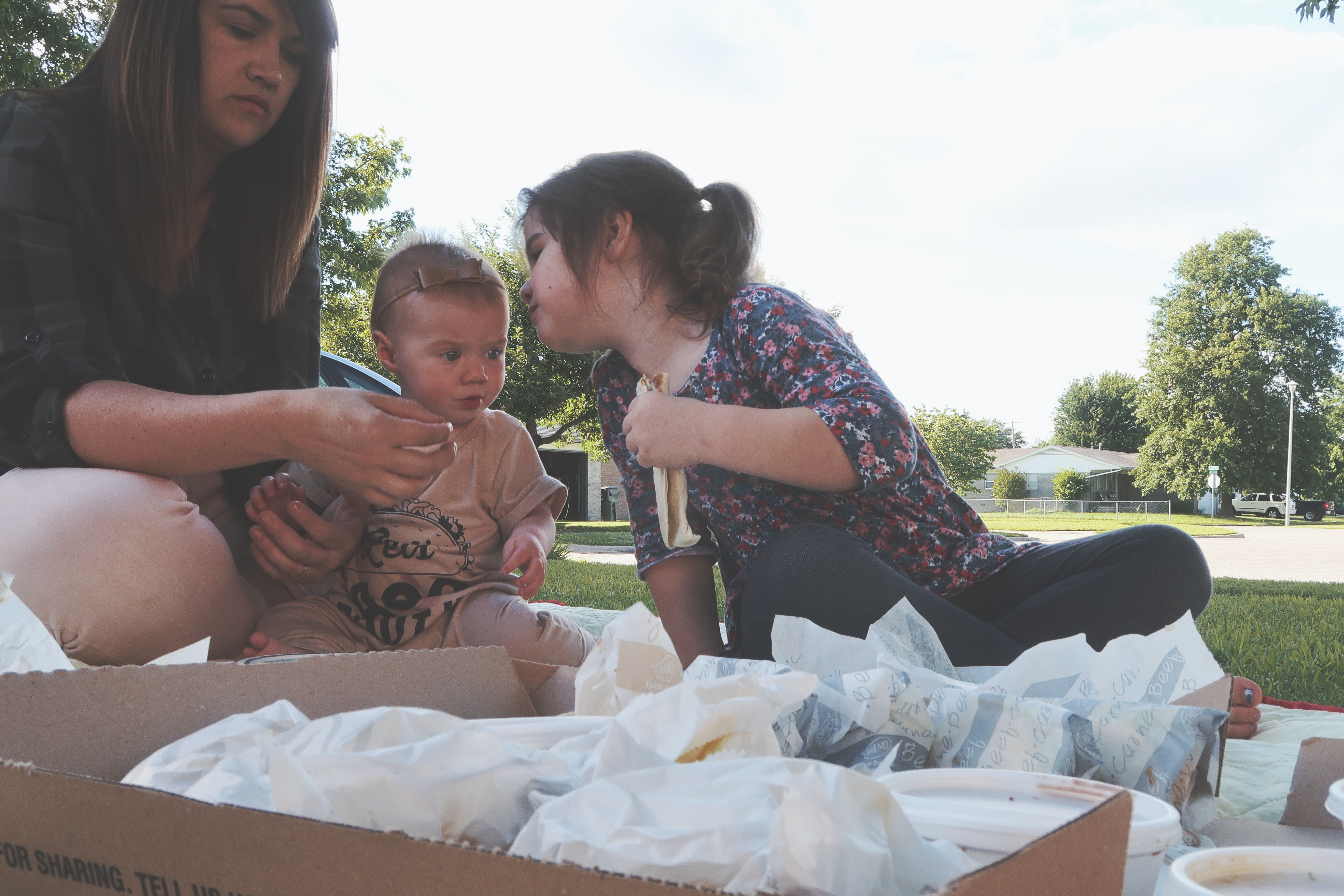 The Breakdown
Right off the bat, one thing that I like is that you can order this box deal with either 12 tacos, 12 burritos, or half and half mix of both. Honestly, if it wasn't for Liz's completely un-American aversion to beans, I would've opted for 12 Party Burritos, but I digress. Such is the married life.
Although we're a family of four, our youngest is a little too young to indulge in the Bueno goodness just yet (soon, child.) However, Liz, Liv, and I happily enjoyed enough Party Burritos and Party Tacos to call it good. Poor Mila (aforementioned 8 month old) got stuck eating raspberries. The way I see it though, the Wholotta Box — at a surprisingly inexpensive $10 — fed my entire family at $3.33/person, with a TON left over, so I'm that's pretty awesome.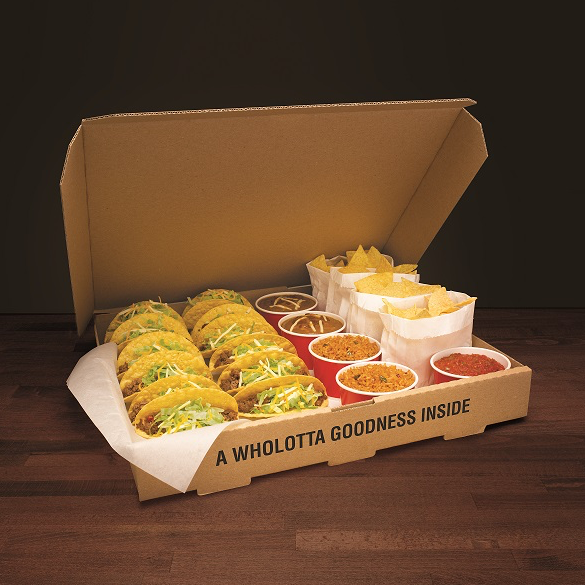 Whoops, I almost forgot about the other food that comes with the Wholotta Box.
Yes — on top of the fact that you get 12 burritos or tacos, you also get two cups (which cups is probably an understatement) of beans and two cups of rice. It still doesn't end there, though. You also get four bags of tortilla chips and a cup (again, more like a small bowl) or Bueno's classic red salsa.
I would almost call it a "silly" amount of food, for $10.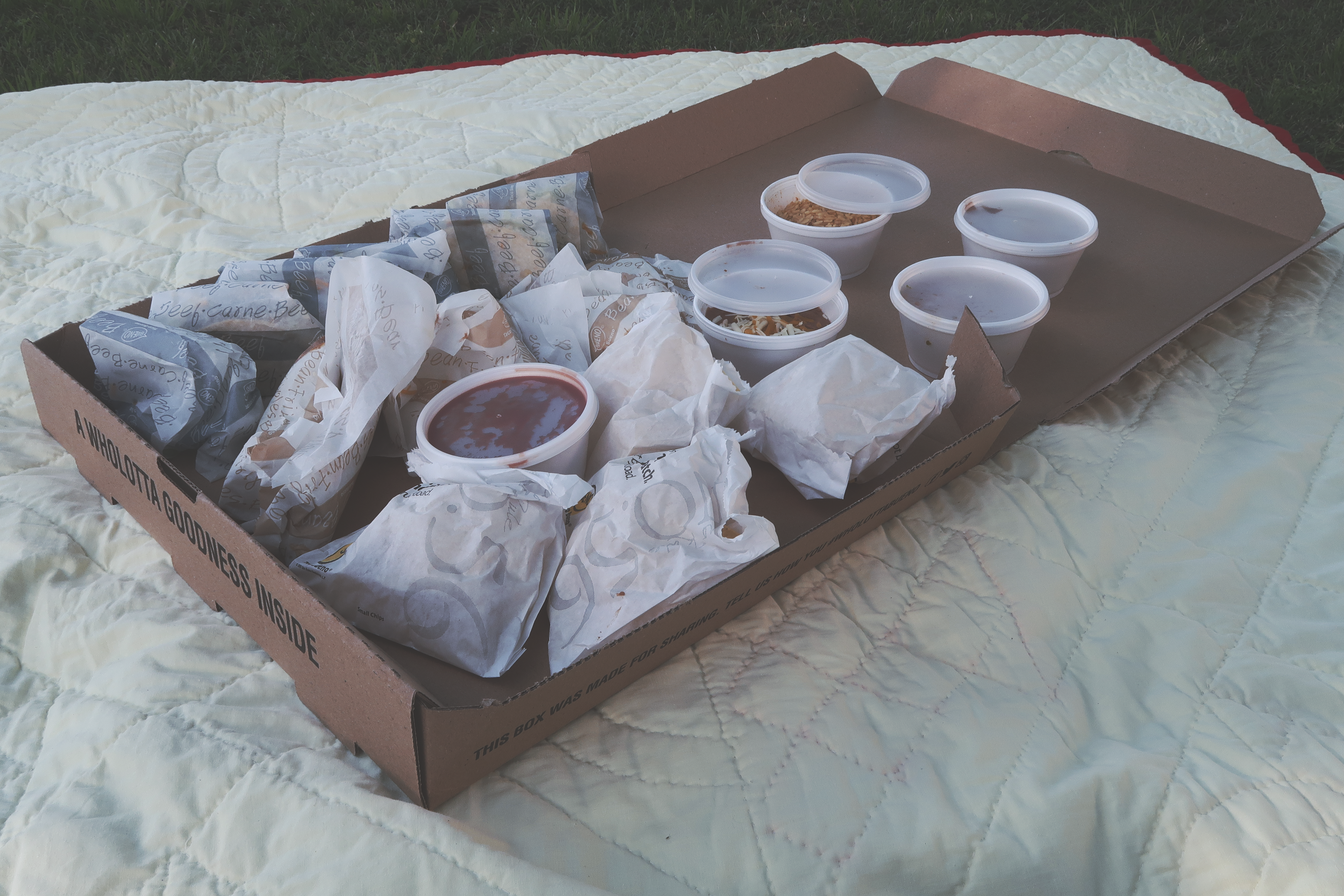 We didn't even have enough stomach room to enjoy all of this stuff.
Really, if you just divide the total cost of the Wholotta Box by the current prices of the included items, it brings us back to something like 1996-ish pricing. I mean, I'm putting on my JNCOs and Airwalks, because I'm on board with going back to 1996 prices.
Here's the actual breakdown:
6 Party Burritos
6 Party Tacos
2 cups of beans
2 cups of rice
4 bags of tortilla chips
1 cup of Bueno's classic red salsa
It cracks me up that you can get that much food for $10.
Anyway, I'm going to wrap this post up and get to the giveaway that I mentioned earlier in the week. As a few of you guessed: yes — I'm giving away $50 to Taco Bueno. Well, Taco Bueno is giving away $25 and I'm going to double that by giving our winner an additional $25 to Bueno, too.
Wanna win $50 to Taco Bueno?
I'm going to make entering this giveaway super easy, too. You just have to do two things to get a chance of winning $50 to Bueno:
Share this original Facebook post for this blog post. Literally, click here, then click share, and share it on your own Facebook page. Pretty simple, right?
Comment on that same Facebook post, telling me what you typically order from Taco Bueno. Are you a Mucho Nachos kind-of person like me? Are you more of a Chicken Quesadilla type? (I love those, too.)
Of course, I totally appreciate it if ya click "like" (or the heart reaction or whatever the kids are doing these days), but it's not required for entry. I'm going to go ahead and draw a random winner from the comments on Sunday, May 28th. Remember, all you have to do is share the Facebook post and leave a comment on the Facebook post to enter.
Good luck, everyone!
-T Hall