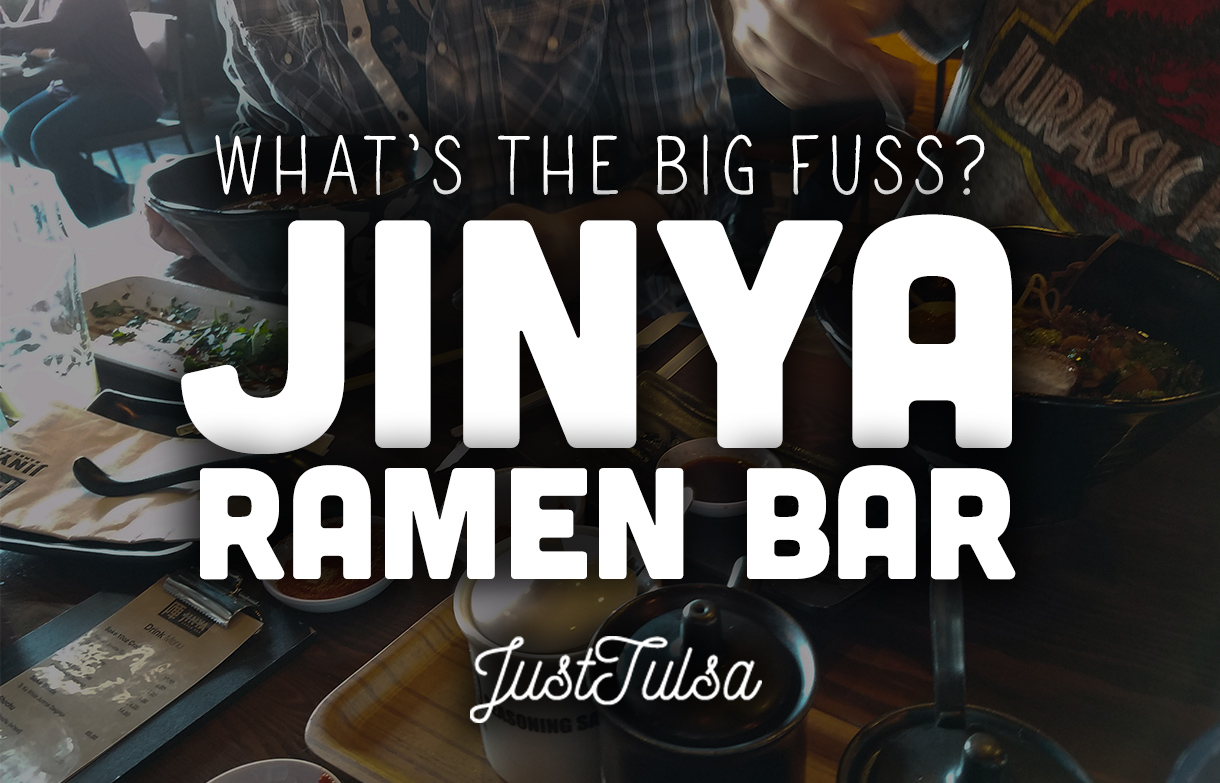 JINYA Ramen Bar: Tulsa's Hottest New Restaurant
I've been pretty excited about Jinya coming to town ever since I heard that Dave Soparkdithapong would be bringing the franchise to the Blue Dome District. When a few of my buddies recently hit me up about meeting at JINYA — 416 E 2nd St. — for lunch on a recent Saturday, I was quick to jump on board.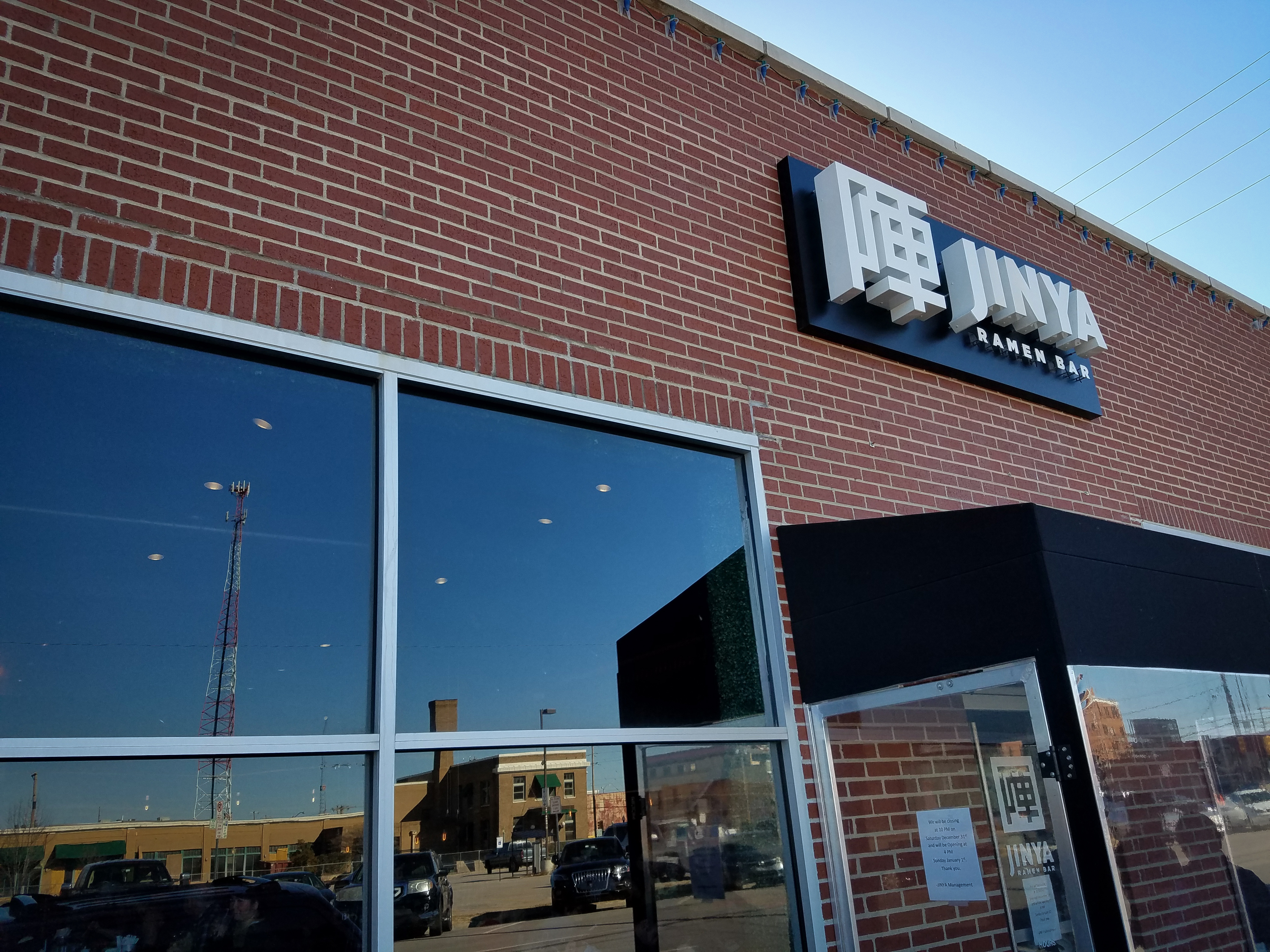 JINYA has been busy since they opened their doors in December. On our recent visit, people simply never stopped coming in. When you first walk in, the restaurant staff shouts "Irasshai!" One of my buddies who is currently studying Japanese tells me this means "Welcome to our shop!"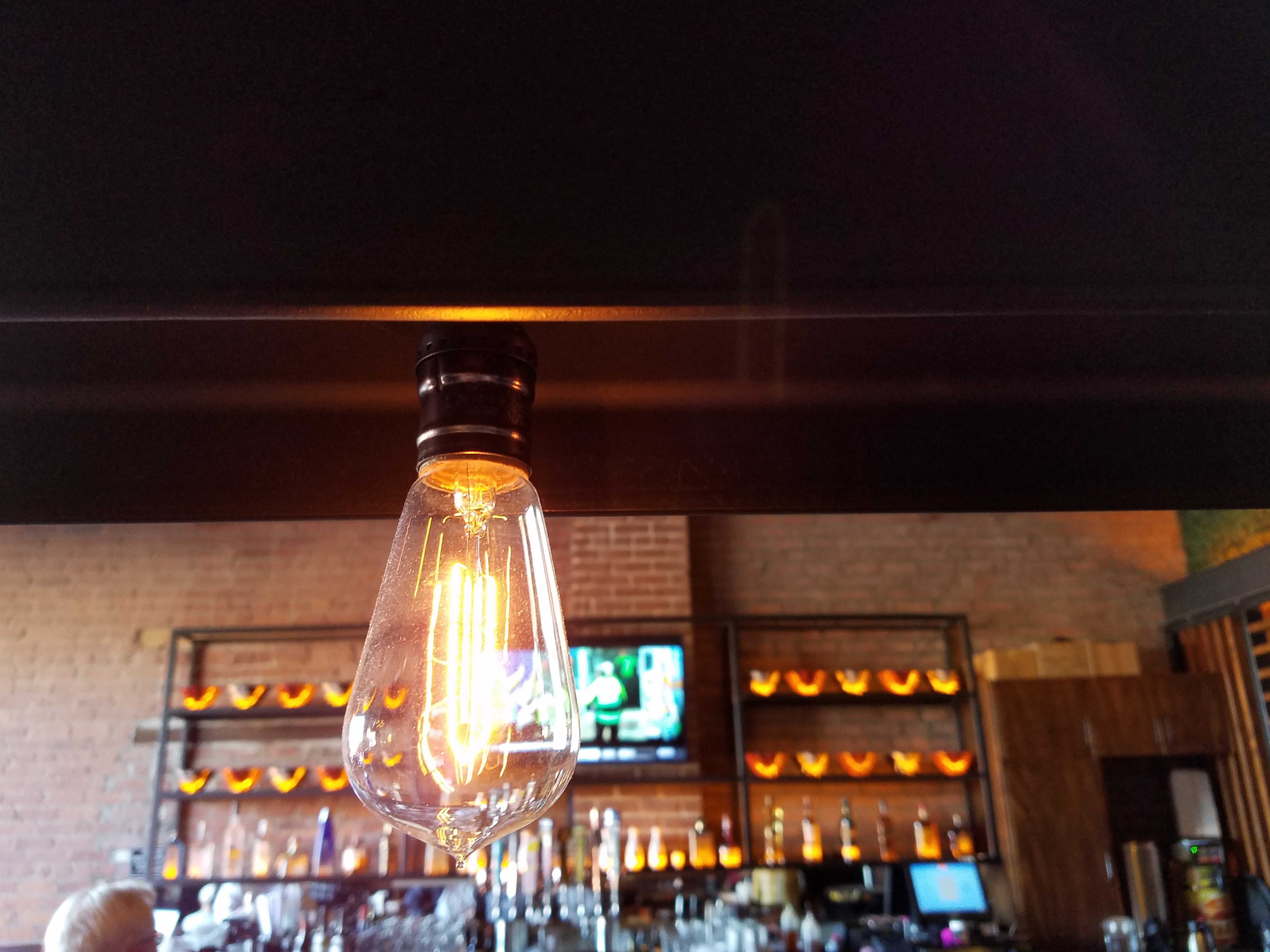 The hostess took us to a "community table" (one of their tables that can be shared by multiple parties) and we sat down under a string of Edison bulbs. This place is decorated in a gorgeous industrial/rustic style.

We ordered our drinks and started looking through the menu. One member of our group ordered cold sake and and another ordered a Marshall Sundown Wheat. I went for a Coke.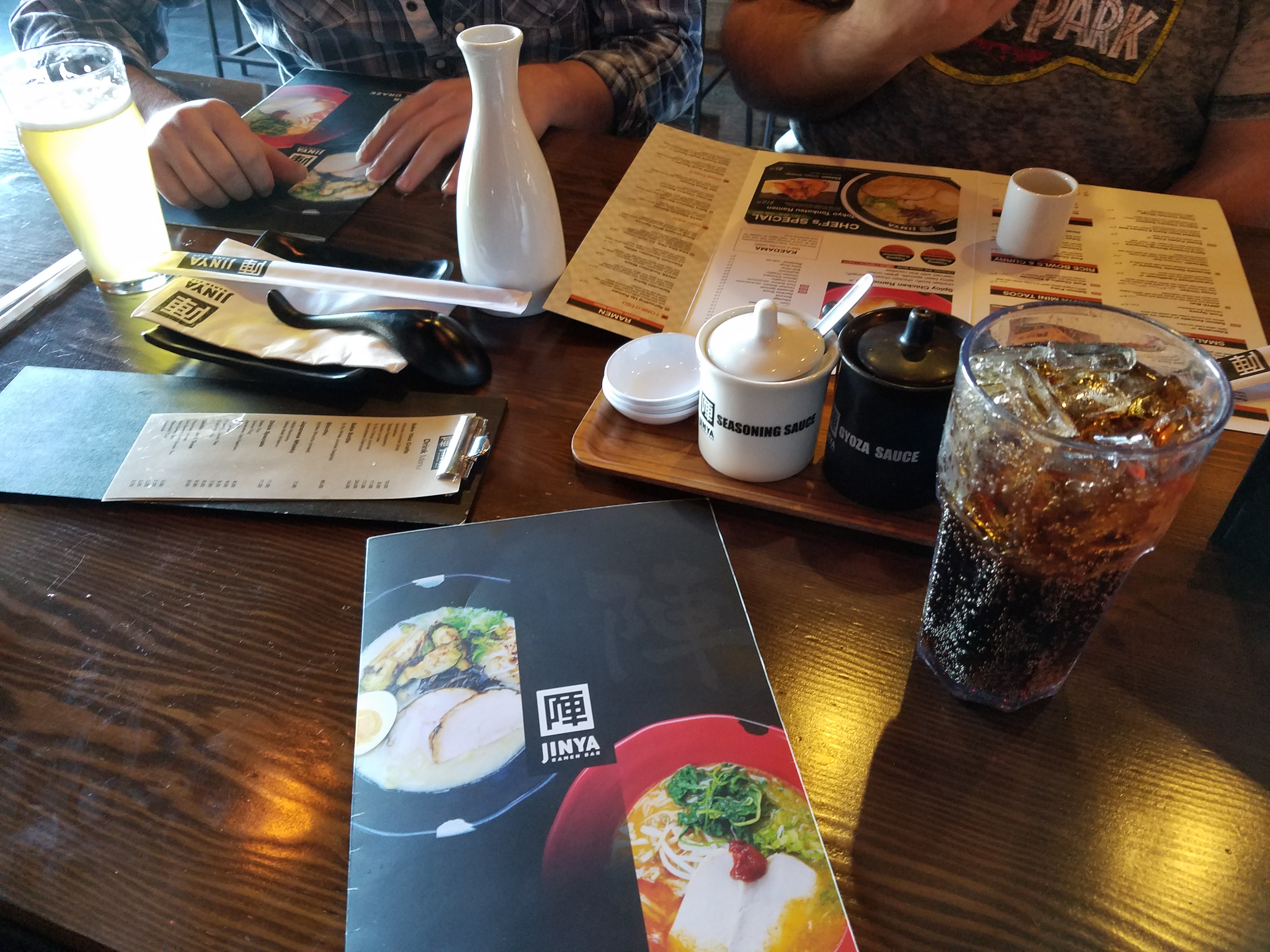 JINYA's Appetizer Menu
We went through the appetizers section of the menu and chose four appetizers to try.
The Takoyaki — also known as an octopus ball — was a gorgeous display of several pieces of battered and fried octopus "over egg tartar topped with kewpie mayonnaise, okonomiyaki sauce, fresh cut green onion and smoked bonito flakes."
I've honestly never had anything like these before… The batter was sweet and crispy, complementing the distinct smell and taste of the octopus nicely. If you're a seafood fan, or you like trying new types of seafood, there's a good chance you're going to like this appetizer. It was $7.50 and it came out quickly.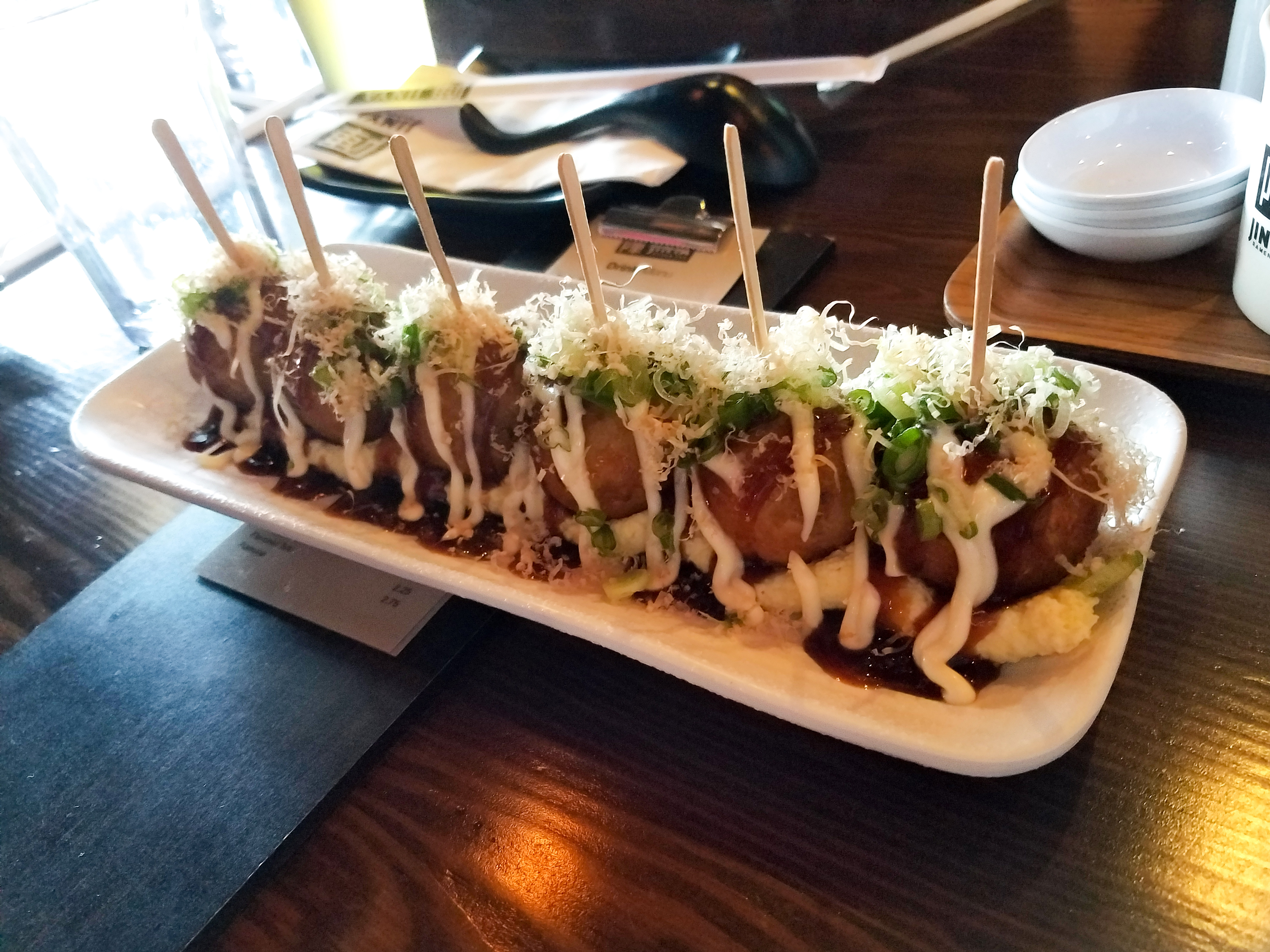 We also jumped at the chance to order a dish of fried pork gyoza. Since the first time I tried pork gyoza (at Hapa Japanese Cuisine in Owasso — their gyoza is equally tasty), I've made it a point to order this appetizer whenever I see that a restaurant sells it. I guess it's just because I like it. These fried pork dumplings are wonderful.
I'm no chef, but I suspect that this isn't a difficult dish to get right. It's safe to say, however, that if you think you'd like fried pork dumplings, you'll want to give these a shot. They're an excellent deal at $6.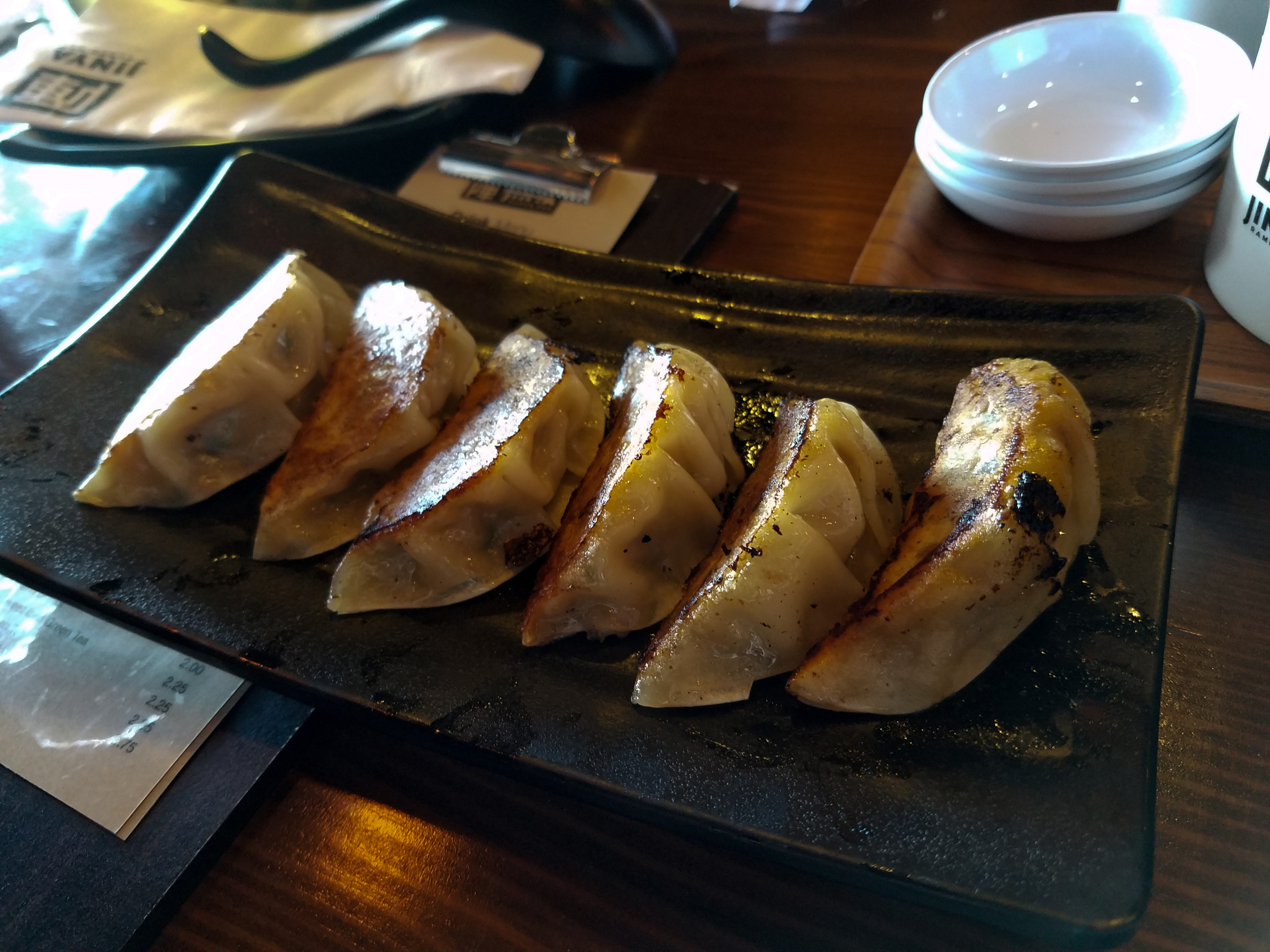 I noticed that they had an item in the "small plate" section of their menu, called the JINYA bun. With the menu describing it as a "steamed bun stuffed with slow-braised pork chashu, served with cucumber, baby mixed greens, JINYA's original bun sauce, and kewpie mayonnaise", I felt pretty confident that I was going to like it.
When they brought this item out, I was actually quite surprised by the bun — I've never seen anything like it, honestly. With a hope that it would be as good as the menu made it sound, I closed my eyes and took a bite…
Yep — delicious (and only $4.50). Our waiter, Mike (who was extremely knowledgable, friendly, and down-to-earth) told us that he's heard the bun described as "lighter than angel kisses."
Mike wasn't lying.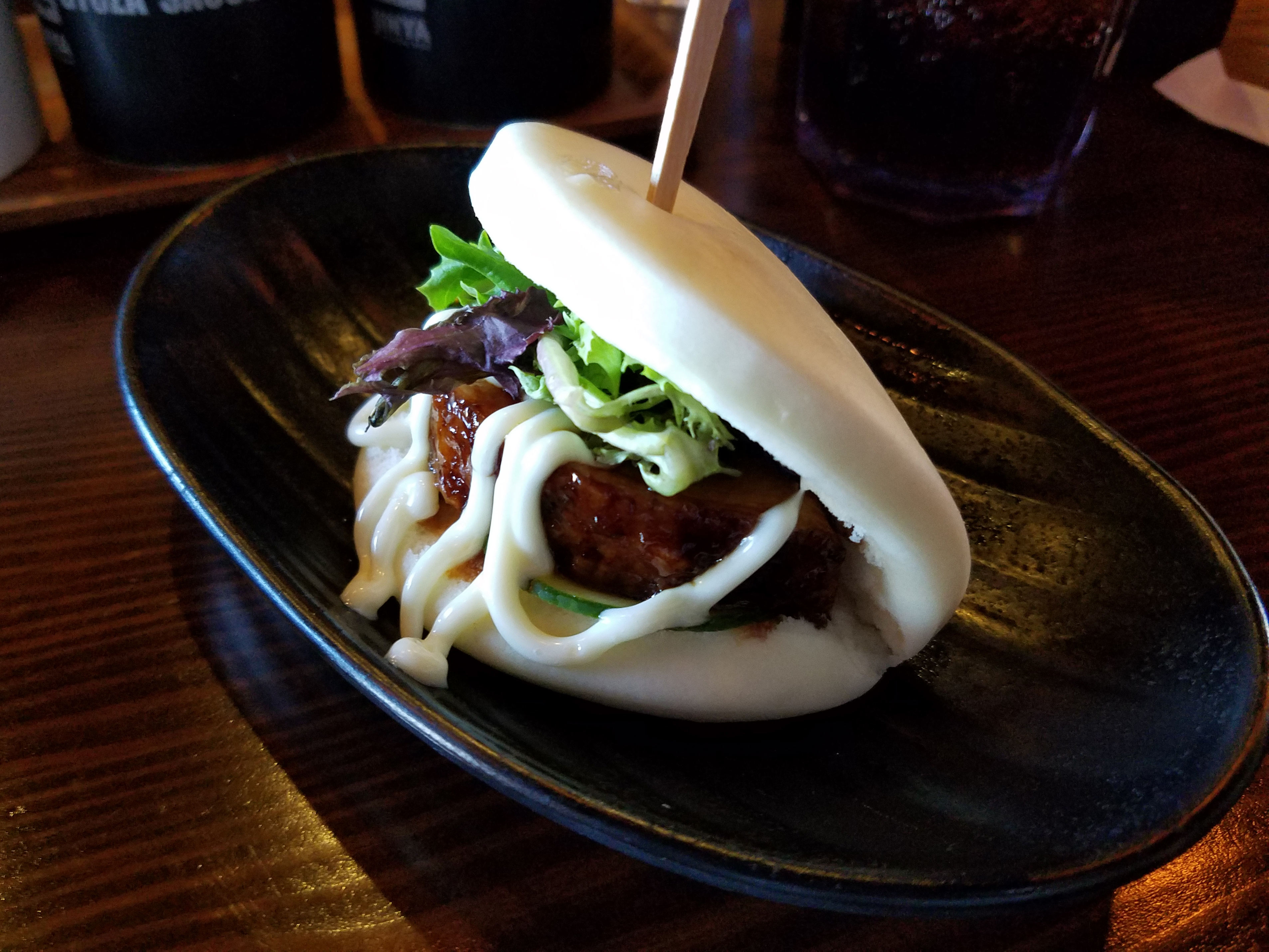 The Salmon Cilantro Sashimi was a dish recommended by one of the members in our party. Reading how the menu described this plate — salmon sashimi topped with cilantro and dice jalapenos, then dressed with a citrus soy sauce — was enough to sell me on it.
When I saw the dish, I knew it was going to be good. This probably goes without saying, but if you're not a fan of cilantro, you're not going to like this dish. If you do like cilantro and sashimi, you're going to love it.
$8.50 and worth every penny.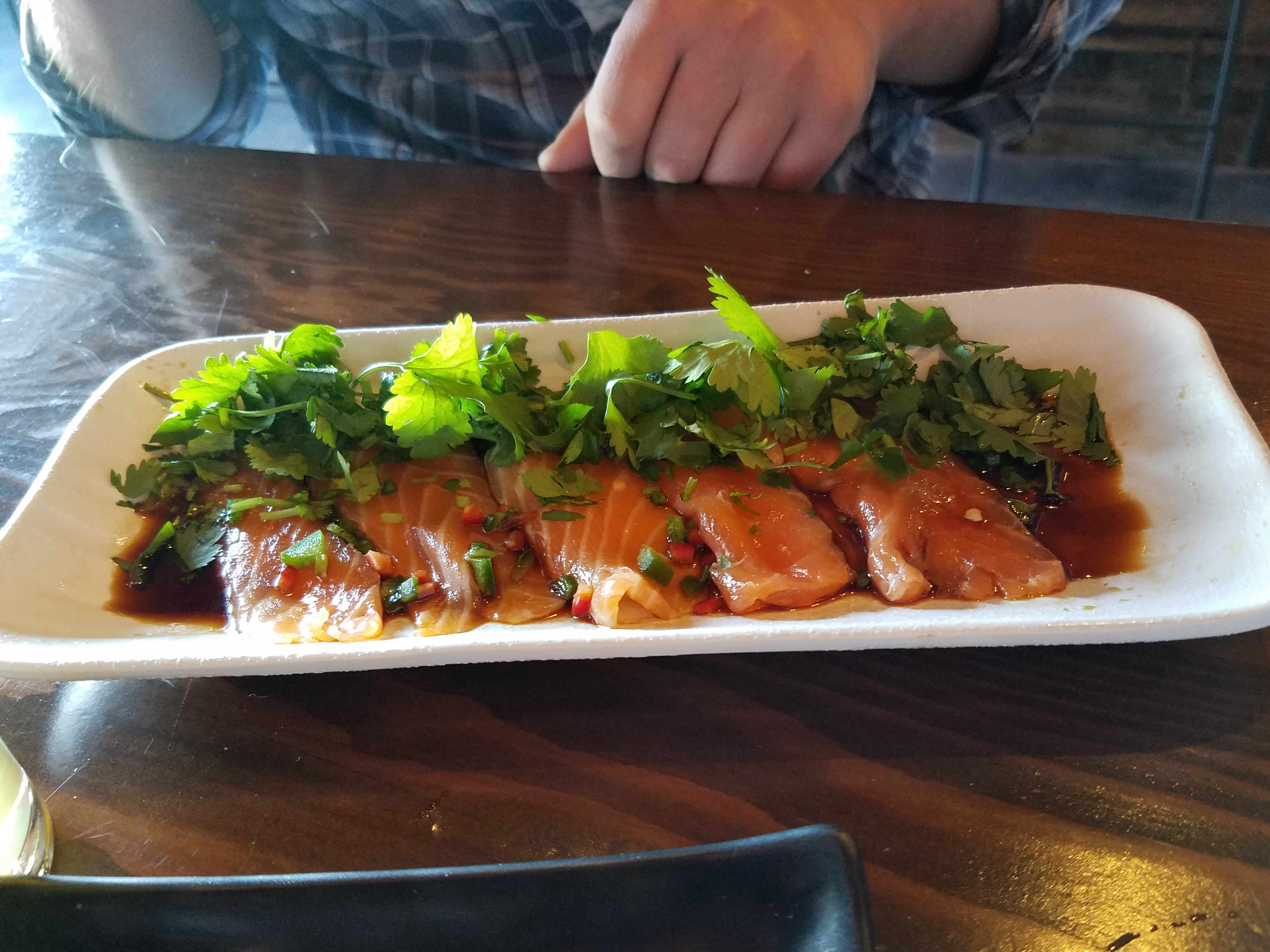 Our Entrees at JINYA
One of the diners in our party ordered the Spicy Creamy Vegan Ramen bowl. This was the first entree to come out on our visit (and all of them came out in a very reasonable amount of time.)
While I didn't try this entree, personally, my friend said that the vegetable broth used in this bowl is one of the main appealing parts to him.
This bowl also features tofu as a main component, so if you don't like tofu, you may want to pass on this item. Personally, I enjoy tofu, so I'll be giving this bowl a try on a future visit. It's $12.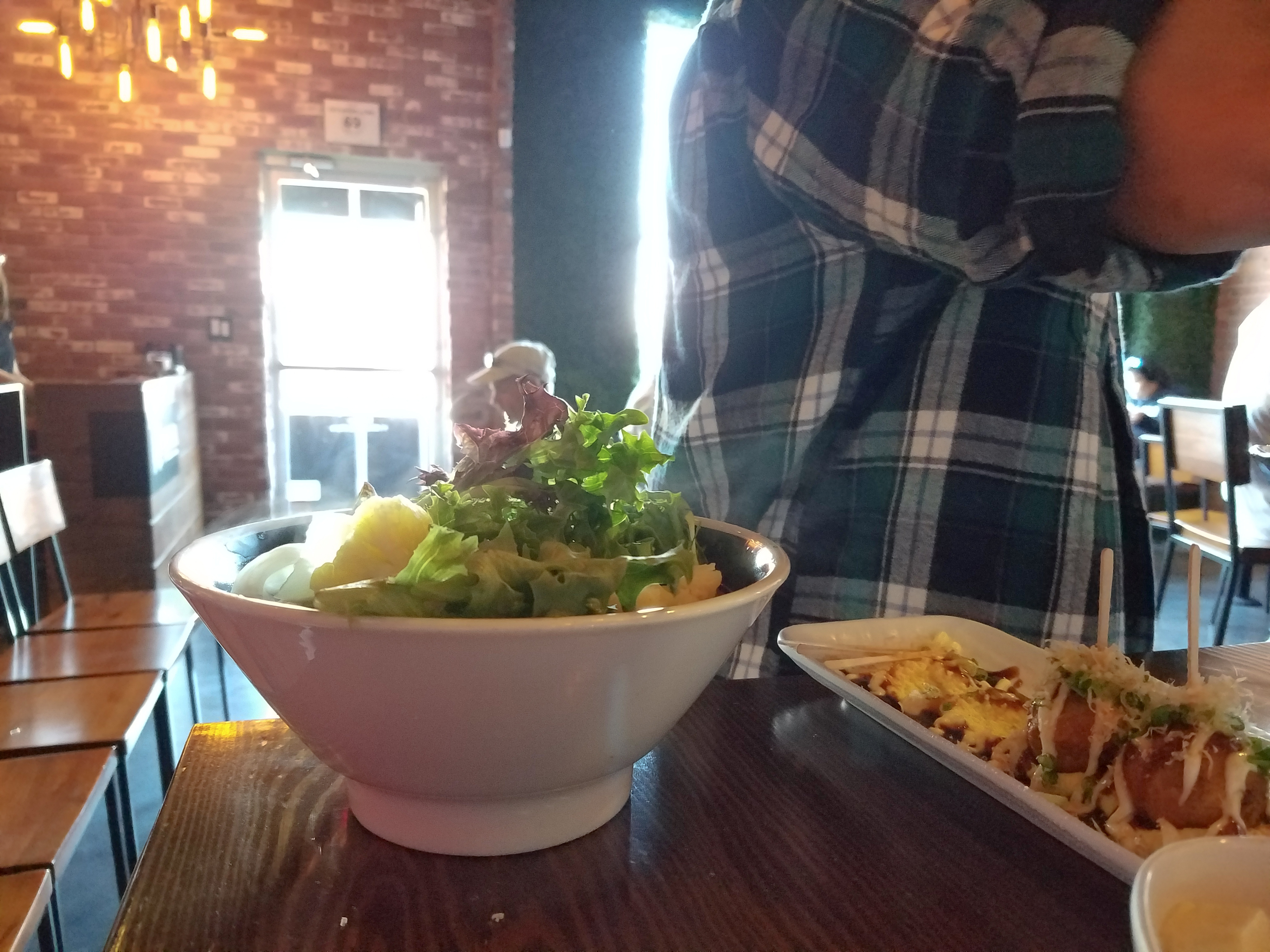 The other three members of our party (myself included) ordered the Sprouting Up Ramen bowl, which I understand is one of JINYA's most popular offerings. This was everything I hoped it would be.
The broth is absolutely perfect. Loaded with flavor, but not too salty. The noodles, which are made in-house, had excellent texture and even a nice little bit of snap to each bite. Chopping up the the half seasoned egg that came in my bowl made the broth even creamier.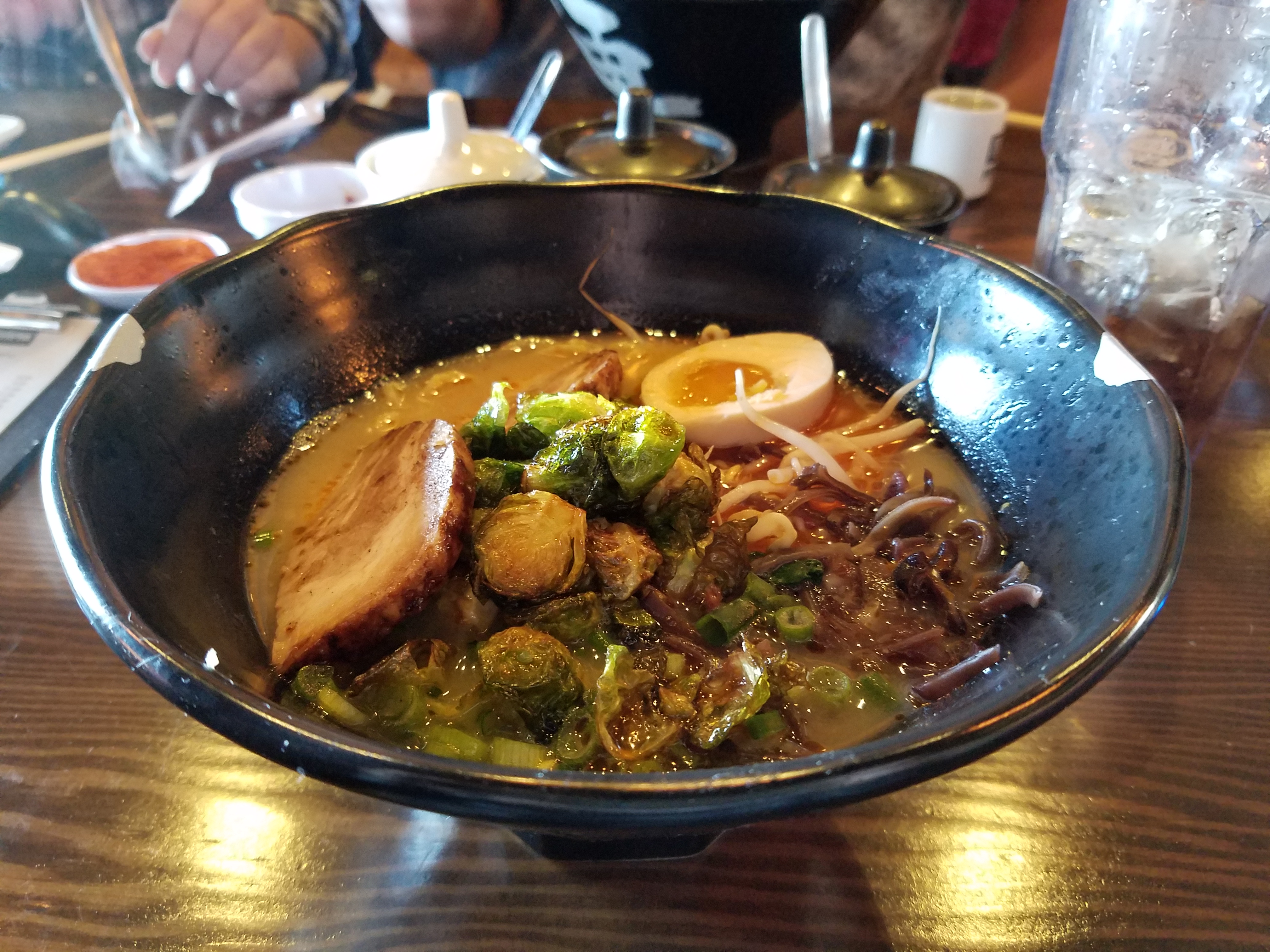 The pork chashu medallions were wonderfully marbled and full of flavor. After having a few of their menu items with this pork chashu in it, I've got to say it: I'm a fan. I've honestly never enjoyed Brussels sprouts more than the way they served in the bowl of ramen, too.
Other Things I Noticed About JINYA
Quality of Materials
Honestly, these ramen bowls are so large that most people will have a portion of their meal left to take home. 3 of the 4 diners in our party requested take home containers, and we were given sturdy paper bowls with tight fitting lids. As weird as it seems to talk about "take home" dinnerware, I feel like JINYA's is of high enough quality that it's worth bringing up.
I really think this is just another sign of how this restaurant does business.
Portion Size vs. Price
The portion sizes — particularly with the ramen noodles themselves — were satisfactory. You're certainly not going to be walking out of this place feeling like you got ripped off.
Quality of Customer Service
As I said earlier, our server was professional, friendly, and knowledgeable. He was able to make recommendations, when we asked, without hesitation. There wasn't a single second where I felt like he was giving us too much or too little attention.
I always say that's a sign of an skilled server.
Speed of Service
Every course of our meal (and the drinks) came out in a perfectly reasonable amount of time. The restaurant seemed moderately busy, but the staff showed no signs of having trouble keeping up.
Presentation of the dishes
I'm not a huge snob about presentation, but when a restaurant does it well, it's worth noting. Well, really, when a restaurant does it poorly, that's worth noting, too, but that's neither here nor there.
JINYA knocks this out of the park. Each dish looks as great as it tastes. That seems to be a common thread among Japanese restaurants.
In Summary…
As if their national success wasn't enough of an indicator of how JINYA will fare in Downtown Tulsa, I'll go ahead and say that I think they'll have no problem becoming one of the major staples of downtown dining.
I'm definitely going to be back soon — I'm actually excited to take other people here that haven't been here before!