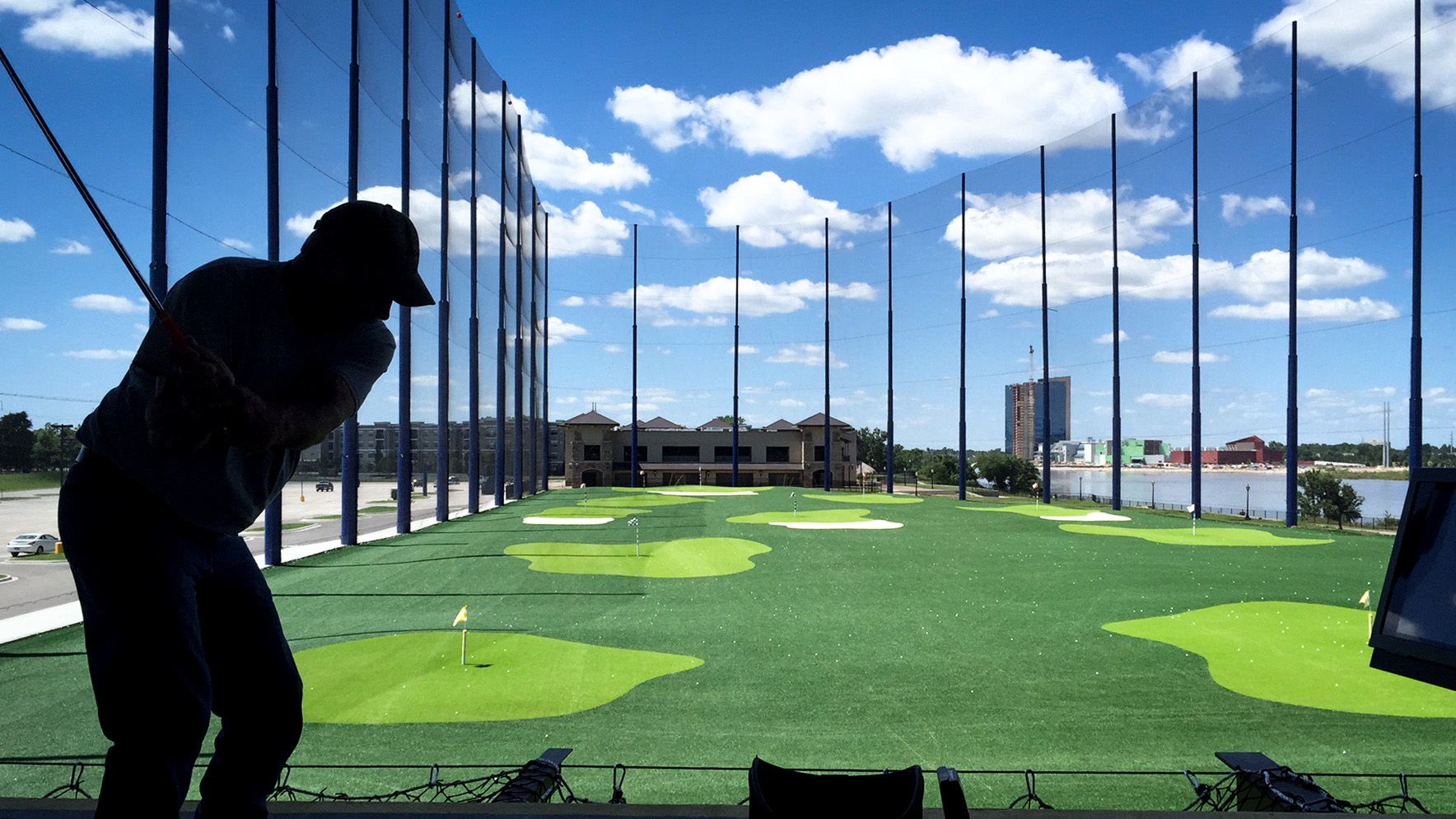 A Chat with FlyingTee's James Vollbrecht and $100 Giveaway!
[I got a chance to have a chat with FlyingTee's own James Vollbrecht, who is spearheading their Jenks/Tulsa location. In this interview, I talked with James about how the idea for FlyingTee came about and how James, his brother John Vollbrecht, and his childhood friend Ryan Tawwater turned a simple concept into a cutting-edge, full-blown entertainment venue.  We also discussed some exciting new features that FlyingTee will be incorporating into their gameplay in the next few weeks and months!]
[Oh, one more thing: we've partnered up with FlyingTee to give away a $100 FlyingTee voucher — and entering is super easy! More on that at the end of the interview!]



Tyler Hall/JustTulsa: Hi James — thanks for joining me today for a chat about Tulsa's craziest entertainment venue: FlyingTee.
James Vollbrecht/FlyingTee: Hey — No problem! Thank you!
TH: To be honest, I've never been much of a golfer — at least as far as going out and playing 18 holes goes. However, my sister sold me on giving FlyingTee a try this last summer when she she was telling me about all the ways that your place is a lot more than just a plain old driving range.
We actually got my dad to join us — he's a little more of a golfer — and we visited your place one Saturday in July. We had such a fun time playing 21 [an awesome variant of the classic cardgame, blackjack, played by hitting golf balls at different targets] that we ended up staying an extra hour. Since then, we've been back several times.



I think that the main thing that originally impressed me so much about FlyingTee was the whole package in its entirety: the concept of the game, the size and layout of the facility, the food and drink options… even the way that the bays are heated. All super impressive. Can you tell JustTulsa readers a little bit about what makes up the whole FlyingTee experience and how it makes FlyingTee stand out from the standard driving range?
JV: Absolutely. When I think about FlyingTee, I don't even think about other driving ranges as being the right comparable. What we really set out to do was to create an outstanding entertainment venue for people of all ages, whether they play golf or not… a venue where we could offer really great food, sports, music, fun, and while you're enjoying that food and trying our different drinks, you can actually swing a golf club and play a great time.
I would compare us, more readily, to a modern day bowling alley. The nice part about our place is that you don't feel like you're in a basement. You're outside (if you choose to play golf); we have heated bays — which really keep things quite comfortable — so that you can play all winter. So, while we have a golf component, we don't really think of ourselves as an entertainment venue.
We have live music and DJs on the weekend. It's the best place to watch sports in Tulsa. We have a 10' video wall where you can watch the OKC Thunder on one screen and the Cubs win the World Series on the other 
It's really a fantastic place, whether it's for meeting up with friends for food and a drink or bring the whole family out for something the whole family can participate in and enjoy.
TH: Okay, now that's a pretty tall order for entertainment. I've always felt like one way to succeed in a competitive market — let's just call it "entertainment in Tulsa" — is to stand out. A 3-story facility, multiple restaurants and bars, numerous gameplay options are definitely a way to stand out, aren't they?
JV: Definitely.
TH: How did the initial concept to build and place this type of business into The Riverwalk come to be? Can you tell us a little about how this idea grew legs and came to fruition?
JV: Sure — so the short answer is: a lot of hard work, a lot of perspiration, and a lot of trying and trying again.
Basically, the concept really struck my brother and I as being very appealing when we visited a similar concept in Dallas. Our competitors — Top Golf — had a driving range and we walked up to hit some golf balls and they had something like a 3 or 4 hour wait. We both looked at each other and thought, "This is crazy." And we thought it was even crazier when we walked in, played it, and really didn't even enjoy the games that much; but we saw the appeal of something that's active, entertainment-focused… it's outdoors, and it's something you can do with your family or your buddies.
We looked at it as a really interesting concept and started thinking about it. A few years later, I introduced my brother John to my buddy Ryan, who was my high school debate partner. Ryan had gone off from school and got into the hospitality world.
So, John had really begun to get serious about this, then after I introduced him to Ryan, they started working to make it a reality. Next, I got involved in the technology side.
If you think about it, the biggest challenge with golf is that it's a really hard game, so I got involved because there was nothing off the shelf that really made golf fun and entertaining for anybody. That's really our goal.
We designed the game so that my 7-year old and my brother's 5-year old can still play them and really enjoy them. So we really came at it from that aspect. If you look around, increasingly — people aren't really going to the traditional bar and restaurant for an evening; they're going to a movie where you can eat dinner at the same place… they're going to a place like Main Event where you can bowl, or play pool, or do variety of activities. We look at FlyingTee as something very similar; we think it's catching people that are interested in doing something more than just sitting there. 
It's kind of a funny story how we ended up in Tulsa. We all grew up in Oklahoma, although I was born in Dallas (don't hold that against me), and we looked at our state as being a great market for this concept. We looked in Oklahoma City originally, and then we shifted to looking at Tulsa. We ended up partnering with the Muscogee Creek Nation, who have been fantastic partners for us. They're also a major shareholder, as well. That's kind of how we ended up at The Riverwalk, which we're really excited about.
There are so many neat things going on down here, between the new Margaritaville Casino and Hotel and all of the all the new restaurants and bars opening on The Riverwalk itself. We feel like we hit it at just the right time.
TH: So can you describe, for JustTulsa readers, where you were at in your life when you decided that you wanted to bring this project to the Tulsa metro?
JV: It's kind of a long history, but I really grew up toying with computers and being kind of a technology geek. My brother was more of an athlete and I'm more of a "tech dork", as we like to say. So I grew up tearing apart computers, building computers, and I'm an avid fan of video games, so that ended up coming up again and again in my career.
So, I got my MBA and ended up going to work for a big consulting firm. I ended up really enjoying the technology-oriented aspects of my job and working more and more with clients in that field. Eventually, I left consulting to go working the "real world". I went to work for a company in Seattle called Intellectual Ventures. It's a really neat company that was founded by the Chief Technology Officer of Microsoft — the guy was a part-time paleontologist! So I'd come to work every day with a giant, full-sized T-Rex head in the lobby! It was the neatest place in the world to work!
I really loved being in Seattle and working with all these really smart folks — much smarter than I am, by a long shot. When my brother and Ryan started working on this concept, one of the turning points was that while there was nothing off the shelf, they had raised a little bit of money to create a working, functional prototype. And while I'm not an engineer, I kind of "play one on TV" so that I can talk the talk and figure out how to do this kind of thing. So, I moved back from Seattle to OKC and that's how it started.
I spent the last 4 to 4 1/2 years out on the driving range, really trying to figure out what works. What is really going to provide a great experience to our customers? Both in how we keep track of the golf ball and how what games and kind of interactivity that we provide to keep people interested in a game that is otherwise really hard to play. I mean, golf is the easiest game in the world… to be terrible at. 
From an intellectual standpoint, it was a really interesting problem to try to solve.
It turns out I got to work with some really great technology, so it was all very exciting to me. On top of all that, my brother and I both come from a family of entrepreneurs, so we've always kind of been looking around for something that we could go into business together on, and so this just kind of hit all the right points, all the way across the board.
TH: Did you find that role evolving during the construction process or was it very clear cut?
JV: So when I joined, I was really just the tech guy — although I don't really think we even had titles at that point. If you kind of look at the three of us, there's my brother [John Vollbrecht] who is an ex-commercial banker. There's Ryan Tawwater, who's our hospitality/food and beverage/operations guy, and then there's me [James Vollbrecht] as the tech guy. So we each kind of had our own lanes — so to speak — to stay in; we're experts in our own fields.
As always, the roles evolved quite dramatically.
So as we started construction, I started to get involved in the construction process. I've been involved in helping raise money. I've been involved in almost every aspect of the business, which is one of those things: when you've only got three people in the whole business, you all end up doing a little bit of everything. 
Basically, we've all kind of grown and changed our roles a little bit here and there. We ended up all getting to know the construction business, which is not nearly as sexy or glamorous as it sounds, but it's really important that it's done well and done right. We all got to know the marketing and PR business. We all got to know investor relations. And we probably got to know a bit more about accounting than I learned in business school while I was getting my degree.
So, since we first opened, I think we've all really doubled-down on our strengths quite a bit. I've continued working on the technology side — filing patents and working on the core golf product. I've also gotten involved in site operations. Then there's the whole strategy component aspect of the business, which is "what markets do we want to be in?", "what markets are our competitors in?", "how do we make those trade-offs?", and how to grow. We really have a vision to create the best entertainment venue on the planet. That may involve more golf or less golf, down the road, but we've got big plans — for sure.
TH: I understand there are some newer features coming to — or already functioning — at FlyingTee. A friend mentioned recently that players are now able to track their own performance and data from their bays (if I'm understanding correctly.) I haven't used this feature myself yet, but I'm curious to know how I can use this to get better… I'm… pretty lousy at hitting a golf ball, after all.
JV: Absolutely. 100%. So just like how FlyingTee isn't a "just" a driving range, it's also not a static, stale thing.
We hold dear the value of innovation.
We really want to become everyone's favorite place to hang out and everyone's favorite place to spend time with their friends and their family. So, as a result of that, we're always looking at what our guests are doing, what are they enjoying while they're there, and how do we give them more opportunities to enjoy their experience. 
In the very near term — as in the next few weeks — we're actually kicking off leagues and tournaments. What the will involve will be golfers and non-golfers, both, can come in and play on any of our 32 championship golf courses, and for less than the cost of renting the bay — for four weeks — you get to hang out with your friends and compete, even if you aren't a good golfer. We actually just introduced a new way of our golf scoring, so you can buddy up with a good golfer and a bad golfer and go out and compete with everyone that's playing. That's going to be a lot of fun.
On top of that, we're going to start giving people access to all of their results. It's a data-driven world and I'm a big data guy — as a result, we've started from the beginning saying that if a customer is able to trust us with their e-mail address, we'll track all of their stats. We can tell you how good you are at long drive, darts, or blackjack, and how you stack up against all of your friends… or the whole world. 
We hope to use that information in two ways: one is to create a more entertaining experience. Every time you come in, you can compare yourself to your buddies, whether they're there or not. It makes it a lot more fun and much more competitive. On top of that — for the more serious golfer out there — we can track all of your stats. So, we can tell you how far you hit with your 7 iron, how accurately you hit with your 7 iron, and how you improved (or not) with your 7 iron. We can even give you data around different clubs that you bring in and want to play with.
There's all this sort-of underlying functionality that's built around our core golf product that we haven't even begun to flex yet. There's a ton of fun stuff that's going to be coming out.
On top of that — for folks that trust us with their e-mail address — they'll also be able to go on our website and book a bay in advance. So, say, Saturday night, you know you want to bring six buddies out, come play, and listen to the DJ — we'll have a bay waiting for you. You just have to have an account, go on to the website, pick which bay you want, and it will be ready for you when you arrive. We're really excited about that one. 
One other thing we're excited about right now: we've spent a lot of time talking to our customers and we're going to be re-engineering our menu. We want to put more food that's focused on the type of guest that we're getting in, so we're going to be changing up the menu and putting together some really fun items that will make us a destination place for sports, a place to hang out on the weekend, golf, or a place to actually go to for dinner — we think that all these changes will be a massive upgrade in the guest experience.
Like I said earlier, the key thing that FlyingTee isn't a static or stale thing. If you come back in three months, something different and really cool is going to be there and waiting for you to try. That's because we want to be a fresh concept; the last thing in the world that I want is to go the same place and do the same thing all the time. We're really focused on delivering on that. We want to innovate around the golf, the food, and the entertainment; we want to innovate around all three of those to provide an outstanding experience.
TH: With regard to the flexibility model of FlyingTee, are there future plans are there for expansion into other cities or state and if there are, what kind of future markets can we expect to see FlyingTee in?
JV: There are! We definitely have future expansion plans. From a high level, we're 100% focused on the Tulsa/Jenks site and making sure that we're creating and delivering a great experience for every guest, every time. I don't think, by any stretch, that we're there yet; we have a lot to do and a lot to improve upon. At the same time, we really want to grow the concept, so we're actively looking at others sites that we can bring this to market similar to Tulsa — some bigger markets, some smaller markets. We really see the value here; if we continue to grow the concept and add size, we'll have more money to put towards the customer experience, whether that means new features on the menu, new games, or new activities.
TH: Well, James — thanks a ton for chatting with me today. I can't wait to try some of these new features soon!
JV: Thank you! Have a great week and say hi next time you stop in!
---
How To Enter The $100 FlyingTee Giveaway
So, you think you could make use of a $100 voucher at FlyingTee? 😉 I'm making entry really easy! Click here to go to the JustTulsa Facebook post where we originally linked to this interview. From there, all you have to do is click "like" on the post and leave us a comment! I'll draw a winner on Sunday 11/13/16 — good luck!