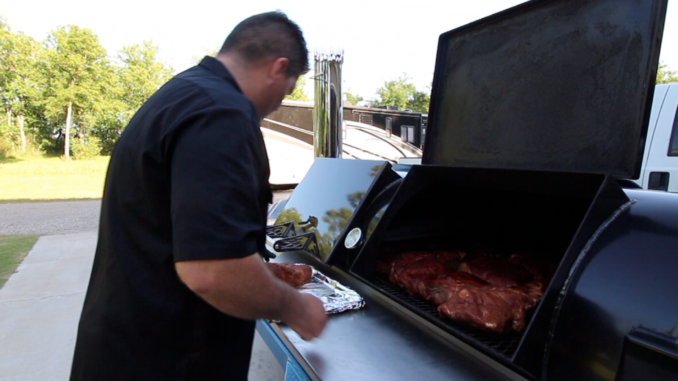 I like to fire up the smoker every once in awhile, but my self-taught skills have always left me with results that I could only call "pretty good"… that is until I met up with Brian Hayes from Smokin Blue BBQ the other day.
After talking to Brian at a KCBS cook off in Claremore, he agreed to let me come over and show me how to take a classic pork butt and create a meal that will wow your friends and family. As a matter of fact, I used the method that Brian showed me a few days after we met up and I will say this: these results are easily replicable.
This information isn't where KCBS professional cooks get their edge, per se, but for those of us who simply have no point of reference for smoking pork, this information is gold.
What you'll need to get started:
Head over to your local Reasor's (they sell all of these things, so it's a one stop visit) and purchase the following items:
(1) Smithfield pork butt
(1) shaker of Head Country seasoning (I prefer their "Sweet & Spicy", but the "Original" blend is amazing, too.)
(1) empty spray bottle (like you would use for mixing up cleaner)
(1) gallon of apple juice
(1) small jar of brown sugar
(1) shaker of whole pepper (the kind that you crack while you're putting it on the pork)
(1) bottle of Head Country BBQ sauce (Again, "Hot & Spicy" is my sauce of choice, but their "Original" is great, too.)
I would say, realistically, you'll be in the store about 15 minutes from the time you walk in to the time you walk out.
Step 1 – Trim any large sections of fat off the pork butt
First of all, Brian said he uses Smithfield for their consistent quality, but they're also available at local grocers like Reasor's and Sam's Club. Good enough reason for me.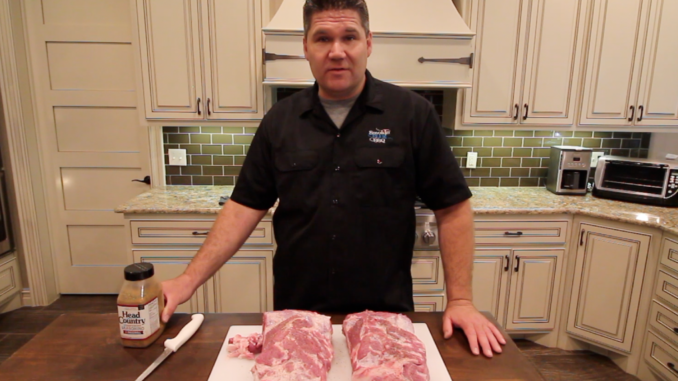 You're going to need a sharp knife for this, but Brian recommends having two knives freshly sharpened. Brian speaks highly of Dexter knives, but I don't have any of those (although they look like great knives) so I just sharpened the "slicer" out of my 10 year old KitchenAid set and it worked fine for me.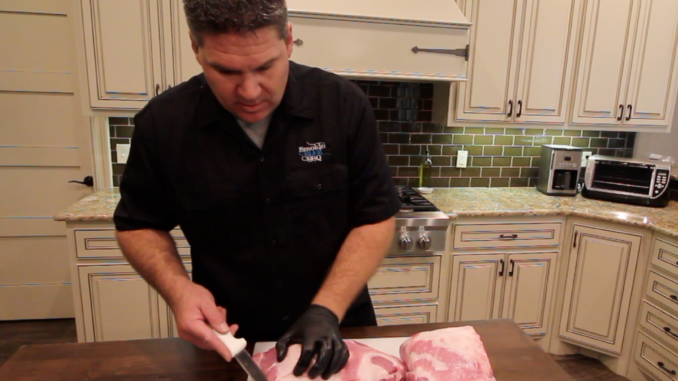 You'll want to start by slicing off the fat cap. According to Brian, sections of fat like that won't render out while the pork cooks. He said that you'll only be left with sticky, stringy fat that people won't eat.
There are four or five concentrated areas of fat on a pork butt, so you can expect to take 5-10 minutes trimming it off.
Step 2 – Season the heck out of it
Brian only puts two things on his pork butt before it goes in the smoker: Head Country seasoning and whole pepper.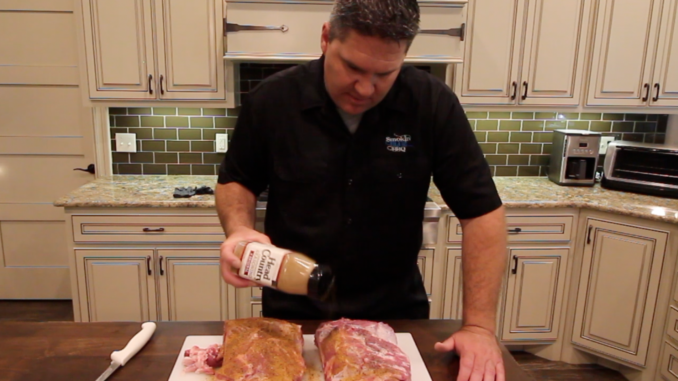 He puts the pepper on liberally one one side, then immediately adds the Head Country seasoning (also, applied liberally.) It's important to let the seasoning rest on top of the meat so that it "lies down" before flipping it over and applying to the other side and edges.
This is where you're going to use up a little time, since you'll need to wait 15 minutes or so before flipping the meat. This will be a good time to make sure your smoker is in order as far as temperature goes.
Step 3 – Put it in the cooker
Time and temperature are going to be your most important factors here. For tougher cuts of meat like pork butt, it's important to cook slowly and at low temperatures (aka "slow and low") to get the best results. Skipping this step will severely compromise the success of your outcome.
Shoot for 225 to 250 degrees F for 4 to 4.5 hours.
Remember that spray bottle I told you to get? Fill it with apple juice.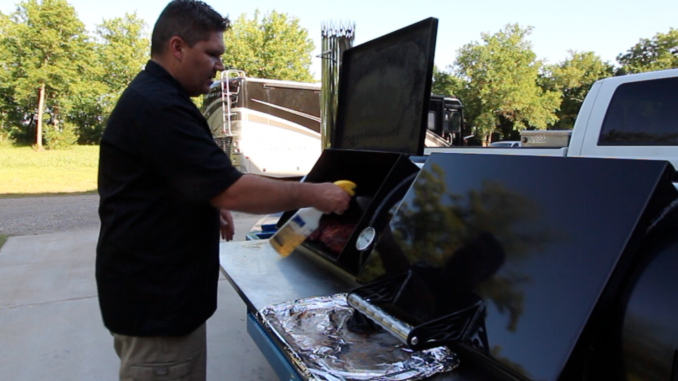 While the pork butt is cooking, it may start to look a little dry. You'll want to spray the pork butt with apple juice every once in a while to keep the cut from drying out. This will go a long way in improving the quality of your meat. As a matter of fact, I'm curious to try this on other meats.
After the pork butt has been in the smoker for that long, pull it out and apply a generous amount of brown sugar and apple juice to the cut. Wrap the butt in foil and let it cook until the pork is 200 degrees F, at which point it's ready to come back out and rest for a little while before serving. I did this step in an oven to give myself a little better chance at controlling the temperature.
I prefer to eat pork like this in a sandwich made of the following:
a buttered and toasted bun or roll
a homemade cole slaw
sliced dill pickles
white onions
"Hot & Spicy" Head Country BBQ sauce.
Try it this way and I bet you'll be telling people about it, too!
Summary
I can almost guarantee you this will improve your pork butts significantly (I say "almost" because there will always be circumstances that you can't control.)
Make sure to share this post with your friends and family who smoke meat. They'll be thanking you at the next backyard cookout!