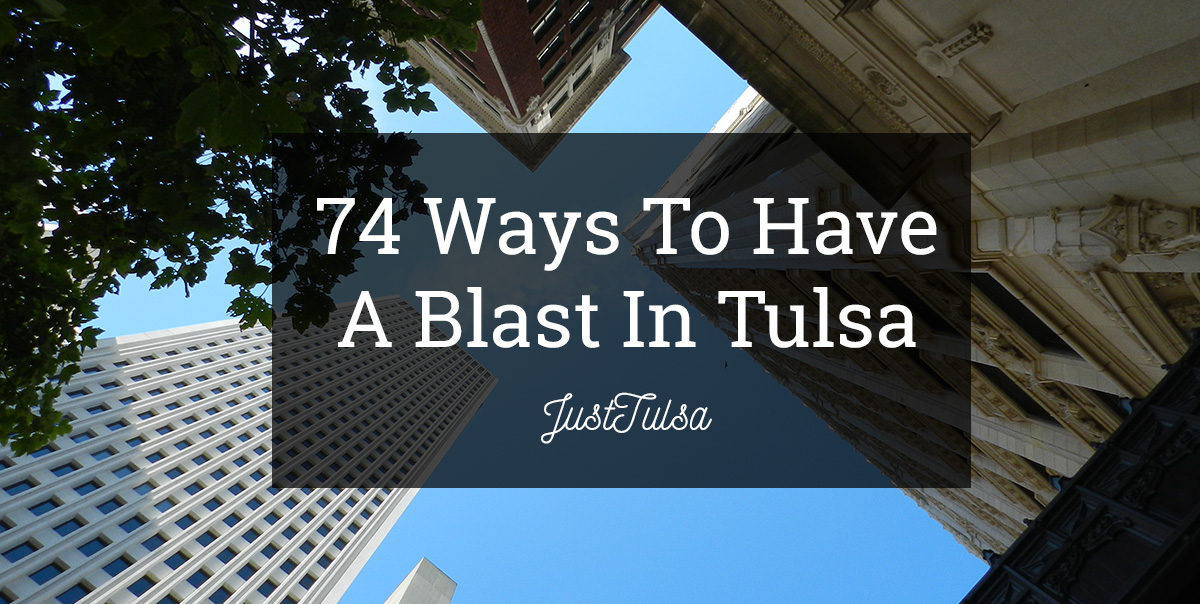 Looking for things to do in Tulsa? Whether you live in town or you're just visiting for work or play, Tulsa is large enough that options for fun can be overwhelming without a little help.
We've put together a HUGE list of things to do in Tulsa (and around the metro) just in case if you find yourself in need of a little fun.
(Click here if you're looking for fun things to do with your kids in Tulsa!)
If you find this list useful (or think someone else might), feel free share it on Facebook!
Enjoy!
Replete with hardhat and gloves, this 76-foot tall behemoth is impressive. Leaning on an oil derrick, you'll find him looking south over 21st St, between Yale and Harvard.

Unrivaled in both its collection of beautiful art and its calming gardens, the Philbrook Museum of Art is one of Tulsa's best opportunities for those looking to become a little more acquainted with the finer arts.
Never ceasing to amaze its patrons with either coneys or savory Greek foods, Jim's is a major staple in the midtown Tulsa food scene. My recommendation? Can't go wrong with a gyro or grape leaves at this place. Thank me later!
Home to over 400 species of animals, the Tulsa's zoo is consistently ranked high amongst the likes of bigger cities like Omaha and San Diego. Tulsa Zoo sits on 84-acres at the north edge of town inside of Mohawk Park on 36th Street North.
In 2003, the Oklahoma Aquarium opened up on the edge of Jenks — right across the Arkansas River from Tulsa. With easy access from the Creek Turnpike, this 72,000-square-foot facility houses several thousand species of aquatic animals, including one of the most impressive shark exhibits you'll ever see.



Ready to stretch your legs a little? Turkey Mountain sits on the west side of the Arkansas River, near 71st St. Cherished by many Tulsans who hold the mountain's myriad of trails as a refuge from the fast pace of life in Tulsa, it is a wildly popular attraction to hikers, cyclists, and nature-lovers.
Situated just north of downtown, Tulsa Children's Museum features a massive indoor play area with multiple rooms. On top of that, you'll also find The Workshop — a Do-It-Yourself activity area where instructors show the kiddos how to make all sorts of neat crafts.
Go Karts. Laser Tag. Bowling — It's all here. Situated in south Tulsa near 87th and Lewis, this is a one-stop shop for family entertainment.




Claiming itself to be the world's largest collection of art and artifacts of the American West, you find Gilcrease Museum just west of downtown Tulsa. Rumor has it that Gilcrease holds several times more artifacts in a store room than they have on display.
Looking to catch a flick at one of America's most popular drive-ins (thanks Outsiders!)? Be sure to check out their Facebook page for showings and hours of operations, as their open exclusively on the weekends.

Boasting items like the "Fat and Juicy Burger" and the "Peanut Butter and Bacon Burger", Fat Guy's successfully used creative innovation to stake their claim in the Tulsa food scene. They even have a contest where challengers have to eat 2 pounds of hamburger, a pound of hamburger, a pound of bacon, and two hotdogs. Hungry yet?